Posted on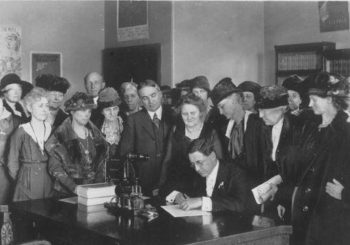 To celebrate this special occasion, we invite you to join us as we recreate this historical image of Nevada's vote to ratify the 19th Amendment 100 years ago.
DON'T MISS YOUR CHANCE TO BE A PART OF THIS SPECIAL MORNING, SURROUNDED BY STATE GOVERNMENT LEADERS. THE PHOTO WILL BE ADDED TO THE SILVER STATE SISTERS: WOMEN TRANSFORMING NEVADA EXHIBIT, PRESERVING THIS MOMENT FOR ANOTHER 100 YEARS AND BEYOND.
February 7, 2020
11:00 a.m.
Nevada State Capitol, Old Assembly Chambers
101 North Carson Street
Carson City, Nevada
Luncheon to follow
12:30 p.m.
Nevada State Library Atrium
100 N. Stewart Street
Carson City, Nevada
Cost for Luncheon: $25/Person
RSVP to m.walt@admin.nv.gov by January 27, 2020
Lunchion is limited to 100 people, so make your reservation now.