Posted on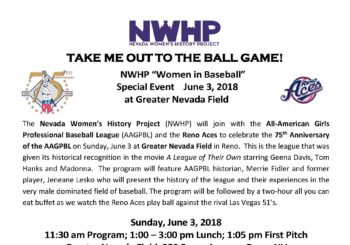 NWHP member Barbara Guerin is overseeing a "Salute to Women in Sports" event. She has contacted both the Aces Ball Park, who will partner with us, and All -American Baseball League historian Mary Fidler, who will come to Reno to talk about the Legendary All-American Girls Professional Baseball League (AAGPL). Coming with Mary will be one of the members who actually played in the league. Included in this event will be a lecture, brunch and ticket to watch the Aces baseball game. 2018 is the 75th anniversary of the AAGPL, as well as, the 10th anniversary of the Aces all
Park.
This is the League that was given its historical recognition when Tom Hanks, Gena Davis and Madonna starred in the 1992 movie, A League of Their Own.
By the fall of 1942, many professional male baseball players were being inducted into the Armed Forces to fight in WWII. The All-American Girls Professional Baseball League, (1943-1954) was formed by some of the men's franchise baseball team owners, to fill that popular American Midwest pastime void. Ultimately the league gave over 600 women athletes the opportunity to play professional baseball. It represents a unique time in American baseball history.
Many types of women's baseball leagues, from junior aged girls, community women to college baseball, spring from this historical baseball league. We hope to involve UNR women's athletics and women's community baseball, also. Additional information will follow.