The information below has been compiled from a variety of sources. If the reader has access to information that can be documented and that will correct or add to this woman's biographical information, please contact the Nevada Women's History Project.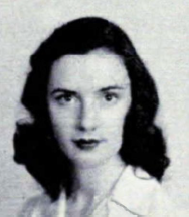 At a Glance:
Born: May 10, 1927, Beaver Township, Nebraska
Died: November 2, 2020, Spanish Springs, Sparks, Nevada
Maiden Name: Flaherty
Race/nationality/ethnic background: Caucasian
Married: Frank Raymond Brown, Nov. 22, 1950
Children: Mark Brown, Kathleen Brown Diesner
Major fields of work: Education, teacher, principal, public relations
Other role identities: Daughter, wife, mother, grandmother, friend
Charismatic educator contributed to Carson City schools, community
Educator Kathleen "Kay" Jane Flaherty Brown was a teacher, a principal, and an activist in the educational and social services arena in Carson City, Nev.
"Kay" Jane Flaherty was born May 10, 1927, in Beaver Township, Nance County, Nebraska, population of about 123. Her parents, Leo Eugene and Helen Van Ackeren Flaherty, were farmers. Kathleen was the eldest of five children, four girls and one boy.
She attended rural Nebraska schools through high school and then attended the University of Nebraska, Lincoln, where she was affiliated with Alpha Chi Omega sorority and the Newman Club. She graduated with a degree in elementary education. Her first teaching position was in Louisville, Nebraska. Perhaps seeking a bit more excitement, the following year found her teaching school in Wells, Nevada. She met Frank Raymond Brown of Pocatello, Idaho, also a teacher in Wells, Nev., and a Nebraska native. They were married on November 22, 1950, in Elko, Nev., at St. Joseph's Catholic Church.
In 1951, her husband joined the U.S. Army and soon Frank and Kay were living at Fort Eustis, Virginia. She found employment as a member of the public relations staff at Colonial Williamsburg. Frank was then transferred to Japan and Kay followed where she became employed as a secretary to the military staff of the Japan Procurement Agency. Once Frank's military obligation was completed in 1953, both Browns accepted teaching positions in Carson City, Nevada. A new chapter in their lives was beginning. Son Mark was born in 1956 and daughter Kathleen in 1963. Meanwhile Kay was combining work with motherhood.
She taught at Martha F. Gleason, Edith W. Fritsch, and Corbett Elementary Schools in Carson City, before becoming principal of Martha F. Gleason Elementary School and later Corbett Elementary School. She also served as public relations coordinator for the Carson City School District during this time. As a principal, she made sure that the school for which she was responsible personified, on a larger scale, the student-centered education and caring atmosphere that had prevailed in the classrooms where she had taught. She was loved by both students and parents alike.
Bonnie Parnell, a retired Carson City Middle School teacher and former Nevada District 40 Assemblywoman, credited Kay Brown for her activism. She recalled that Kay asked Bonnie if she would be their PTA legislative representative and that position was the steppingstone to Bonnie's distinguished career in the Nevada State Legislature. On a more personal note, Bonnie noted when her son Charlie, was in Mrs. Brown's second grade class, she would often say to him, "Charlie, if you were my son, your name would be 'Charlie Brown,'" referring to the famous Peanuts cartoon character, Charlie Brown. Of course, Charlie was delighted and thought the world of his teacher!
Kay was a charter member of Delta Kappa Gamma chapter, an educational society for women, an alumna of Alpha Chi Omega sorority, and a member of St. Theresa of Avila St. Ann's Guild. She was a past president of the Democratic Women's Club and was active in the American Legion. She was elected to, and served on, the Carson City School District Board of Trustees, and served on the Brewery Arts Center's Board of Directors. She also volunteered with Friends in Service Helping (FISH), an organization dedicated to serving the homeless and hungry in the Carson City area, and the Retired Senior Volunteer Program (RSVP), an organization that helps seniors age in place and remain in their own homes for as long as possible by providing transportation, companionship, respite care and no-cost legal service.
No one who ever knew or worked with Kay Brown could forget her. She enveloped those who surrounded her – whether students at school, their parents, her co-workers, her friends, or someone she just met, with a genuine interest in what they were doing. Her community recognized her service to others when then-Governor Mike O'Callaghan, named her to the Nevada State Textbook Commission, named to the 1992 Educators Hall of Fame by the Ormsby County Teachers Association and honored as Woman of the Year by Beta Sigma Phi.
Her daughter, Kathleen, recalls her mother as someone who "always made everyone that she met feel very comfortable. She was very hardworking and dedicated to whatever it was she was doing. Kay was married to the love of her life, Frank Brown. They had a wonderful marriage and did a lot of traveling in their years of retirement. She was just a beautiful person and is dearly missed on a daily basis."
After Frank's death in 2009, Kay moved to Spanish Springs, Sparks, Nev., to be closer to their daughter Kathleen and her family. She maintained relationships with her Carson City community while making new relationships in her new community. She never lost sight of the importance of education. Lisa-Marie Lightfoot, a Washoe County School District administrator, worked with Kay to support literacy goals in the county. Lisa-Marie stated, "I valued her support. She was wise, spunky and always kind."
Kay later moved into the Cascades of the Sierra, a senior retirement community in Spanish Springs, Sparks, Nev., and lived there until her death on November 2, 2020. She lived an amazing 93 years.
She was buried alongside her husband Frank in the Northern Nevada Veterans Memorial Cemetery in Fernley, Nevada.
Researched and written by Marcia Bernard Cuccaro. Posted March 2022.
Sources of Information
Ancestry.com. Year: 1940; Census Place: Beaver, Nance, Nebraska; Roll: m-t0627-02258; Page: 1B; Enumeration District: 63-1. [Kathleen J. Flaherty]
Ancestry.com. U.S., School Yearbooks, 1900-1999. University of Nebraska Lincoln, 1946. [Sciences Delta Gamma Kathleen J Flaherty]
Brown-Flaherty [marriage announcement], Albion News (Albion, Nebraska), 7 Dec. 1950, p19.
Diesner, Kathleen Brown. Email to Marcia Cuccaro. 15 Jan. 2022.
Find a Grave, database and images
(https://www.findagrave.com/memorial/221910123/kathleen-j-brown : accessed 22 February 2022), memorial page for Kathleen J Brown (10 May 1927–2 Nov 2020), Find a Grave.
Memorial ID 221910123, citing Northern Nevada Veterans Memorial Cemetery, Fernley, Lyon County, Nevada, USA ; Maintained by Still Above the Dirt (contributor 47019839) . [Kathleen J. Brown]
Lightfoot, Lisa-Marie. Email to Marcia Cuccaro. 18 Jan. 2022.
Nebraska Department of Health and Human Services; Lincoln, Nebraska; Nebraska Birth Index, 1912-1994. [KaNews Waverly; Publication Date: 6/ Jul/ 2009; Publication Place: Waverly, Nebraska, USA; URL:
http://www.legacy.com/obituaries/wahoonewspaper/obituary.aspx?n=frank-r-
brown&pid=129367864] [Frank Raymond Brown]
National Archives and Records Administration; Washington, D.C.; Passenger Lists of Vessels Arriving at Seattle, Washington; NAI Number: 4397783; Record Group Title: Records of the Immigration and Naturalization Service, 1787 – 2004; Record Group Number: 85; Series Number: M1398; Roll Number: 4. [Kathleen F. Brown]
Parnell, Bonnie. Email to Marcia Cuccaro. 15 Jan. 2022.
The Columbus Telegram; Publication Date: 13 Jan 1951, p. 5; Publication Place: Columbus, Nebraska, USA;
URL:https://www.newspapers.com/image/428754249/?article=373187d6-baca-4071-bc79-d0efc0815a55&focus=0.6245573,0.1327693,0.73930025,0.31197202&xid=3355. [Leo Flaherty]