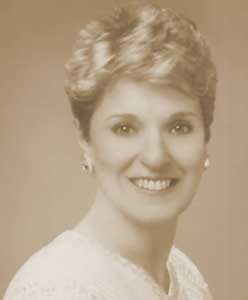 BONNIE (FAIRCHILD) BRYAN (1939 – 2016)
Governor Richard Bryan (1983 – 1989)
The information below has been compiled from a variety of sources. If the reader has access to information that can be documented and that will correct or add to this woman's biographical information, please contact the Nevada Women's History Project.
At A Glance:
Born: 24 June 1939 (Lodi CA)
Died: 30 August 2016
Maiden Name: Bonnie Belinda Fairchild
Race/Nationality/Ethnic Background: Caucasian
Married: 1 Sept 1962 (Lodi CA)
Children: Leslie, Blair, Richard Jr.
Primary City and County of Residence and Work:
Las Vegas NV, Carson City NV
Major Fields of Work: First Lady, Community Activist
Other Role Identities: Wife, Mother, civic activist
Obituary: Reno Gazette-Journal (Reno, Nevada) 4 Sept 1916 p. D5:1
Bonnie Belinda Fairchild Bryan
Bonnie Belinda Fairchild Bryan, former first lady of Nevada and friend to all she met, died in Las Vegas on August 30 following a valiant battle with leukemia. She was 77.
Born on June 24, 1939 in Lodi, CA, to Bonnie and Bailey Fairchild, Bonnie was a fourth generation California, a dairyman's daughter, and a Grape Festival Princess who graduated from Lodi High School in 1957. Upon her graduation, Bonnie followed her mother footsteps and enrolled at the University of Nevada.
As a student, Bonnie was active in a variety of campus activities, including as a pledge of the Kappa Alpha Theta sorority she made many life-long friendships and she met her future husband as he was running for student body president.
The 1958 campaign was a close race. Friends told Dick Bryan it might improve his chances if he took a theta to the college dance. So, to lift his standing at the Theta house, Dick heeded his friend's advice and asked Bonnie to the Comstock Stomp. It was a decision that forever changed both their lives. Dick won the election by a slim margin but, as he quickly discovered, he won the prize of his life in Bonnie Fairchild.
Bonnie graduated from the University of Nevada in 1961. She remained active in University affairs throughout her life, including serving on the Alumni Board and regularly attending University events. At the recently dedicated Richard H. Bryan Plaza on campus, a plaque was installed that pays tribute to her significant contributions to the University.
Bonnie and Dick were married on Sept. 1, 1962 in Lodi. They lived in San Francisco for a short time as Dick completed his final year at Hastings Law School. After graduation they settled in Dick's hometown of Las Vegas to start a family and begin their 40-year career in public life.
After arriving in Las Vegas, Bonnie immersed herself in numerous local organizations. But her primary focus during those early years was raising her young family. Bonnie and Dick were blessed with three children. Richard Jr., Leslie and Blair, who remained the proudest accomplishments of her life.
Bonnie was the quintessential mother, attending various school activities, games, ballet recitals, PTA meetings and school open houses. Even though Dick was required to be away from home on occasion due to his busy law practice and budding political career, Bonnie insisted the family sit together each night for a home-cooked meal – a family tradition she carried forward to their time in the Governor's Mansion.
In 1982 Bonnie helped Dick achieve his lifelong dream-his election as Governor of Nevada. Although she was already recognized by many political observers as Dick's biggest asset in each of his campaigns, as first lady the people of Nevada were introduced to a gracious and engaging hostess who went on to become one of Nevada's most admired citizens.
In 1989, the Bryan's left Carson City for Washington, D.C. following Dick's election to the U.S. Senate. During her 12 years in Washington, Bonnie enjoyed all that Washington offered, including observing the Senate conduct its regular business, attending state dinners at the White House, joining the International Club and Senate Wives Club and touring the many museums in the area. Perhaps her greatest enjoyment during this period was the time she was able to spend with new and old friends from Nevada vising the Nation's Capital.
In 2001, Bonnie and Dick returned to Nevada. Home again for good. Bonnie relished the time she spent with her children and their families and her many friends across the state. She attended her grandchildren's sporting and school events, enjoyed weekly lunches with her many friends, traveled the world with Dick, and true to form scarcely missed a social event in Las Vegas or Reno.
Her fondest memories, however over the past 16 years of her life were the annual family summer vacations which enabled the entire Bryan family to treasure their time together.
Bonnie's substantial contributions to the people of Nevada will long be remembered. During her years in public life, she initiated the Bonnie Bryan Brown Bag lunch program in which Nevada pharmacists would visit home of the elderly to provide prescription medicines to senior citizens on fixed incomes; she initiated Reno's Safe Ride program which encouraged teenagers who had been illegally drinking alcohol to call sober friends who would drive them home safely; she traveled the globe boosting tourism in Nevada earning the nickname "The Official Ambassador for Tourism:; she introduced the Susan G. Komen Race for the Cure to Reno; she was a 40 year member of the Junior League of Las Vegas and the proud recipient of Lifetime Community Achievement Award; and she was founding Chair and Honorary Chair of the Great Basin National Park Foundation.
Bonnie was preceded in death by her parents and her sister Bette Fairchild Albrecht. She is survived by her husband Richard, her son Richard, Jr. (Karen) Bryan, daughter Leslie (Johnnie) Marvel, and daughter Blair (Tom) Butler, and the lights of her life, her six grandchild ren, Conner, Jack, Will, Emilee, Allison and Grace.
A private service was held earlier in the week. A celebration of Bonnie's life will be scheduled in Las Vegas in the near future. Her legion of friends from Lodi, Reno, Las Vegas, Carson City, and Washington D.C. will be invited to the celebration of life to share an afternoon exchanging stores, wonderful memories and warm laughter in her honor.
In Lieu of flowers and in memory of Bonnie Bryan, donations can be made to the Richard H. and Bonnie B. Bryan Scholarship Endowment, c/o The University of Nevada Foundation, Mail Stop 0007, Reno NV 89557.
The Bryan family would like to extend their sincere appreciation to Bonnie's physician Dr. Ed Kingsley, and to the physicians, nurses and staff at Rose de Lima, San Martin campus, for their extraordinary compassion and care for Bonnie.