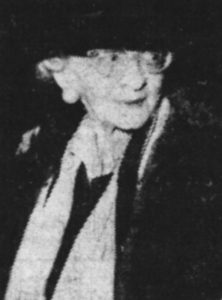 The information below has been compiled from a variety of sources. If the reader has access to information that can be documented and that will correct or add to this woman's biographical information, please contact the Nevada Women's History Project.
Birth: February 21, 1887 in Camden, New Jersey
Death: October 4, 1978 in Long Beach, California. Buried in Carson City, Nevada
Maiden name: Van Sant
Race/nationality/ethnic background: Caucasian
Married: Celora Martin Stoddard on March 1, 1910; Donald Joseph Wallace on Dec. 8, 1922
Children: James Van Sant Stoddard born June 11, 1911
Primary city and county of residence and work: Phoenix, Arizona; Long Beach, California; and Carson City, Nevada.
Major fields of work: Socialite, painter
Other role identities: Wife, mother, community leader
Biography:
Carson City painter was involved in her community
Ada Van Sant was born on February 21, 1887, in Camden, New Jersey to parents J. Alpheves and Sara Ann (Deviney) Van Sant. She joined her older sister Amy. Both parents had long-time roots in New Jersey. Ada and her family often vacationed in Phoenix, Arizona, and at age 22, Ada married Celora Martin Stoddard, mining man and property owner, whom she met while vacationing in the Phoenix area. They had one son, James Van Sant Stoddard, born on June 19, 1911. The Phoenix Republic of December 24, 1922 documented her time in Phoenix as a period where she was "one of the fashionable set of Phoenix."
In the 1920 census, Ada is shown as a widow living with her 8-year-old son in Long Beach, California. Contradicting the widow designation, however, was an article in the May 16, 1917 Weekly Journal-Minor of Prescott, Arizona which stated Celora Stoddard sued for divorce in the Superior Court and alleged Ada had deserted him. The "divorcee" designation was something a young woman might not want to have attached to her name in 1917 and for that reason alone she might have designated herself a widow. She was now 33 years old.
In 1922, Ada married Donald Joseph Wallace (1/12/1892 – 1/11/1964) in Long Beach, California. City directories and census records show they lived in Long Beach until shortly after the end of World War II when Donald obtained employment at the Stewart Indian School located 3 miles outside Carson City, Nev. Ada was approximately 53 years of age at the time. They resided at Stewart, Nevada, and lived there for 5-6 years before moving into town. (1)
Ada became immediately involved in the social life of Carson City. During these years she was very active in Beta Sigma Phi, "an International (ΒΣΦ) non-academic sorority with 200,000 members in chapters around the world." (2) According to an April 8, 1944 Reno Gazette Journal article, Mrs. Donald J. Wallace is "resuming her painting after a lapse of a number of years. Her knowledge of the subject is well grounded, as a glance into her past experiences in the art field reveals. Europe was the scene of her early education and she studied portraiture in Rome with Alfonso Gabrini." (3)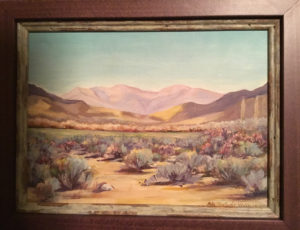 Ada became very involved in the art world in northern Nevada. She exhibited widely and painted with artists such as Virginia Harsh, Ethel Johnson, Hans Meyer-Kassel, Ethel Johnson, Robert Caples, Ruth Hilts, Harry Mighels, Rhoda Shedd, Gus Bundy, Nancy Bordewich, C.E. Bromund, James Lawrence among others. Ada was involved in the formation of the Nevada Artists Association which took place in November 1950.She was also a member of the "Latimer Club," Nevada's Oldest Active Art Organization, established in 1921. (4)
Her work was displayed in the Nevada Art Gallery in Reno, as well as in Nevada's State Capitol in Carson City. Throughout the 1940s, 1950s and early 1960s, wherever there was art, Ada Van Sant Wallace was there. On August 10, 2018, Kay Pozzi Winters, a resident of Nevada since the 1940s told this writer she recalled "Ada Van Sant Wallace as charming, outgoing, beautifully dressed and definitely a ladies' lady." (5)
On January 11, 1964, Donald J. Wallace passed away. Ada Van Sant Wallace was now 77 years of age. She remained in Carson City for a few more months but in early 1965 she returned to the Long Beach, California, area to be near her son James and wife Sylvia (Crowell) Blackburn Stoddard.
One wonders if she continued painting. This author could find no evidence that she did. Perhaps when she left Carson City, she packed her paints and brushes away and ended that part of her life.
In 2018 while going through stuff in boxes that had been my mother's (Naomi Bremenkampf Bernard), the author came across a small oil painting of the Nevada desert by Ada Van Sant Wallace. She decided to try and learn more about this unknown Nevada artist. Most of her contemporaries had passed away except for Kay Pozzi Winters who was kind enough to give a personal observation. Additionally, Charles A. Blim Jr., owner of the Charlie B Gallery in Carson City stated he occasionally came across paintings done by Ada VanSant Wallace and the paintings usually sold right away.
Ada Van Sant Wallace passed away on October 4, 1978 in Pasadena, California. She was 91 years of age. A funeral was held at St. Peter's Episcopal Church in Carson City and she is buried in the Masonic Section of the Lone Mountain Cemetery in Carson City, Nv.
Researched and written by Marcia Bernard Cuccaro – February 2019
Sources of Information:
1. Winters, Kay Pozzi. 8/10/2018 via telephone interview, Carson City, Nev.
2. https://en.wikipedia.org/wiki/Beta_Sigma_Phi
3. www.newspapers.com, Reno Gazette Journal (Reno, Nevada) Sat. April 8, 1944, p7.
4. http://www.latimerartclub.com
5. Winters, Kay Pozzi. 8/10/2018 via telephone interview, Carson City, Nev.
United States Census records. Ada Vansant and Ada Van Sant Stoddard 1900, 1910, 1920, Ancestry.com
Ada (Van Sant Stoddard) Wallace Birth, Marriage and Death records – Ancestry.com
Ada Van Sant Wallace Find A Grave at http: www.findagrave.com
Ada Van Sant Stoddard and Ada Van Sant Wallace – https://www.newspapers.com Multiple articles from the Arizona Republic (Phoenix, Arizona), the Courier Post (Camden, New Jersey); Weekly Journal-Miner (Prescott, Arizona); Arizona Republic, (Phoenix, Arizona); Nevada State Journal (Reno, Nevada); Reno Gazette Journal (Reno, Nevada); Carson City Appeal (Carson City, Nevada) covering the period March 21, 1909 through October 7, 1978.