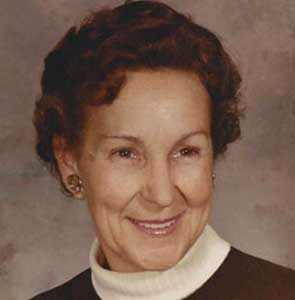 ALICE GOTTSCHALK DOWNER

The information below has been compiled from a variety of sources. If the reader has access to information that can be documented and that will correct or add to this woman's biographical information, please contact the Nevada Women's History Project.
At A Glance:
Born: March 2, 1913 in Lovelock, Nevada
Died: May 21, 2008 in Reno, Nevada
Maiden Name: Alice Marie Gottschalk
Race/Nationality/Ethnic Background: Caucasian
Married: Robert Carpenter Downer on August 16, 1934 at the First United Methodist Church in Reno, Nevada
Children: Catharine (Kay), Robert (Bobby) G. and Craig C.
Primary City and County of Residence and Work:
Reno, Nevada, Carson Valley, Nevada, Carson City, Nevada
Major Fields of Work: Teacher, Wife, Mother, Community Volunteer
Other Role Identities: Political Activist, Animal Protection Activist, Musician, Grandmother, Great-grandmother
Biography
Alice was a woman of many talents whose world view held that, "Life is an adventure!" During her 95 plus years of life she accepted changes and new experiences with a positive attitude. Ever ready and willing to work hard to achieve her goals, she was optimistic about the future. In the 30s, when our country was suffering from the Great Depression, Alice was determined to earn a teaching degree from the University of Nevada in Reno. This she did by saving enough money to enter and complete her freshman year, then returning home to work for a year, saving her money to return to the University. She completed her sophomore year and received a Normal Teaching Diploma which enabled her to begin her career as an educator.
Alice loved people. It could truly be said about her that "she never knew a stranger". Conversation was an art with her as she could draw out even the most shy of persons. This talent helped her in both her teaching career and in her community volunteer work. The atmosphere in her classrooms, which was creative and welcoming, reflected her caring personality. Alice completed the requirements for a bachelor's degree in elementary education from California State University in Sacramento. Her teaching assignments included Marcie Herz's Private School in Reno, the original Anderson School on South Virginia Street in Reno, and elementary schools in El Dorado and Alpine Counties, California, totaling 25 years.
The fourth of six children born to Peter and Martha Gottschalk, Alice enjoyed growing up with her siblings, Arthur, George, Elma, Earl, and Robert. All six were born and raised in Lovelock which was a close-knit community with friendly neighbors and a supportive atmosphere. Her parents, Martha Letcher Gottschalk and Peter Johansen Gottschalk, were early settlers in Lovelock, making their home in that community in 1904. Peter, a native of Denmark, born in 1860, and his brother Christian owned a saloon in Lovelock which unfortunately burned down in the early 1900s. Peter then started a plumbing business and also prospected part time in the Seven Troughs Range and Ragged Top Mountain locations, without much success. Alice's mother Martha was born on October 2, 1881, in Bodie, California, an infamous, violent mining town located high in the eastern slope of the Sierra Nevada Mountains. Alice's grandmother, Martha Adams Letcher, died from an epidemic (possibly typhoid-pneumonia) in April of 1882. Her grave is located in the Miners' Section of the Bodie Cemetery. Alice's grandfather, John Letcher, a miner from Cornwall, England, placed baby Martha with a Cornish family who had immigrated to Reno in 1875. John later died, circumstances unknown, and left Martha an orphan. She attended the Bishop Whittaker School for Girls in Reno until its closure in 1894. After her marriage to Peter, they settled in Lovelock and never moved elsewhere.
Being the fourth born and second daughter with four brothers, Alice was her mom's little helper and became a good cook. Throughout her life her family benefitted from her skill in the culinary field. Early on she exhibited a talent for music and was gifted both as a competent pianist and director/organizer of musical events. She enjoyed being a performer and volunteered to be in charge of musical presentations in the schools in which she taught, as well as in Pershing County as a student, participating in school plays and musical shows. Her piano teacher, Ruth Sullivan, was impressed with her natural musical talent. Alice progressed rapidly under her tutelage. She truly loved music and played many beautiful pieces by heart her entire life – even to her mid-nineties. All three of her children took music lessons, inspired by her example, as did most of her grandchildren and great-grandchildren.
Some of her fondest memories were of growing up in Lovelock where the children invented their own fun activities. She vividly recalled ice skating on the sloughs, which provided water to the farmers' fields in warm weather and froze solid in winter. Camping and hiking in the nearby Humboldt Range were two of her favorite outdoor experiences. Church youth activities were a large presence in her life. The Methodist Episcopal Church on Main Street was where her family attended every Sunday. Two other groups in which she was a member were the Epworth League and Campfire Girls. Basketball was her favorite sport in high school. Memories of staying at the 4-H Camp at Stateline, Lake Tahoe, remained fresh in her mind as that beautiful place was akin to heaven to children coming from a desert environment. The Lake and the surrounding Sierra Nevada Mountains inspired her throughout her life.
Alice and Bob, her beloved husband, became acquainted while they were students at the University of Nevada. He was pursuing a civil engineering degree. A graduate of Alhambra, California, High School, Bob was drawn to Nevada because of its natural beauty and opportunities to enjoy the great out-of-doors. Bob and Alice initially met when a blind date had been arranged for her roommate – Bob Downer was the date. Shortly thereafter, Bob called Alice for a date and what began as a foursome blossomed into a college courtship and culminated with their marriage that lasted 66 years.
During the first five years of their marriage, Bob was employed by the Nevada State Highway Department, working on state highway projects. This meant that the young couple moved frequently, starting in Carson City and followed by stays in Fallon, Reno, Lovelock, Caliente, Wells, Tonopah, Winnemucca, Minden, Welcome, Paradise Valley, and Mountain City. When Alice compared her life with that of her mother she related, "I remember my mother, who only moved twice in 50 years." During those years, Martha wrote to her daughter, "Why don't you come home, Alice, until Bob settles down?" Their two children, Kay and Bobby, accompanied their parents to their many new locations. They loved the gypsy life which was only interrupted when 5-year old Kay started school in Carson City.
Settling in at their new home in Reno in 1942, they remained in northwest Reno for 12 years. During the Second World War Bob served in the Navy as his ship's radar officer stationed in the Pacific Zone. After the war ended Bob completed his degree in engineering at the University of Nevada and for years was in the construction business. Alice taught school during the war. Their third child, Craig, joined the family in the late '40s. In 1954, Bob, Alice, Bobby, and Craig, moved to the Placerville, California, area where Bob held the position of El Dorado County Engineer and Road Commissioner. Daughter Kay was a freshman student at the University of Nevada. In El Dorado County Alice went back to teaching school. Her first California teaching assignment was in Pollock Pines Elementary School near Placerville. They made their home in the Pollock Pines vicinity for several years prior to coming back to Nevada.
In 1963 Bob and son Bobby founded the Downer Engineering firm in Carson Valley which remained in business for over 25 years. Alice accepted teaching positions in Alpine County, California, first at the Woodfords Elementary School and lastly at the new elementary school in Diamond Valley, California. At age 65 she retired from teaching and immediately launched herself into volunteerism. Always passionate about her involvements, she was willing to take leadership responsibilities. She twice served as president of the University Women's Club in Carson Valley, served as Carson Valley Literary Club president, and became a life member of Carson City Sertoma International and Carson City Democratic Women's Club.
Interested in politics, Alice took an active role as a volunteer serving as Douglas County Democratic Central Committee Secretary/Treasurer when her husband Bob was County Chair. She helped with fund-raising events and socials to introduce candidates to residents of Douglas County. The Carson City Democratic Women's Club was one of her favorite groups. Other organizations in which she played an active role were Common Cause, Community Concerts of Carson City and Carson Valley, and Children's Museum. She was a member of the Nevada Women's History Project and was chair of the Easter Seal fundraising outreach in Carson Valley. Each year Alice sold tickets to the Carson City Symphony and enjoyed their outstanding performances.
Ever ready for a new adventure, Alice shared her philosophy, "Life has many doors of adventure for all of us, we just need to venture through. They may not open again. And how can people say 'I'm bored' when there are so many interesting things to discover, to see, to do?" In 1994 the Nevada Women's Political Caucus chose her for the Pioneer Woman of the Year award. In 2001 the Nevada Women's History Project and Nevada Women's Fund selected her as a Woman of Achievement.
In her "golden years" Alice and her daughter Kay hiked part of the Rubicon Trail on the west shore of the Lake, starting at Bliss State Park. She shared with hikers she passed on the trail that she was "90 years old and still hiking." This announcement brought many positive responses which added to her enjoyment of the hike and was repeated when she was 91 and 92. Inspired by her youngest son Craig's work in South America to preserve an endangered species, the Mountain Tapir, plus his advocacy to help save the wild mustangs in the West, she attended rallies and wrote letters to assist both causes.
Travel was high on her list and, after Bob retired, they travelled to many countries including Colombia, Venezuela, Ecuador, Mexico, the Soviet Union, Switzerland, Norway, Sweden, Denmark, Spain, England, Scotland, Italy and Germany. She loved to recount their many adventures and encouraged her friends and family to travel whenever they could. Bob was the family photographer and watching his slide presentations of their trips was a favorite family pastime.
Following the death of her husband in 2000, Alice remained active even though she missed him terribly. Her son Craig lived with her in Carson Valley and was a great help to her. She spent a lot of time with her daughter Kay and son-in-law Neil in Reno. Enjoying reasonably good health into her mid-90s, she did some travelling. In March 2005 she agreed, at age 92, to accompany daughter Kay and sister-in-law Gertrude Gottschalk to Washington, D. C. to attend the dedication ceremony at Statuary Hall honoring Sarah Winnemucca as Nevada's choice for their second statue. A couple of weeks before her death on May 21, 2008, Kay, Neil, and Craig drove Alice to Topaz Lake for Mother's Day brunch, then continued to Markleeville over Monitor Pass which had just opened. On the way back to her home in Carson Valley she passed by the Diamond Valley School, which brought back fond memories. She enjoyed every minute of the day. This was her last trip before her death a couple of weeks later. Sadly, fifteen months after her demise, son Bobby passed away in Boise, Idaho.
Alice left a legacy of love of adventure and music, willingness to try new experiences, love of children, family, and friends, and looking for the best in people. Those close to her appreciated her positive attitude, energy, and courage to be involved in championing what she believed was just. Alice remains an inspiration and role model to all who knew her.
Researched and written by her daughter Kay Sanders. Posted to Web site February 2013.
Sources of Information:
Personal conversations with Alice Gottschalk Downer by Kay Sanders
Whitaker Hall, A School for Girls, Annual Catalogue, 1892-1893, p. 22, Reno, Nevada.
Bragg, Allen C., Humboldt County 1905, Saloons, p. 90. Published by the North Central Nevada Historical Society, Winnemucca, Nevada, 1976. (Note: the spelling of Gottschalk was in error. Change Godchaux Brothers to Gottschalk Brothers.)
Hollister, Joyce, photo of Landra Reid and Alice Downer, The Record Courier-Gardnerville, Nev., October 4, 1992, p. 7-A.
Lehrman, Jane, "The Downers Go To Extremes", Nevada Appeal – Senior Life, "p. 3, April 29, 1996.
Settelmeyer-Fair, Mary, "For Alice Downer, life has been an 'adventure' for 80 years", Gardnerville Record Courier, March 21, 1993, p. 8A.
Ibid, "For Alice Downer, life has been an 'adventure' for 80 years", Spinnings, pp. 89-91, published by R&R Optimum Offset.