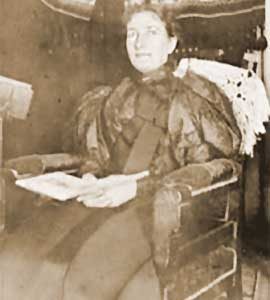 ANNA B. MUDD WARREN

The information below has been compiled from a variety of sources. If the reader has access to information that can be documented and that will correct or add to this woman's biographical information, please contact the Nevada Women's History Project.
At A Glance:
Born: September 21, 1863
Died: July 31, 1944
Maiden Name: Mudd
Race/Nationality/Ethnic Background: Caucasian (Scottish)
Married: Charles D. Warren
Children: Two
Primary City and County of Residence and Work:
Reno (Washoe County), Greenfield/Yerington (Lyon County), Virginia City (Storey County)
Major Fields of Work: Education (teacher), Law (attorney, court reporter), Business (button shop)
Other Role Identities: Wife, Mother, Women's club leader
Biography
Anna Mudd was born at Pilot Hill in El Dorado County, California, September 21, 1863. She was the daughter of George B. Mudd and Wilhelmina Marshall Mudd (b. Scotland, February 27, 1844). The family moved to Gold Hill, Nevada, in 1872 when Anna was ten years old. Her father worked in the mines of the Comstock until he lost his life during a fire in the Crown Point Mine in 1873. Anna graduated from Gold Hill public schools in 1881 and became a teacher at Greenfield, Nevada (later named Yerington). She taught primary and grammar grades to pupils aged six to twenty. In 1885 Anna moved to Virginia City to teach. There she met Charles Warren, a Virginia City businessman from Massachusetts and they were married in 1887. Four years later Charles died, leaving her with two small children.
After her husband's death, Anna went to work at the law offices of C. E. Mack. She studied typing and stenography to become a court reporter. In 1895 she transferred to the law office of W.E.F. Deal, where she continued court reporting while studying law in her free time. In 1899 she was enrolled as the fourth female member of the Nevada State Bar. In 1903 she literally moved her home to Island Avenue in Reno. (It was moved from Virginia City, taken down over the old road in sections and reassembled in Reno).
Anna settled in Reno and the Nevada State Journal, October 20, 1907, states "…appeared in Judge Orr's court, not the initial entrance of a female barrister in a Reno courtroom. …..guardianship; she is now in full charge of all probate matters for Mack & Shoup. Before admission she was a court reporter for several years."
The Carson City Daily Appeal, July 27, 1910 reported: Nevada's only woman lawyer, Anna Warren, has been quite successful, although she is not engaged in the practice of her profession regularly at this time. She won a case against Nevada Consolidated Mining and Milling of Olinghouse Canyon. She appeared for Richard Kirman, Reno's former mayor.
In 1913 Anna was appointed to the office of U.S. Commissioner for Nevada, a position she held the rest of her life. She was a member of the American Bar Association, the State Bar, and the Washoe County Bar. Sometime during her law career in Reno, Anna opened a button shop which was located on West First Street. This became a much needed diversion from routine office work. She later moved this shop into her own home.
Warren was a president of the Rebekah Assembly, the Professional Women's Club, as well as active in the Order of the Eastern Star. She was first a member of Esther No. 3 in Carson City, demitting to become a charter member of Argenta Chapter No.7, later demitting to take an active part as a member of Adah Chapter No. 4. Anna Warren was Worthy Grand Matron during the years 1905-1907. Under her wise guidance the chapters were incorporated into a Grand Chapter, the first meeting held on September 19, 1905. The officers formed by-laws, a constitution, and all rules and regulations. When her term ended there were sixteen chapters compared to an even dozen at the beginning. Anna and her officers are given credit for the present system followed in the Order of the Eastern Star.
Anna was active in the Nevada League of Women Voters in the early years following its founding in 1919 at a meeting in Reno conducted by national suffrage leader Carrie Chapman Catt. In 1923 she chaired the League's Committee on Uniform Laws and worked with Sadie Hurst (Nevada's first Assemblywoman) in compiling a Summary of Laws Concerning Women & Children in Nevada.
Anna died in Reno July 31, 1944. She was held in high regard by friends, co-workers, and women's club members for the outstanding caliber of her work in the community.
Biographical sketch by Sandra Young.
Published Works:
Warren, Anna & Sadie Hurst. Summary of Laws Concerning Women & Children. Nevada League of Women Voters, 1923.
Sources of Information:
Curran, Evalin. Compiler, History of the Order of Eastern Star, State of Nevada. 1949.
Mack, Sarah Emmeline. Papers, Nevada Historical Society, Reno.
Noneman, Kathy. Unpublished research files.