The information below has been compiled from a variety of sources. If the reader has access to information that can be documented and that will correct or add to this woman's biographical information, please contact the Nevada Women's History Project.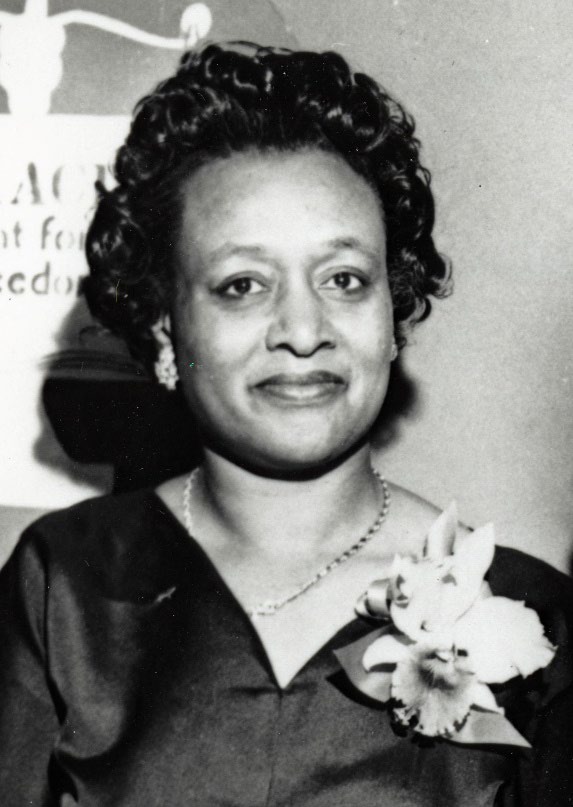 At a glance:
Born: Jan. 25, 1916, Los Angeles, California
Died: September 16, 1999, Reno, Nevada
Maiden Name: Sanford
Race/Nationality/ethnic background: African-American
Married: James Johnson, Ulysses S. Woodard, Charles Moore
Primary city and county of residence and work: Sparks/Reno, Washoe County
Major fields of work: Nursing, civil rights activist
Other role identities: Wife
Reno activist fought for civil rights all her life
Bertha Rosanna Sanford Woodard was one of the early 1950s civil rights activists in Reno, Nevada. She was born January 25, 1916, in Los Angeles, California. Few facts are known about her childhood but her parents, Samuel and Lilliebelle (Menefield) Sanford, both died when she was young. In order to keep the family together, Bertha's oldest sister, Endora, stepped in and assumed the parental role.
Fighting for social justice came early for Bertha. While she was still in high school in Pasadena, Calif., it was said that she protested exclusion of blacks from a local swimming pool. This incident may in fact have sparked her interest and encouraged her to speak out on behalf of the oppressed.
After graduating high school, Bertha attended Pasadena City College. She was married on September 21, 1937, at age 23, to her first husband, James Johnson, in Pasadena.
It is not known when Bertha moved to Oakland because no definitive 1940 census record of her has been found. However, she is listed as living in Oakland according to a Nov. 7, 1944, Oakland, Alameda, California voter registration.
According to a 1988 oral history interview, Bertha said she met her second husband, Ulysses Woodard, in Oakland in 1946 where they were married. She then moved to join him shortly after he had gained employment in Reno in 1949. However, Washoe County land records show Bertha Johnson purchased a home in Sparks, Nevada, on March 4, 1950, and according to Washoe County Clerk marriage records, Bertha R. Johnson of Oakland married Ulysses Simpson Woodard in Reno on September 15, 1950. Bertha was 72 years old at the time of that 1988 interview and perhaps over the years, her memory had lapsed on exact details of that Oakland period. She did, however, meet Ulysses in Oakland and she did move to Reno because of him.
For many years, Bertha and "Woody" lived in the same Sparks home she had purchased in 1950. The fact that Bertha purchased a home in the Reno/Sparks city limits as a single African American woman in 1950 is noteworthy, because it was not a usual happenstance for a single woman of any race or of that age to purchase a home on her own at that time. She was only 34 years old.
Bertha spoke of working "mainly for Washoe Medical Center with broken service" for about 20 years. In 1963 she received her nursing degree at Washoe Western School of Nursing and was employed at Washoe Medical Center for more than 17 years. In addition, she was appointed by the governor to serve on the State Board of Nursing from 1967 until 1975.
As a civil rights activist, Bertha Woodward spent her entire adult life fighting racism and negative social and political attitudes toward all people of color. Although she headed the Reno-Sparks NAACP (National Association for the Advancement of Colored People) from 1971 to 1976, she was a member for 58 years. She was also involved in that organization on a national level. She met Dr. Martin Luther King, Jr. in the early 1960s in San Francisco, and she was fortunate to travel to Washington, D.C. to participate in the historical March for Freedom in 1963.
Throughout the decade of the 1960s, Bertha campaigned against discriminatory practices used by northern Nevada businesses against black and minority communities. In 1959, she and a group of activists learned that the 1960 Winter Olympics would be held at Squaw Valley. They realized that people would be attending the games from all over the world, so the group sought resolutions from local and state governments asking for a suspension of discrimination during the games. They were successful in that effort but once the games were over, it was business as usual, and the discrimination resumed.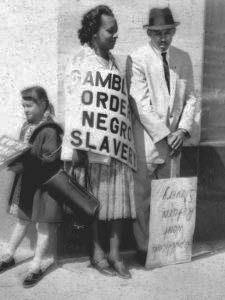 Post Olympics, she continued to take an active part against racism, by participating in "sit-ins" and picketing against many Reno businesses. Casinos and businesses such as Harold's Club, the Overland Hotel & Casino, Golden Hotel and F.W. Woolworth, Inc., as well as Hawthorne's El Capitan were especially targeted for their racist practices. She pushed for equal access for blacks, who were not permitted as customers at most downtown establishments and helped lead an effort to remove bigoted signs such as "No Indians, Negroes, or Dogs" from city stores.
Bertha played such an influential role in northern Nevada civil rights that Governor Grant Sawyer invited her to be present when he signed Nevada's first civil rights law in 1961. That bill established the Nevada Commission on Equal Rights of Citizens, now known as the Nevada Equal Rights Commission. She was also invited to witness the signing of the Nevada Civil Rights Act of 1965 by Governor Sawyer.
Always generous to give back to her community, she served on advisory boards of the American Association of Retired Persons, Retired Public Employees of Nevada, and Older American Retired Program. An active member of the Sparks United Methodist Church, Bertha was also a member of Toastmistress Club (Pipe and Wire) and Eastern Star, as well as NAACP. Three governors, Paul Laxalt, Mike O'Callaghan and Robert List appointed her to serve on state advisory boards.
Her husband Ulysses Woodard died in 1973 and Bertha had a short-lived marriage to Charles Moore in 1977. As one of the now "senior" civil rights leaders in Reno, she was featured in many newspaper articles, asked to speak at local organizations and had her oral history taken by University of Nevada, Reno Professor Elmer Rusco. In 1981 the University of Nevada Board of Regents conferred upon her the Distinguished Nevadan Award, an honor bestowed only upon those who have contributed in an outstanding manner to the State of Nevada.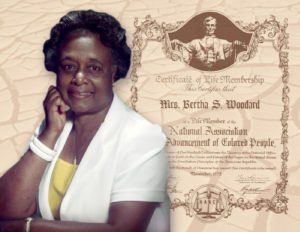 Well into her 60s, her "activism" gene was still strong. In 1983, at the age of 67, she attended the national 20th Anniversary March on Washington, commemorating the 1963 "March on Washington D.C. for Jobs and Freedom." Back at home, she spent years working tirelessly to register black voters needed to retain the civil rights gains made in Nevada the previous 20 years. She became an institution in the Reno/Sparks community.
At the age of 85, Bertha, independent as usual, was still mowing grass and taking care of her yard. She died in Reno on September 16, 1999. She was memorialized by the Nevada State Legislature with a Senate Concurrent Resolution.
Bertha Woodard was able to break down many barriers and change the racial and social outlook of our state because of her dedication, resilience, strength, and courage.
Her contributions to our state have been monumental and her place in Nevada history is well established.
Researched by Patti Bernard and written by Marilyn Howard and Patti Bernard. Posted May 2022.
Sources of Information:
Anderson, Rachel J. "Timeline of Africa-American Legal History in Nevada (1861-2001)" (2012). Scholarly Works. Paper 789. P. 12. Http://scholars.law.unlv.edu/facpub/689. Accessed 10 April 2020.
Ancestry.com. Year: 1920; Census Place: Pasadena, Los Angeles, California; Roll: T625_117; Page 12A; Enumeration District: 531.
Ancestry.com. Year: 1930; Census Place: Los Angeles, California; Page: 29B; Enumeration District: 0322, FHL microfilm: 2339880.
Ancestry.com U.S., Social Security Applications and Claims Index, 1936-2007 [database on-line]. Provo, UT, USA: Ancestry.com Operations, Inc., 2015. [Bertha Sanford Johnson, Bertha R. Woodard, Bertha S. Moore, Bertha S. Woodard].
"Black leader takes Reno's temperature." Nevada State Journal (Reno, Nevada), 8 February 1981. p. F4.
California Department of Public Health, courtesy of www.vitalsearch-worldwide.com. Digital images.
"Case histories on Discrimination to Be Compiled by NAACP Here." Reno Evening Gazette (Reno, Nevada). 21 January 1959, p. 14.
"Civil Rights Picketing to Halt in Reno-No Fire, Just Protesters." Nevada State Journal (Reno, Nevada), 1 April 1961, p. 16.
Crowe, Jennifer. "Death of Reno rights legend mourned." Reno Gazette-Journal (Reno, Nevada), 21 September 1999, p. 1.
Dalton, Ken. Phone conversation. 4 December 2021.
Del Cohen, Shane, Editor. 300 + Facts About Northern Nevada African American Experience In Northern Nevada. Reno, Nevada: Our Story, Inc. Publications, 2016. p. 39.
Goodwin, Joanne L. "Nevada Civil Rights Act of 1965." Special Collections, University of Nevada, Reno Libraries.
Griffith, Martin. "Racism — Is Nevada once again 'Mississippi of the West'?" Reno Evening Gazette, 15 April 1982, p. B1. Sec. Urban Update.
Haq, Kathy. "Retired nurse confronts problems facing blacks." Nevada State Journal (Reno, Nevada). 26 January 1981, p.13.
"Vital Statistics – Intentions to Wed. James Johnson … Bertha R. Sanford…" California Eagle (Los Angeles, California), 30 September 1937, p .5.
Johnson, Bertha, 13 March 1950, Office of Washoe Co. Recorder of Deeds, Reno, Nevada.
King, Martin Luther, Jr. to Mrs. Woodard, 31 October 1958, personal correspondence.
Mrs. Bertha R. Johnson, California State Library; Sacramento, California; Great Registers of Voters, 1900-1968.
"NAACP Drive Against Chain Hits Reno Store." Nevada State Journal (Reno, Nevada). 12 June 1960, n.p.
"Negroes Picket Reno Club." Reno Evening Gazette (Reno, Nevada). 29 March 1961, p. 1.
"Negroes Stage Quiet Sit-In at Hawthorne." Reno Evening Gazette (Reno, Nevada). 27 January 1962, p. 9.
"Negro Sit-In at Reno Café." Reno Evening Gazette (Reno, Nevada). 31 March 1961. p. 1.
"Nevada Black History, Yesterday and Today" by North West Degree and Lonnie L. Feemster Realty.
Nevada Senate Concurrent Resolution, Memorializing distinguished civil rights leader Bertha Woodard, SCR27, Nevada Legislature, State of Nevada Resolution, 3 April 2001.
"Nevada woman will join civil rights march." Reno Evening Gazette (Reno, Nevada). 26 August 1983, p. C2.
"Nursing School Graduates 16." Nevada State Journal (Reno, Nevada). 23 December 1963, p. 8.
Sloan, Jim. "Push to Get Black Voters to the Polls," Reno Gazette-Journal (Reno, Nevada). 11 March 1984, p. 8.
Washoe County, Nevada, Marriage Certificate #318756 (1950), Ulysses Simpson Woodard and Bertha R. Johnson, Office of Washoe County Recorder, Reno, Nevada.
Washoe County Nevada, Marriage Certificate #23430 (1977), Charles B. Moore to Bertha S. Woodard, Office of Washoe County Recorder, Reno, Nevada.
Woodard, Bertha to Elaine, 18 October 1989, personal correspondence.
Woodard, Bertha, 1916 Speech to the Unitarian Universalist Fellowship of Northern Nevada. 11 Sept. 1983, University of Nevada, Reno, Mathewson-IGT Knowledge Center.
"Woodard's moral courage is still much needed today." Reno Gazette-Journal (Reno, Nevada, p. 11A.