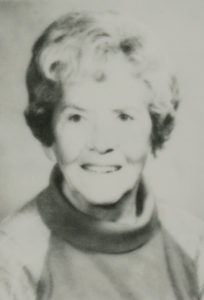 BYRD FANITA WALL SAWYER
The information below has been compiled from a variety of sources. If the reader has access to information that can be documented and that will correct or add to this woman's biographical information, please contact the Nevada Women's History Project.
At A Glance:
Born: May 5, 1895, in Missouri
Died: October 15, 1981 in Carson City, Nevada
Maiden Name: Wall
Race/Nationality/Ethnic Background: Caucasian
Married: Dr. Harry Sawyer
Children: Stepchildren Nevada Gov. Grant Sawyer, Dr. Harry Sawyer, and Milo Sawyer
Primary City and County of Residence and Work:
Fallon (Churchill County), Reno (Washoe County), and Carson City (Ormsby County)
Major Fields of Work: education, historical writing, medical assistance
Other Role Identities: wife, stepmother
Biography
Author, teacher, librarian followed wide-ranging interest in Nevada history
Byrd Wall Sawyer was a historian, teacher, and writer who brought life to her historical characters and inspired students to pursue more information about a subject that, in a lesser teacher's hands, might look dry and uninteresting. This was true when she was an active teacher in Twin Falls, Idaho; Reno; and Fallon schools, but also in her public presentations about Nevada's history of mining, sheepherding, and even Christmas.
Ruth McCuskey wrote, "When Mrs. Sawyer talks, her characters become real people with human quirks and follies; all dear to her heart. Consequently they become dear to her students." Readers of her books found it hard to believe she was not a native Nevadan.
Byrd Wall Sawyer was born in Missouri on May 5, 1895, but spent her childhood traveling with her parents to help them find a climate favorable for their tuberculosis. They spent time in Texas, New Mexico and Idaho. In an interview, Wall Sawyer recalled dust storms in Twin Falls so severe her mother had to "wipe off the dishes and shake out the oilcloth before proceeding with a meal." The weather did not stop her from enjoying life in Idaho. When she had a childhood case of scarlet fever, she used the time to learn the books of the Bible and all the Beatitudes.
In high school, Byrd Wall so enjoyed acting in school plays that she almost chose acting as a career, but the time in school theater also inspired her to participate in a student strike when the school board would not agree to the students' use of funds on stage curtains. The students ignored the board and bought the curtains anyway.
At the University of Idaho, Moscow, she was a member and resident of the Gamma Phi Beta sorority, which was thought to be more exclusive than it was. She remembered the primitive facilities including kerosene stove heat and no student food unless they themselves paid for it. She graduated in three and a half years, to escape those conditions and to take a teaching position in Kimberly, Idaho. She later received her Master of Arts degree in American History at the University of California, Berkeley. Also several years later, she studied geography at McGill University in Stamstead, Quebec, Canada.
After some travel and work experience in New York City, she returned west and settled in Reno, where she met, and in 1923 married, Dr. Harry Sawyer, who promptly moved her to Fallon. Despite her declaration to her husband that she'd never work in his office, she ended up becoming an excellent midwife, delivering more than 300 babies, and running a hospital for seven years. She called this time in the 1930s and '40s "The Fallon Period."
During this time, she and her husband followed the successful careers of his three sons from a previous marriage: "Pete" Harry W. Sawyer, Jr., as obstetrician and chief of staff at San Francisco's St. Francis Hospital; Milo Sawyer, who was a successful Baptist minister in Toledo, Ohio, until his death in 1948; and Grant Sawyer, who followed his father's love of the Democratic Party and became a two-term Nevada Governor, and later a lawyer in Las Vegas.
Her own career returned to education, where she became the history teacher and librarian at Churchill County High School, positions she held for 17 years. When the Sawyers moved back to Reno, in the late 1950s, she became the librarian at Bishop Manogue High School. In 1961, her husband Harry passed away. That same year, her stepson, Governor Grant Sawyer, presented her with the state's Educator of the Year award.
In addition to teaching, she always seemed to be writing something. She was a "well known writer of animal stories," according to one newspaper article, and in 1940, she co-wrote, with Effie Mona Mack, her first of several Nevada history books called "Our State: Nevada," a school history textbook.
In 1953, she and two other historical authors, Jay A. Carpenter and Russell Richard Elliott, took a look at the history of mining in the central Nevada town of Tonopah. The book "The History of Fifty Years of Mining at Tonopah, 1900-1950," put out by the State Printing Office, combined works from all three authors, including Wall Sawyer's "Gold and Silver Rushes of Nevada – 1900-1910." That time period included the discovery by Jim Butler of silver in Tonopah through the recession that followed it in 1910.
She took a look at the history of Christmas in Nevada for a talk she wrote and delivered to the Sparks branch of the American Association of University Women in December 1962. She noted that the first public mention of Christmas in Nevada was in a diary from the John C. Fremont party's 1843 stop at a body of water they dubbed "Christmas Lake." The story featured the passing of rum and coffee among the group to celebrate the day.
In 1965, she again joined with Dr. Effie Mona Mack, a then-retired instructor of history and political science at the University of Nevada, to pen "Here is Nevada," an updated comprehensive history of the state designed for use by junior high school students. The text, published by the Western Printing Company of Sparks, was placed in the special Nevada collection at the State Library. Sawyer was privileged to present the copy to her stepson, the governor.
The sheep industry in Nevada was Wall Sawyer's next focus. She published the book "Nevada Nomads" in 1971, and in the cover notes, author Richard Dillon highly recommended her "account of Nevada woolies" as stacking up against any cowpoke's tales of the old west. The years of research she put into it resulted in the first comprehensive study of the Nevada sheep industry in print.
Byrd Wall Sawyer was active in organizations and politics as well. In 1947, she was elected president of the Reno branch of the League of American Pen Women. That same year, she was a delegate to the annual conference of the International Federation of University Women in Toronto, Canada.
She did not agree with those fighting, way back in 1948, for an equal rights amendment to the constitution, because of the way it was worded. During a talk before the Fallon Business and Professional Women's club dinner in May of 1948, she pointed out the "far reaching effects of women sharing equally with men, and explained how the responsibilities must be shared as well as the benefits of equal rights." She felt the legislation would nullify existing legislation that specifically benefited women, like women's exemption from being drafted for combat, and certain workplace accommodations for women.
During her teaching years, she was active in the teachers' union, and when she retired, she was elected president of the Nevada Retired Teachers Association, as well as vice president of the Reno chapter. She was chosen Nevada's Bicentennial Chairwoman for the organization, and quickly put together a book called "Inside Nevada Schools: a Challenge for the Future," which she presented to the organization's national meeting in Houston, Texas.
She moved to Carson City in 1965 and in addition to her writing and research, volunteered at the Nevada State Museum. In 1971, the University of Nevada awarded her its "Distinguished Nevadan Award."
Wall Sawyer's education was furthered in her world travels. In addition to her travels in the eastern U.S. and in Canada, in 1963 she went on her first of two trips to South America. She also visited Australia, and later took what she called "a trip around the world."
At the age of 86, Byrd Wall Sawyer's trips into the world, into students' hearts and into history, ended in a Carson City hospital, where she died on October 15, 1981. Services were held in Carson City, and her cremains were inurned in Twin Falls, Idaho.
Researched by Patti Bernard and written by Kitty Falcone. Post on website June, 2018
Sources of Information:
"Fallon BPW Hears Equal Rights Talk by Mrs. Sawyer." Reno Evening Gazette (Reno, Nevada), May 1, 1948, p. 9:3.
"Name President For Pen Women Of Reno Branch." Reno Evening Gazette (Reno, Nevada), June 16, 1947, p. 12:1.
"'The History of Fifty Years Of Mining at Tonopah' Is Now Ready for Distribution Here." Nevada State Journal (Reno, Nevada), March 22, 1953, p. 7:4.
"Byrd Sawyer Traces History of Christmas in Nevada." Reno Evening Gazette (Reno, Nevada), December 10, 1962, p. 10:3.
"State Retirement Plan Explained to Teachers." Reno Evening Gazette (Reno, Nevada), February 28, 1964, p. 9:5.
"New Book Published On Nevada History." Nevada State Journal (Reno, Nevada), November 23, 1965, p. 23:1.
Sawyer, Byrd Wall. Nevada Nomads, A Story of the Sheep Industry. San Jose, CA: Harlan-Young, 1971. p. 221.
McCusky, Ruth. "Do you know….Byrd Wall Sawyer." Fallon Eagle Standard (Fallon, Nevada), 1971.
"Nevada teacher, historian, author dies." Fallon Eagle Standard (Fallon, Nevada), October 18, 1981.
"Nevada author, teacher, Byrd Sawyer dead at 86." Reno Evening Gazette (Reno, Nevada), October 15, 1981, p. 1:2.
Year: 1900; Census Place: Roswell, Chaves, New Mexico; Page: 20; Enumeration District: 0030 [Burd F. Wall].
Year 1910; Census Place: Twin Falls, Twin Falls, Idaho; Roll: T624_228; Page: 3A; Enumeration District: 0268; FHL microfilm: 1374241. [Burd Wall].
Year 1930; Census Place: Fallon, Churchill, Nevada; age 2A; Enumeration District: 0004. [Byrd F. Sawyer].
Year: 1940; Census Place: Fallon, Churchill, Nevada; Roll: m-t0627-02276; Page 1A; Enumeration District: 1-2. [Byrd F. Sawyer].
Ancestry.com. Rio de Janeiro, Brazil, Immigration Cards, 1900-1965 [database-on-line]. Lehi, UT, USA: Ancestry.com Operations, Inc., 2016.