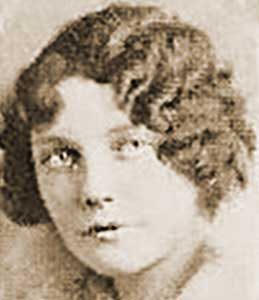 CAROL LU ELLA BULLIS-ECHEVERRIA
The information below has been compiled from a variety of sources. If the reader has access to information that can be documented and that will correct or add to this woman's biographical information, please contact the Nevada Women's History Project.
At A Glance:
Born: June 29, 1909
Died: November 1988
Maiden Name: Carol Lu Ella Bullis
Race/Nationality/Ethnic Background: Caucasian
Married: Paul Echeverria, August 22, 1931 in Winnemucca, Nevada
Children: Benny Paul "Ben" Echeverria and Robert Lane "Bob" Echeverria
Primary City and County of Residence and Work:
Winnemucca, Humboldt County and Reno, Washoe County
Major Fields of Work: Author, Buyer for family-owned business, Food columnist, Historian
Other Role Identities: Wife, Mother, Teacher, Realtor
Biography
Carol Lu Ella Bullis was born June 29, 1909 in Winnemucca, Nevada to Angus Cameron Bullis (1880) and Carrie Mullinix Choate (1878). There were six children of the marriage; including Carol (1909), Gerwin (1911), Lester R. (1914), Clement E. (1915) and twin girls, Verna and Vera (1916).
As the oldest child, Carol supervised her younger siblings, especially the twins Vera and Verna. She graduated from Humboldt County High School in 1926. Like her mother, Carrie, Carol attended Normal School at the University of Nevada-Reno. She attended alternate semesters, fall-1927,spring-1928, fall-1929 and worked during the other semesters to save money for her college tuition, expenses and room and board.
She began her teaching career in the fall of 1928 in Humboldt County, Nevada in the rural area at King's River, teaching all eight grades in a one-room schoolhouse. She began full time teaching in 1930 under a provisional credential having not completed her Normal School curriculum.
She married Paul Echeverria on August 31, 1931. Pablo, as he was known, was first generation Basque. His parents Venturo (1880) and Sinfrosa (1878) immigrated from the Basque region of Spain circa 1900 to Paradise Valley, Nevada where his father was a camp tender and sheepherder.
In the early years of their marriage Paul and Carol hunted and fished in Northern Nevada and spent a good deal of their time outdoors camping and rockhouding. Carol was a crack rifle shot having participated in the UNR Rifle Club. She was very athletic, a top notch swimmer and a certified Water Safety Instructor. For many years she managed the public swimming pool in Winnemucca, where she also taught swimming.
She took a sabbatical from teaching in 1938 giving birth to her first son, Benny Paul and four years later to her second son, Robert Lane. When the boys began school Carol returned to the workforce and eventually returned to the classroom, again teaching all eight grades in Golconda, Nevada.
She returned to her studies, attending the University of Utah and the University of Nevada-Reno in the summer to complete her Bachelor of Science Degree in Education in 1960, going through graduation ceremonies in 1961 with her oldest son, Ben. This same year she was awarded an Elementary Professional Certificate for K-8 which certificate was renewed every five years through 1983. In 1971 she also received a Certificate as a Reading Specialist for K-12.
In 1952 Paul joined the Winnemucca Police Department as a police officer and was appointed Chief of Police in 1959. Carol continued her teaching in the Winnemucca school system until 1961 when she accepted a position as an elementary teacher with the Washoe County School System in Reno. Paul resigned his position as Chief of Police and the couple moved to Reno.
In 1964 she was admitted to the Graduate School at the University of Nevada-Reno and began her studies for the Master of Education Degree in Elementary Education. She completed the required 33 hours of course work by 1967 with high marks.
She became active in the Nevada State Teacher's Association and was elected President of the Department of Classroom Teachers. She also Chaired the Professional Rights and Responsibilities Committee. In 1970 she was appointed by Burnell Larson, Superintendent of Public Instruction, Department of Education, State of Nevada, to a three year term on the review committee to conduct hearings regarding dismissal or non-reemployment of teaching personnel.
Pab died at age 68 in August 1973 and Carol began plans for her retirement from teaching. She studied for her Nevada Real Estate license, took the examination and passed it. She began a second professional career as a real estate agent in Reno and Washoe County. Her entrepreneurial spirit came out and she engaged in the purchase of properties for her own account and representing buyer's and sellers. At one time her inventory included a gold mine as well as residential and ranch properties.
Carol died in November 1988 after a year long battle with spinal cancer. Her spirit to live was strong and she fought her battle with cancer like the strong Nevada woman she was. Her legacy includes her two sons, both of whom earned Bachelor's & Master's Degrees at the University of Nevada-Reno, and her oldest, a Juris Doctorate from California Western College of Law, San Diego, California. Both sons were motivated and encouraged by their mother's example.
Researched and written by Ben Echeverria, Posted to Web site November 2012
Sources of Information:
Echeverria Family Records
True copies of Nevada Teacher's State Certificates and original letters in Echeverria Family Records.
Originals of Humboldt County High School Diploma of Carol L. Bullis and The University of Nevada Diploma-Bachelor of Science in Education for Carol Bullis Echeverria in the Echeverria Family Records.
Photo of Carol Echeverria from the 1930 Artemisia, Vol. 27, page 224 (Manzinita Hall Association) and page 135 (Women's Athletics- RIFLE), "A Record of the College Year of 1929-1930", published annually by the Associated Students of the University of Nevada, Reno