The information below has been compiled from a variety of sources. If the reader has access to information that can be documented and that will correct or add to this woman's biographical information, please contact the Nevada Women's History Project.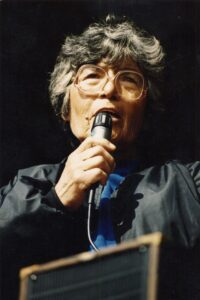 At a Glance:
Born: December 9, 1933 in Eureka County, Nevada
Died: January 1, 2021 in Eureka County, Nevada
Maiden Name: Carrie Dann
Race/Nationality/Ethnic Background: Native American, Western Shoshone Tribe
Primary City and County of Residence and Work: Beowawe, Crescent Valley, Eureka County
Major Field of Work: Native American and environmental activism
Biography:
Shoshone activist disputed federal ownership of tribal land
Carrie Dann, a Native American activist dedicated to preserving the Western Shoshone treaty rights and to opposing the federal government's confiscation of the family's cattle, also clashed with the federal government over several mining projects and the shipment of nuclear waste to Southern Nevada.
In 1933, Carrie Dann, the sixth child of seven, was born in Eureka County, Nevada to Dewey Dann (born in Lander County, Nevada) and Sophia Hall Dann (born in Eureka County), members of the Shoshone Tribe. Carrie grew up in Beowawe on the ranch granted to her father by the federal government. Instead of creating a reservation, the government granted an allotment of about 160 acres of land for farming and cattle grazing to certain Shoshone men in Crescent Valley, including her father. Ultimately, this land became the subject of Carrie's and her oldest sister Mary's disputes with the federal government.
The Dann children attended grade school in Beowawe. For high school, the older children attended Stewart Indian School in Carson City, while Carrie attended Eureka High School in the town of Eureka. Active in school activities, she served on the school newspaper staff, joined the Girls Athletic Club to play basketball, and acted in some of the school plays.
In the 1970s, clashes began between Carrie and her sister Mary with the federal government's Bureau of Land Management (BLM). The Danns quit paying the government for grazing their cattle on their allotment. Pursuant to the Treaty of 1863 signed in Ruby Valley, Nevada, the sisters claimed the Shoshone Tribe legally owned the land, not the federal government. Therefore, they were not required to pay grazing fees. In 1974, the BLM sued them, arguing their cattle were trespassing on federal lands without the family's obtaining a permit or paying the grazing fees required under the Taylor Grazing Act of 1934. The sisters argued that their aboriginal title to the land precluded the government from requiring them to obtain permits or pay fees. When they refused to pay, the BLM began to confiscate their cattle.
In court, the women argued that 20 million acres named Newe Sogobia, meaning the People's Earth Mother in Shoshone, a third of about 60 million acres covering parts of Nevada, Idaho, Utah and California, were not legally alienated by the Treaty of 1863. They claimed under the treaty that the U.S. formally recognized the Western Shoshone Tribal rights, so they did not have to pay the grazing fees. The district court ruled against them and found they were not entitled to compensation for the seizure of their cattle.
In 1979, a claim was filed with the Indian Claims Commission, and the Commission awarded the Tribe $26 million for the land. The federal government deposited the money in the Tribe's account. In 1985, the parties were in court again. The U.S. Supreme Court ruled the Tribe lost title to the land when the government deposited $26 million in the Tribe's account, even though the Tribe refused to accept the money for the land. Later, many members of the Shoshone Tribe accepted the financial settlement that amounted to about $22,000 per person, but the Danns never accepted any of this money. In 2003, the BLM-Dann dispute ended after the BLM finally seized all the Danns' horses and cattle.
In 1997, the sisters also unsuccessfully protested the expansion of Barrick Gold Corporation's mining project in nearby Cortez Hills. Additionally, Carrie fiercely opposed shipping nuclear waste to Yucca Mountain and fought for relief for tribal residents affected by the nuclear testing. In 2011, she was arrested in an anti-nuclear protest at the Nevada Test Site north of Las Vegas along with actor Martin Sheen and others.
Dann is survived by her daughter, Patricia Paul, and three grandchildren. Her son, Mark Knight, died in 2015. Carrie's sister Mary preceded her in death in 2005, and Carrie died at home January 1, 2021 at age 87.
Researched and written by Patricia D. Cafferata. Posted April 7, 2021
Sources of Information
Ancestry.com. Year: 1940; Census Place: Beowawe, Eureka, Nevada; Roll:m-t0627-02277; Page;4B; Enumeration District;6-1. [Cary Dan]
"4-H Club meets." Nevada State Journal (Reno, Nevada), June 15, 1939, p. 5.
(AP) "Native American land activist Carrie Dann dies." Elko Daily Free Press (Elko, Nevada),
Jan. 8, 2021.
(AP) "Native American land activist Carrie Dann dies in Nevada." Reno Gazette Journal (Reno, Nevada), Jan. 12, 2021. Story corrected to state Mary Dann was Carrie's older sister.
"Beowawe pupils given diplomas." Nevada State Journal (Reno, Nevada), May 28, 1944.
Cox, Don. "BLM begins roundup of Danns' horses." Reno Gazette Journal (Reno, Nevada), Feb. 7, 2003, p. 19.
"Dann supporters watch for federal wranglers." Elko Daily Free Press (Elko, Nevada), Nov. 5, 1982, p. 4.
Find a Grave, database and images (https://www.findagrave.com : accessed 10 Feb. 2021), memorial page for Carrie Dann (1932–2 Jan 2021), Find a Grave Memorial no. 221156346, ; Maintained by RAE (contributor 48167119) Cremated.
Hanna, Stephanie. "Dann Sisters' battle for Nevada land drawn along cultural lines." Reno Gazette Journal, (Reno, Nevada), Mar. 10, 1985, p. 54.
Hillman, Michael. Great Basin Indians: An Encyclopedic History, University of Nevada Press,
Reno & Las Vegas, 2013, pp. 111-112 and 145.
Inter-Tribal Council of Nevada. Newe: A Western Shoshone History, Reno, Nevada, 1976.
Phillis, Michael. "Agency silent about grazing dispute bids." Reno Gazette Journal (Reno, Nevada), Sept. 24, 1991, p.1.
U.S., School Yearbooks, 180-2012. School Name: Eureka County High School; Year; 1953. [Carrie Dann]
The National Archives in St. Louis, Missouri; St. Louis, Missouri; WWII Draft Registration Cards for Nevada, 10/16/1940-03/31/1947; Record Group: Records of the Selective Service System, 147; Box: 8,  [Dewey Dann]