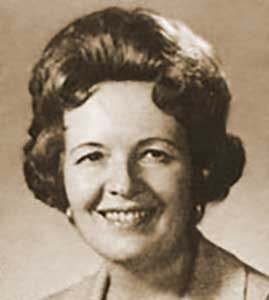 CHARLOTTE ROWBERRY ELLSWORTH

The information below has been compiled from a variety of sources. If the reader has access to information that can be documented and that will correct or add to this woman's biographical information, please contact the Nevada Women's History Project.
At A Glance:
Born: January 8, 1912; Cardston, Alberta, Canada
Died: July 11, 1998; Las Vegas, Nevada
Maiden Name: Weltha Charlotte Rowberry
Race/Nationality/Ethnic Background: Caucasian
Married: Elmo H. Ellsworth, October 16, 1936, San Francisco, California
Children: Jane, John Elmo, a second daughter died in infancy
Primary City and County of Residence and Work:
Henderson and Las Vegas, Clark County, and Reno, Washoe County, Nevada
Major Fields of Work: Room Reservation Manager and Assistant Hotel Manager
Other Role Identities: Wife, Mother, Secretary
Biography
Charlotte Rowberry Ellsworth was a room reservation manager and executive at the Flamingo Hotel, Frontier Hotel, MGM Grand Hotel, and Bally's Grand Hotel from 1948 to 1998. Born in Cardston, Alberta, Canada, Charlotte was the daughter of Thomas Clark Rowberry and Jane Ann Hartley Rowberry. They were among the first group of Mormon farmers to settle in that region of Canada.
When Charlotte was two years old, her father died. Devastated by this loss, her mother, was unable to keep her portion of the family enterprise. She left Canada and struggled for the remaining years of her life to support and keep her three children, Hyram, John, and Charlotte, together. Survival became the family business, and Charlotte began working at the age of eight. When Jane Ann cooked for road gangs and Salt Lake City fraternity houses, the three children assisted her in the work and then washed dishes for as many as thirty men three times a day. Charlotte was working in her school offices as soon as she entered high school.
Charlotte's mother was determined that her daughter would attend the private L. D. S. College and learn secretarial skills. As secretary to President Feramorz Young Fox, Charlotte mastered graciousness, tact, and the qualities of a true professional. So rigorous was Fox's tutelage that Charlotte maintained no work was ever so hard again.
A quick study, Charlotte graduated from high school at the age of 17. Her mother died of cancer six weeks before the graduation ceremony. Jane Ann had lived long enough to ensure each of her children a living. In Charlotte's case, the young woman's office skills carried her well through the Great Depression.
As the years passed, Charlotte worked in the Salt Lake City area and then spent a year in Washington, D.C. While there, she renewed an acquaintance with Elmo H. Ellsworth. He had determined to marry her when they were both students at L. D. S. College. Elmo completed a mission, and was working for the government when, at twenty-four years of age, he finally convinced Charlotte to marry him. Elmo was transferred to San Francisco, California, and they were married there on October 16, 1936. A daughter, Jane, was born in 1938.
When World War II broke out, Elmo found work in Clark County at the newly constructed Basic Magnesium Plant. As there was no housing, he lived in the plant's tent city. Charlotte and Jane joined him in April. They found a room at the Walipai Lodge and stayed there until the Henderson homes were available. Their second daughter was born shortly after that move. Rosemary Lee was very ill and died at ten months of age.
Elmo's friend, Jack Walsh, suggested Charlotte work for him at the El Rancho Hotel in Las Vegas. At the hotel she was given a "flunkey's job," helping out in any and all of the departments of the hotel. This proved to be a wonderful opportunity. She learned the needs and demands of the entire hotel operation and soon became secretary to the president. When Sanford Alder took over the casino, Charlotte was made head of the Room Reservation Department. The demands and details of the work were extraordinary and, according to Charlotte, one reservation manager was hauled to jail for overselling the hotel. She left the El Rancho to stay home and enjoy her new baby boy, John Elmo, who was born in May 18, 1947.
Charlotte had to be hospitalized for six months after the baby's birth. By the time she had recuperated, the family finances were stretched to the breaking point. Again, Jack Walsh called and wanted her at the new Flamingo Hotel. In November of 1948 she agreed to go to the Flamingo to manage the Room Reservations Department. During the ensuing decades, Charlotte served as both the Room Reservation Manager and as Assistant Manager of the hotel.
She moved to the Frontier Hotel in 1967, where she stayed for ten years. Elmo died in December, 1971 and so her work became a kind of refuge. At the age of sixty-five, Charlotte was persuaded to join her associates for the opening of the MGM Grand Hotel in Reno, Nevada. She remained at the Grand until her retirement at the age of seventy-six. She had been a room reservation manager for forty years.
Charlotte had certain qualities that made her invaluable to hotel owners. She was willing to work ten and even fourteen- hour days, seven days a week, as many of the owners themselves did. She recognized the needs of the entire operation and gave balanced opinions that were always pointed to the success of the enterprise. She was loyal to her bosses, and they were very protective of her. Charlotte's photographic memory allowed her to remember the names of hundreds of guests, their credit ratings, gaming habits, and many details about their lives. These qualities and her graciousness endeared her to the guests, many of whom became her personal friends.
Stories of Charlotte's brilliance and concern for others abound. Once, she went to one of her bosses to ask for raises for her staff. She was told that she could have the raise for herself or for her staff, not both. Charlotte chose the raise for "her girls." As the decades passed, she trained hundreds of men and women in the hotel business, and her name became legendary in the profession.
Researched and written by Jane Ellsworth Olive. Posted to Web site January 2011.
Sources of Information:
Taped interviews with Charlotte R. Ellsworth, family records, interviews with Mrs. Angie Kaye, Mrs. Linda Love Lee, and Mrs. Cec Kier.