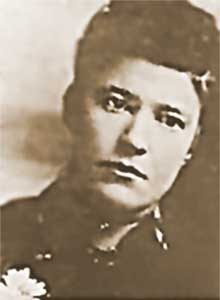 CLARA DUNHAM CROWELL
The information below has been compiled from a variety of sources. If the reader has access to information that can be documented and that will correct or add to this woman's biographical information, please contact the Nevada Women's History Project.
At A Glance:
Born: April 7, 1876, Austin, Nevada
Died: June 20, 1944, Reno, Nevada
Maiden Name: Dunham
Race/Nationality/Ethnic Background: Caucasian
Married: George Crowell in 1898
Children: George Crowell, Jr., Dolly Ruth Crowell
Primary City and County of Residence and Work:
Lander County, NV and Nye County, NV
Major Fields of Work: Sheriff, Nurse, Hospital Matron
Other Role Identities: Wife, Mother, Educator (teacher), Social Worker, Woman's club leader, Appointed federal official
Biography
Clara Dunham was the fifth of seven children born to Edward G. Dunham, originally from the state of New York, and Julia Gula Dunham, born in Vermont. Clara began her life on April 7, 1876, in Austin, Nevada where her father was employed as a house painter and her mother a homemaker. Clara's six siblings were: Almira, Catherine, Julia, Minnie, Edward, and Will. According to a biography written by Phillip L. Earl in the Humboldt Historian, Spring 1983, Clara Dunham grew up in Austin, Nevada.
Austin was mapped out in 1862 as a result of a silver boom which ended by 1887. The town became the county seat of Lander County. The Nevada Central Railroad was built to connect Austin with the transcontinental railroad in Battle Mountain, Nevada in 1880, but by 1880 the silver boom was almost over. (1) Census records and Phillip I. Earl document that she completed the 6th grade in a town where schooling was most likely a luxury. Mr. Earl wrote that Clara worked as a waitress prior to her meeting and marrying George Crowell in 1898. (2) Clara was 22 years of age at the time of the marriage and her husband was 34 years of age. The Crowell's had two children, George Jr., born in 1900, and a daughter, Dolly Ruth who was born in 1907. It is this author's opinion that life for Clara Crowell was often very hard. She had two children to care for and not much in the way of resources to ease the burden of living in a mining town in the early 1900's.
In 1911, son George died at the age of eleven from pneumonia. Her husband George had been self-employed operating a stage line during the marriage while at the same time running for various elective offices. He had been elected to the Lander County Board of Commissioners in 1904, but had suffered defeat when running for sheriff in 1908 and 1912. (3) In 1918 he was finally elected sheriff of Lander County, but shortly after being sworn in as sheriff in January of 1919, health issues surfaced and "he was taken to Oakland, California for further medical treatment." (4) On February 24, 1919, Clara became a widow with no apparent means of support. The citizens of Austin petitioned the Board of Commissioners in Lander County to name 42-year old Clara Crowell to the position of Sheriff, which they did. Clara became sheriff in March 1919 with no experience and little backing from her subordinates. She would be a "place holder" and the actual job of sheriff would fall to Deputy Thomas White. During her two years in office, Clara would take a leave of absence to care for her ailing mother and another when she traveled to San Francisco due to a "nervous disorder", according to Phillip I. Earl.
In later years, stories circulated about Clara, picturing her as a crime-fighter with a tough reputation. This author could find no documentation to back up these claims. Instead the author found that Clara Dunham Crowell collected a $25 a month "mother's allowance" from the county and that she worked at the Lander County Hospital, first in nursing and then as a matron. By the 1930 census, Clara Dunham Crowell, age 54, was listed as not working. In the 1940 census, at age 63, she was listed as a matron at the Lander County Hospital. According to Phillip I. Earl, Clara resigned her position at the hospital due to health reasons in July of 1940 and moved to Reno to live with a sister. She died on June 20, 1942. She is buried in the Austin, Nevada Calvary Cemetery.
Researched and written by Marcia Cuccaro. Posted to web site January 2016.
Sources of Information:
www.en.wikipedia.org/wiki/AustinNevada
Earl, Phillip I., "Law South of the Humboldt: Clara Dunham Crowell, Nevada's First Lady Sheriff 1919- 1921", The Humboldt Historian, Spring, 1983, p.3.
Ibid, p. 3.
Ibid, p. 4.
www.findagrave.com/Clara Dunham Crowell (1876-1942)
1880 United States Federal Census-Ancestry.com Edward Dunham (7) www.person.ancestry.com/tree Julia Dunham
1880 United States Federal Census – Ancestry.com Clara Crowell
1910 United States Federal Census – Ancestry.com Clara Crowell
1920 United States Federal Census – Ancestry.com Clara Crowell
1930 United States Federal Census – Ancestry.com Clara Crowell
1940 United States Federal Census – Ancestry.com Clara Crowell
Western States Marriage Index, 1809-2011 – Ancestry.com Clara Dunham
1900 United Federal Census – Ancestry.com George Crowell