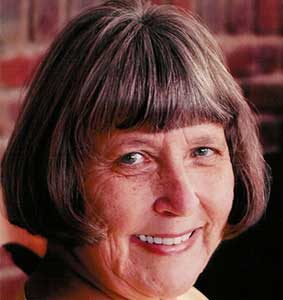 DIXIE OLEAN KARR WESTERGARD

The information below has been compiled from a variety of sources. If the reader has access to information that can be documented and that will correct or add to this woman's biographical information, please contact the Nevada Women's History Project.
At A Glance:
Born: June 4, 1935, Rule, Texas
Died: September 21, 2007, Carson City, Nevada
Maiden Name: Dixie Olean Karr
Race/Nationality/Ethnic Background: Caucasian
Married: Roland Westergard, December 1956.
Children: Laurie, Tricia, Wendy and Todd
Primary City and County of Residence and Work:
Carson City, Nevada
Major Fields of Work: Teacher, Historian, Author
Other Role Identities: Mother, Campfire Girls Leader, Vacation Bible School Teacher
Biography
Teacher, author, historian, caring mother, grandmother, and great-grandmother, Dixie Westergard lived her life as an example to others. Spurred by a love for children and friends, she focused on the task at hand while helping others.
Born in Rule, Texas, on June 4, 1935, to Thelma and Leon Karr, she grew up in the Los Angeles and Bakersfield areas of California. During her teenage years the family moved to Elko and eventually to Lovelock in 1951.
Dixie was elected governor of Nevada's Girls State during the summer of her junior year of high school. Her passion for Nevada history was born as the attendees learned about the state's history and government. She quickly made livelong friends in Elko and Lovelock as she excelled scholastically and graduated as class salutatorian from Pershing County High School (PCHS) in 1952. She also met high school sweetheart and future husband, Roland Westergard, at this time.
At the University of Nevada, Reno (UNR), Dixie graduated Phi Kappa Phi with a degree in education. While at UNR she participated in girls' volleyball, basketball and gymnastics. As a senior she was named one of ten women awardees. She was also active in several student organizations and Delta Delta Delta Sorority.
Married in December 1956, the couple moved to Kitzingen, Germany, where her husband was stationed while in the Army. Dixie began to apply her teaching and parenting skills as she became a devoted wife and mother.
Children were her primary focus as the couple returned home to Nevada and Carson City in 1958. Whether she was substitute teaching at Carson Middle School, writing children's historical books, or spending many hours as an "Activities Mom", she enjoyed being with youngsters and teaching them as they grew. She was a gifted teacher both in and out of the public school classrooms, as she was a Campfire Girls' leader and a Vacation Bible School teacher at the First Baptist Church. Beneficiaries of her knowledge and love were her three daughters, Laurie Gray, Tricia Wentz, Wendy Nason, her son Todd, twelve grandchildren, a great grandchild, their friends and schoolmates.
She began her meticulous historical research which led to the publication of several books including ones about Dr. Mary Fulstone, Dat-so-la-lee, and Lake Tahoe, one of the couple's favorite vacation spots. Teachers and students use these publications to do research for reports, classroom presentations, and projects.
She became an expert as she researched on the Native American Washo tribe and their basket weaving. In 1999 she published a biography, Dat-so-la-lee, Washo Indian Basketmaker. She donated copies of this book to each of Nevada's 17 county libraries and to the museums in Carson City.
In 2006 she published a companion book, The Washo People, an activity book based on prehistoric culture of the Washo people in Nevada. In 2000 she published The Lake Tahoe Story written for fourth to sixth grades. The book contains 100 pages of history, art work, and conservation information and was used in a pilot program in local schools.
With an interest in rural health issues, she researched the life of a pioneer rural woman physician and wrote Dr. Mary: The Story of a Nevada Pioneer that was published in 2004. The doctor lived much of her life in Lyon County, Nevada.
She also suggested research sites for research preparation on Sarah Winnemucca, a Paiute Indian statue timeline project done by the Nevada Women's History Project (NWHP) researchers. She presented at book signing sessions for the Nevada Historical Society, Carson Valley Museum and Cultural Center, and the Nevada State Museum and answered questions on the famous Native American woman, Dat-so-la-lee.
As a member of the Nevada Women's History Project, she was inducted into the group's Roll of Honor in 2003. In the induction speech, Kay Sanders, a writer and Nevada educator, said, "Dixie contributed to the bank of knowledge about Nevada and its exceptional women and the roles they played in the history of our state."
Learning of her cancer diagnosis, Dixie bravely faced that short battle with grace and courage as she completed various tasks for her family with characteristic love and devoted service.
Researched and written by Carol Clanton. Posted to NWHP Web site October 2009.
Sources of Information:
Obituary notice, Reno Gazette Journal. September 26, 2007.
Induction speech delivered by Kay Sanders at NWHP Roll of Honor Ceremony, 2003.
Westergard, Roland, phone interview, May 2009.
Interviews with various friends and relatives in Carson City and Lovelock, 2007.