The information below has been compiled from a variety of sources. If the reader has access to information that can be documented and that will correct or add to this woman's biographical information, please contact the Nevada Women's History Project.
DORIS BARBARA "DODIE" POST GANN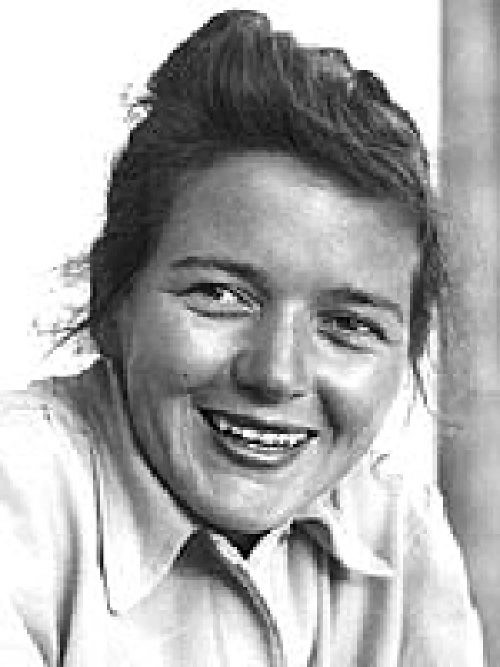 At a Glance:
Born: September 10, 1922, Topeka, Shawnee County, Kansas
Died: December 24, 2012, Friday Harbor, San Juan County, Washington
Maiden Name: Post
Race/nationality/ethnic background: Caucasian
Married: Ernest K. Gann, 1966
Primary city and county of residence and work: Reno, Washoe County, Nevada, Squaw Valley, California, Sun Valley, Idaho, Pebble Beach, California, Friday Harbor, San Juan County, Washington
Major Fields of work: U.S. Olympic Skier and Team Captain, Women's U.S Olympic Ski Team Manager, International Ski Federation (World Ski Cup) competitor and team captain, 1984 Air Race Classic winning team, numerous awards and recognitions.
Other role identities: Ski instructor, aviator, world traveler, conservationist.
Biography:
First Nevada Olympian, champion skier, led an adventurous life.
When Dodie Post was selected for the women's U.S. Olympic ski team in the spring of 1947, she became the first Nevadan ever to be named to an Olympic Team. She captained the women's 1948 U.S. Olympic Ski Team, captained and competed in the 1950 International Ski Federation's (FIS) Alpine Ski World Cup (an international ski competition second only to the Olympics), competed in the 1952 Winter Olympic Games, and managed the 1956 women's U.S. Olympic Ski Team. Although she neither competed nor managed in the 1960 winter Olympic games, the event took place at her old ski stomping grounds of the Squaw Valley ski resort just west of Reno in California.
Dodie became the first woman elected to the University of Nevada's inaugural Athletic Hall of Fame in 1973, and in 2001, she was inducted into the U.S. National Ski Hall of Fame.
Born September 10, 1922, in Topeka, Kansas, to Theodore and Dorothy Belyea Post, Dodie was the first of three daughters. (Her sisters were both born in Reno.) Dodie's father was a music professor at the University of Nevada and her mother taught music at home. From kindergarten on up, Dodie attended Reno schools and was active in school sports and clubs. Having both parents with music backgrounds, it was only natural for Dodie to be proficient in more than one instrument. She played both piano and violin and performed in many community events with her parents. Dodie was editor of the Billinghurst Junior High Yearbook, and she was on the volleyball team as well as the Reno High School ski team of which she was secretary-treasurer in 1939.
By 1940, she was the top junior in the Far West Ski Association (one of America's largest ski associations that today represents more than 50,000 skiers and snowboarders in the 12 western states). She trained in Sun Valley, Idaho during the winters of 1941, 1942 and 1947, and won the Silver Belt (Sugar Bowl ski resort's signature ski series) and the Silver Dollar Derby at Mt. Rose ski resort. In a Dec. 5, 1945 Reno Evening Gazette article, former 1936 Olympic team captain Elizabeth Woolsey described Dodie as "the nation's most graceful woman skier." Woolsey added further, "Otto Lang, former head of Sun Valley ski school and author of many books on ski techniques, selected Dodie as one of four of the nation's top-ranking women skiers to appear in an RKO ski newsreel filmed at Alta, Utah."
In January 1947, Dodie was "crowned all around women's champion" at the 6th annual Western Interstate Ski Meet in Sun Valley, Idaho and in March 1947, she became the first Nevadan to be named to a U.S. Olympic team. The Reno community rallied with fundraising events to help sponsor her Olympic quest.
In a Jan. 16, 1948 Reno Evening Gazette article, Woolsey, managing editor of Ski Illustrated and former national downhill and slalom champion, wrote, "Dodie Post, from Reno, Nev., is the most finished stylist among the current American girl racers. She was undefeated last year until the nationals at Ogden, where she injured an ankle and had to retire for the rest of the season. She is a deceptive skier in that her technique is so smooth and effortless…" Woolsey went on to state, "By temperament, Dodie is rather placid and easy going. Until last winter she had never extended herself in races and her many victories had surprised those who had overlooked her style. When an objective so desirable as a trip to Europe came into view, Dodie simply turned on the steam and showed them what she could do."
On a training run in St. Moritz, Switzerland, Dodie broke her ankle and was unable to compete in the 1948 Olympic Games, but she retained her team captain title, and her teammate, Gretchen Fraser, went on to win Olympic gold.
In 1950, Dodie captained the American women's team at the International Ski Federation's (FIS) Alpine Ski World Cup in Aspen, Colorado, and in 1952, she competed in the Winter Olympics in Oslo, Norway. She did not medal but her teammate Andrea Mead-Lawrence won gold in the Women's Slalom competition.
During the 1940s and early 1950s, Dodie taught skiing at many ski resorts, including Mt. Rose (Nevada), Squaw Valley (California), Sun Valley (Idaho), Jackson Hole (Wyoming), and two seasons teaching the top class at the Emile Allais ski school at Portillo, Chile. She said that her skiing had afforded her greatest thrill which was making the 1948 Olympic ski team. "A close second was my selection for the 1950 FIS team."
Dodie managed the Ladies Olympic Training Camp at Sun Valley, Idaho in 1955 and 1956 and received an appointment to the U.S. Olympic Team selection committee. 1956 saw Dodie managing the U.S. Women's Team at the Winter Olympics in Cortina, Italy, where another Reno Olympic hopeful, Katy Rodolph, competed.
In a December 9, 1953, The San Francisco Examiner article, Dodie gave the following ski tips to novices: "Skiing takes time; it takes practice. Actually, I think it's easy to learn to ski, but you can't do it in a day." In addition, she recommended, "Don't spend a lot of money on equipment. Rent it first; then if you like skiing, you can buy it later. Take some lessons at the ski school – you'll learn faster, and have more fun. Don't try to ski when you're tired. Take it easy the first day. The main point is to use your head."
In spring 1956, Dodie retired from the Squaw Valley ski school staff and became the private secretary to her future husband, novelist/aviator/sailor Ernest K. Gann. (She originally met him while ski instructing.) Dodie was Ernie's secretary/Girl Friday for a decade before the couple eventually married in summer 1966. Together they sailed the world on Gann's sailing ship, Albatros, and flew together in their Cessna 310, "The Noon Balloon" (a reference to their typical noon departure time).
After marrying in 1966, Ernie and Dodie bought an 800-acre cattle ranch on San Juan Island, Washington, which remained their home base for the duration of their lives.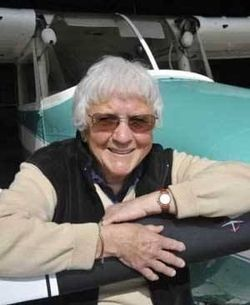 Taught to fly by her aviator husband, Dodie became a licensed pilot. Ernie bought Dodie a 1958 Cessna 172, and in addition to casual flying around the San Juan Islands, Dodie took up air racing. Dodie and her frequent co-pilot, Phyllis Baer, raced their first Air Race Classic together in 1979. Over the years, they raced mostly together and in 1984, Dodie and Phyllis took first place in the race. (The Air Race Classic is a four-day, 2,400-mile cross-country air race, consisting of teams of at least two women pilots. Pilots range from 17 to 90 years of age and racers come from a diverse range of professions.)
In 1990, a year before Ernie's passing, the Ganns donated 780 acres of their Red Mill Farm to the San Juan Preservation Trust which they'd helped establish. A decade earlier, in 1980, they donated 38 acres of eagle habitat to the Trust. In an August 14, 1990 article in the The Longview Daily News, Dodie states, "We're only the stewards of the land. We want to pass it on unscathed and save the San Juan valley for generations to come."
Dodie was active with the local flying community and hosted the San Juan Pilots Association picnic every year at her hangar. She was a long-time board member, advocate and volunteer with the San Juan Historical Society and Museum, and as a lifelong animal lover, she helped found the Animal Protection Society of Friday Harbor. Dodie is remembered annually at San Juan's Dodie Gann Memorial Dog Walk.
Dodie gave up skiing late in life but remained a licensed pilot until the time of her death. She passed away peacefully at the age of 90 at her Red Hill Farm home on December 24, 2012.
Researched by Patti Bernard and written by Catherine Cuccaro. Posted on website March 22, 2021
Sources of Information:
"A Basket Picnic…", Reno Evening Gazette (Reno, Nevada), May 26, 1928, p. 4:3. Sec. Society.
Ancestry.com. Year: 1930; Census Place: Reno, Washoe, Nevada; Page: 3B; Enumeration District: 0009; FHL microfilm: 2341032. [Doris B. Post]
Ancestry.com. Year: 1940; Census Place: Reno, Washoe, Nevada; Roll: m-t0627-02281; Enumeration District: 16-15A. [Doris Post]
Ancestry.com. U.S., Social Security Death Index, 1935-2014 [database on-line]. Provo, UT, USA: Ancestry.com Operations Inc, 2014. [Dodie Gann]
Berry, Bill. "Dodie Post, Olympic Skier, Given Rousing Sendoff by Renoite's at Banquet, Rally." Nevada State Journal (Reno, Nevada), December 2, 1942. P. 2:1.
"Christmas Vespers to Be Unique Affair." The Washburn Review (Topeka, Kansas), December 5, 1923, p. 2:3.
"Dodie Post Gann, Hall of Fame Class of 2001." U.S. Ski-Snowboard Hall of Fame, Ishpeming, MI, https://skihall.com/hall-of-famers/dodie-post-gann. Accessed 12-2-2020.
"Dodie Post Is Named Head of Ski Group." Reno Evening Gazette (Reno, Nevada), February 2, 1950, p12:4.
"Dodie Post Will Compete for Olympic Games Berth." Reno Evening Gazette (Reno, Nevada), December 7, 1948, p. 12:2.
"Dodie and Ernie Gann." The San Juan Preservation Trust Newsletter, Friday Harbor WA 98250, December 2002. https://sjpt.org/about-us/supporters/in-memoriam/dodie-and-ernie-gann. Accessed December 2. 2020.
"Find-A-Grave", database, Find-A-Grave www.findagrave.com. Find-A-Grave memorial https://www.findagrave.com/memorial/187283664/doris-barbara-gann, Accessed December 1-2020. [Doris Barbara "Dodie" Post Gann]
"Girls' Sports-Volleyball." Re-Wa-Ne Reno High School Yearbook, Reno, Nevada, 1938, np. [D. Post].
"Name Dodie Post to Head Women's Downhill, Slalom." Nevada State Journal (Reno, Nevada), December 12, 1947, p. 12:3.
"Olympian Dodie Post, Retiring as School Aide Advises Novices." San Francisco Examiner (San Francisco, California), p. 47: 2.
Post, Dodie. Editors Work to Get 'Bee' On Press, Nevada State Journal (Reno, Nevada), May 16, 1937. P. 14:4.
"Post Home is Scene of Voice Recital." Nevada State Journal (Reno, Nevada), May 29, 1938, p. 8:2.
"Remembering Dodie." San Juan Historical Society & Museum, Friday Harbor, Washington, Winter 2013, http://www.sjmuseum.org//www/wp-content/uploads/2009/03/SJHM-Newsletter-Winter-2013e.pdf. Accessed December 2, 2020.
"Resort Roundup." Reno Evening Gazette (Reno, Nevada), December 1, 1945, p. 12:4.
"Slalom Column." Reno Evening Gazette (Reno, Nevada), December 5, 1945, p. 14:4.
"Women Golfers Asked by Club." Nevada State Journal (Reno, Nevada), June 27, 1927, 1946, p. 17:1."U.S. Olympic Ski Captain Breaks Leg." The Dayton Herald (Dayton, Ohio), January 20, 1948, p. 17: 5.