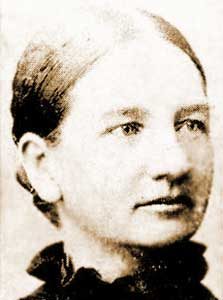 DR. ELIZA COOK
The information below has been compiled from a variety of sources. If the reader has access to information that can be documented and that will correct or add to this woman's biographical information, please contact the Nevada Women's History Project.
At A Glance:
Born: February 5, 1856
Died: October 2, 1947
Race/Nationality/Ethnic Background: Caucasian
Primary City and County of Residence and Work:
Mottsville, Carson Valley, Douglas County
Major Fields of Work: Physician, Activist for women's suffrage, Temperance
Biography
Eliza Cook was born on February 5, 1856, in Salt Lake City, Utah. Her parents, John and Margaretta Cook, had migrated from Birmingham, England, to join the Mormon settlement there. When Eliza was a child, her mother took her and her younger sister, Rebecca, and left Salt Lake City. They settled first in Soda Springs, Idaho, where Margaretta took in boarders. From there they moved to White Pine County, Nevada and then, in 1870 when Eliza was 14 years old, they settled in Sheridan, Nevada, where Eliza's uncle, John Cook, already resided.
Margaretta and her two daughters all worked. Margaretta sewed and took in washing, and the girls worked for families in the Carson Valley. As there was no school in the valley, the girls often borrowed books from the families for whom they worked. Eliza happened to read a little in a home doctor book and from that time on wanted to study medicine.
She got her chance to do so during the winter of 1879 and 1880, when she was hired by Dr. H. W. Smith, of Genoa, to nurse his wife through a particularly bad case of puerperal fever. He noticed her interest in his medical books and her natural way with her patient, and suggested that she study medicine. When she said she didn't know enough, he answered, "Oh yes, you do." Eliza studied with Dr. Smith for 6 months, and then entered Cooper Medical College in San Francisco, which later became Stanford Medical School. In her class of sixteen students, she was one of five women. She received her degree in 1884 and returned to Carson Valley to practice, making her home and office with her sister, Rebecca, and her brother in law, Hugh Park.
After practicing medicine for several years, and delivering babies from Genoa to Markleeville, Dr. Cook went back to school. She attended the Women's Medical School of Philadelphia during the 1890 1891 school term, then did graduate work the following summer at the Post Graduate Medical College of New York.
Armed with both a medical degree and graduate schooling, Dr. Cook opened an office in Reno, in November of 1891. However, after about six months there, she returned to practice in the Carson Valley, for, as she said at the time, she had never seen a place that suited her as well.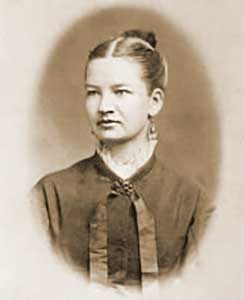 Not only did Dr. Cook practice medicine, but she was also very active in community affairs. When she was just 14 years old, she had joined The Band of Hope, a temperance organization for youth. Later, she became a member of The Good Templars, and was very active in the Women's Christian Temperance Union. She attended the state WCTU convention in Carson City in 1892, and served that organization as state president from 1896 until 1901. She lectured in both Genoa and Reno on "The Need for Plain Living."
Dr. Cook was also a strong supporter of women's rights. As she wrote, "My first protest against the prevailing social order came when a child between eleven and thirteen I read in the third chapter of Genesis: 'Thy desire shall be to thy husband and he shall rule over thee.' That man should rule over woman was to my mind unjust. I went to my mother with my protest and she told me the husband's rule was right only when it was a righteous rule. That silenced my tongue for a time but not my mental protest."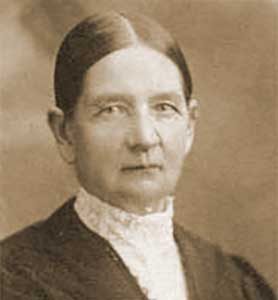 In 1894 she wrote a letter to the Reno Gazette listing eleven reasons why she was in favor of women having equal voting rights with men. It was also printed in the Genoa Courier. She attended the meeting at McKissick's Opera House in Reno in October of 1895 to form the Nevada Women's Equal Suffrage League. There she was elected a vice president, along with Hannah Clapp, of Carson City. After her term was over, she became president of the Douglas County Equal Suffrage League, and continued to serve both organizations by circulating petitions, writing to legislators, and publishing letters in the newspapers. Again, in her own words, "During all this time my protests against the injustices of our socio economic system never ceased. I was a member of The Women's Suffrage Association and of The Women's Christian Temperance Union; circulated petitions for the former, talked on both subjects when opportunity offered and made myself very objectionable at times, I've no doubt."
In the spring of 1901, Dr. Cook took a year off from her medical and community responsibilities. She traveled abroad with a companion, visiting such places as the British Isles, Europe, Egypt, the Holy Land, Constantinople, and Greece. On her return, she spoke about the trip to many interested groups.
Dr. Cook continued to practice medicine from the home of her sister and brother in law until she had a small house built for herself in Mottsville and moved her office there in 1911. She retired from the medical profession in 1921, at the age of 65. After her retirement, Dr. Cook continued to do her own gardening and housekeeping. She was known for her excellent cooking and sewing. She was devoted to her nieces and nephews, and the whole family called her "Auntie." She read voraciously, and subscribed to many periodicals, including the Scientific Monthly, the Survey Graphic, the New Republic, the Nation, and the Pathfinder.
Dr. Eliza Cook died in her sleep on October 2, 1947, at the age of 91. She was found lying on her bed with her hands folded across her chest. On her bedside stand was a handwritten "Outline of My Life."
Dr. Cook considered herself to be the first woman doctor in Nevada. Even though she received her Medical Degree in 1884, she did not receive her Nevada medical license until April of 1899, as the state did not begin issuing them until that year.
Researched and written by Cherry Jones. Edited by Janet E. White.
Sources of Information:
Bergevin, Luette Dressler. Cook's great-niece. Several personal interviews with author, 2001.
Cooper Medical College. Annual announcement, session of 1884
Genoa Courier. Article, December 21, 1894
Hansen, Janice. Cook's great-great-niece. Several interviews with author, 1998
Henningsen, Mary. Article, Nevada State Journal, June 9, 1946
The Carson Valley Connection. "The Saga of Nevada Women's Suffrage," script from "Historic Dramatic Presentation," April 26, 1996.