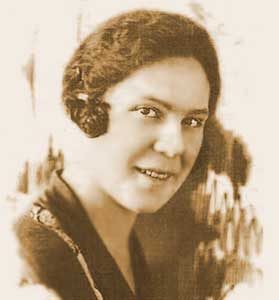 DR. OLGA CONSTANTINA LORD KIPANIDZE

The information below has been compiled from a variety of sources. If the reader has access to information that can be documented and that will correct or add to this woman's biographical information, please contact the Nevada Women's History Project.
At A Glance:
Born: 1897
Died: May 27, 1976
Race/Nationality/Ethnic Background: Caucasian
Married: Peter Kelley, 1944-2005
Primary City and County of Residence and Work:
Reno (Washoe)
Biography
Dr. Kip, as we always called her, was born around the turn of the century in Irkutsk, Siberia. One day in her memoir she would lovingly relate the many pleasures of a happy childhood in a family of eight children. As a young teenager, she made the long journey by train to enter medical school in Moscow, though she would later transfer to the medical school in Irkutsk.
The cataclysm of the communist revolution was soon to come. The White Russian army was on the run, including two conscripts, her brother Sergei and her sweetheart Vladimir. The remnant in Irkutsk surrendered after a five day battle in December, 1919. She later wrote: "Changes came about gradually. First of all, food disappeared as if a magician had swept his black cloth over the land." Her struggle to live and help her family during the revolution ensued. In medical school far from home, she survived on a thin gruel of cabbage and potatoes and dreamed of food. She learned how to make winter boots from old winter coats and cardboard. These could be exchanged for food and firewood. The people stripped clothes from the frozen bodies of soldiers, unburied in the Siberian winter. Kip studied by the light of a rag wick floating in a pan of fat. Extreme inflation made money worthless. She read unspoken questions in the faces around her. "Is there any way out of this unbearable misery? Our backs cannot bend lower – our feet will not walk further – our stomachs are empty – our children are dying. How soon?"
Deeply in love with Vladimir, Kip parted from him in a railroad station. Promising "I will be back," he jumped on the moving train, holding the door with one hand and waving with the other. In fact, he would never be back. The defeat of the White army compelled him to flee to Manchuria, and Kip would not see him again for three years. Then, giving up her family, her country, and a promising career in medical research, Kip went to Manchuria with sixty gold rubles for emergencies sewn by her mother in the hem of her coat and married him. They lived six years in Manchuria, where Kip later said she saw diseases unknown in the western world.
They immigrated to America in 1930. Kip passed the California State Board Medical Examination, though many foreign doctors failed. She was the only woman in the test group. Now she could practice medicine in America. Vladimir continued his studies. This period in San Francisco may well have been the happiest of her life. She enjoyed the tasks of running their home while practicing her profession.
This joyful time came to an abrupt end when Vladimir died after a car accident. Kip was shocked. Many years later who wrote, "I have not gotten over it yet."
An invitation to undertake anesthesia in Reno in 1935 offered a welcome change of scene. For the next decade she devoted herself to anesthesia, becoming an American citizen in Reno in 1937. Excepting a brief return to San Francisco, she lived for her remaining years in a modest house across the street from St. Mary's Hospital, giving anesthesia in the mornings, with the afternoons devoted to family practice. Often she cared for several generations of a family.
When she was invited to the International Cancer Conference in Moscow, she briefly returned to Russia after an absence of thirty-eight years and visited with the surviving members of her family. She saw much to interest her in the new Russia. Returning to Reno, she enjoyed many short trips to Yosemite and other scenic locales. She died in Reno from what the medical colleagues caring for her called a "tired heart" on May 27, 1976.
Researched and written by Sally Zanjani. Posted to Website March 2015
Sources of Information:
U.S. Census 1940, Reno, Washoe County, Nevada.
Bill Phillips Column, "Dr. Kip Viewed Her Patients as Friends", Nevada State Journal, June 6, 1976, p. 6.
Sohn, Anton, and Carroll W. Ogren, People Make the Hospital: the History of Washoe Medical Center. Reno, Nevada: Greasewood Press, 1998 p. 184.
Memoir by Dr.Kipandze, Private collection of Sally Zanjani
Recollections of Sally Zanjani. 2014
Newspaper research by Arline Laferry. 2012