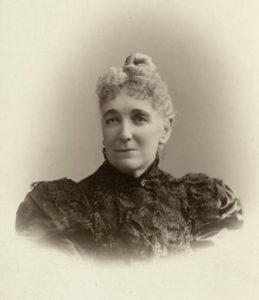 ELIZABETH CILICIA BABCOCK

The information below has been compiled from a variety of sources. If the reader has access to information that can be documented and that will correct or add to this woman's biographical information, please contact the Nevada Women's History Project.
At A Glance:
Born: about 1835, Orono, Maine
Died: September 19, 1899, Reno, Nevada
Maiden Name: Elizabeth Cilicia Babcock
Race/Nationality/Ethnic Background: Caucasian
Primary City and County of Residence and Work:
Carson City, Ormsby County; Reno, Washoe County
Major Fields of Work: Educator
Other Role Identities: Co-founder and first kindergarten instructor in Nevada
Biography
Pioneer educator co-founded first Nevada kindergarten
Elizabeth Cilicia Babcock was one of Nevada's pioneer educators and founder of the first kindergarten in Nevada. Elizabeth (Eliza) Babcock was born in Orono, Maine in 1835. Little is known about Eliza's childhood and youth, but she resided in Maine until the early 1860s when she migrated to California and lived in Oakland.
Through a mutual friend, Miss Hannah Clapp heard of Miss Babcock (in their time, unmarried ladies were always referred to as "Miss") and in a short correspondence, Babcock agreed to move to Carson City, Nevada to teach at the Sierra Seminary.
Prior to 1861, public educational institutions in Nevada were almost nonexistent. Hannah Clapp migrated from New York to Nevada in the early 1860s and recognized a need for schools in the growing Nevada territory. Hannah Clapp and Ellen Cutler began the preparations to start a private co-educational school by contacting William Stewart, a Nevada Territorial legislator. On November 14, 1861 Territorial Governor James Nye signed the Act for the Establishment of an Academy for the Purpose of promoting Education and enabling to become a body corporate, and by 1862, the Sierra Seminary School was established. In 1864, Clapp and Cutler asked the state legislature for a $20,000 appropriation to build a new school to accommodate increased enrollment, but the bill failed. Discouraged, Cutler left, leaving an opening at the Sierra Seminary.
In 1864, Elizabeth Babcock was living in California and answered an advertisement in a newspaper for a teacher of Latin and English in Carson City, Nevada. After an exchange of letters with Clapp, Babcock accepted the position as assistant principal.
Hannah Clapp and Elizabeth Babcock's professional relationship quickly became a personal friendship. In 1865, their joint investments had returned enough money to build their home in Carson City and enabled them to donate 10 acres of land to their school. Clapp and Babcock continued their investments in mining stocks, including the Belcher Mine, and they spent their money on travel and furnishings for their home and school. In 1876, they attended the United States Centennial Celebration in Philadelphia and spent eight months touring the country that included visits to newly established kindergartens.
Babcock and Clapp opened Nevada's first kindergarten, placing Nevada in the forefront of the kindergarten movement in the United States. It was largely the projects of women's groups who also emphasized the co-education of young children. Annie Martin was Sierra Seminary's first kindergarten teacher. The kindergarten continued operation under Babcock's guidance in Carson City from 1877 through 1887.
In the late nineteenth century, Sierra Seminary was a recognized educational institution in Nevada for over 20 years. A former student said: "Sierra Seminary was a home. They took us into their very hearts. We weren't pupils. We were their own children."
By 1887 Nevada's Comstock district had been failing for 10 years and when a nationwide depression occurred in the 1890s, Clapp and Babcock lost most of their savings but managed to keep their home. Their fortune was gone. To keep their school operating, they both found outside employment. Babcock taught at Carson City public school at $75.00 a month while Clapp served as Committee Clerk for the state legislature.
In the fall of 1887, Hannah Clapp was appointed Professor of History and English when the University of Nevada campus was moved to Reno. Clapp and Babcock moved to Reno and Babcock began teaching elementary school. Babcock's interest in starting a kindergarten in Reno was spurred after the recent failures of Reno's private kindergartens.
In the spring of 1895, the Twentieth Century Club of Reno supported the establishment of a kindergarten. The Reno Kindergarten Association was formed in 1895 and Clapp and Babcock were founding members. Babcock was the treasurer of the organization until her death. The organization's mission was to provide a free public kindergarten within the Reno public school system.
On March 25, 1895, the Reno Kindergarten Association established a private kindergarten. The Golden Gate Kindergartens of San Francisco sent a trained teacher, Abby Nichols. Classes were held at the Bishop Whittaker's School for Young Ladies with furniture donated by Babcock. The Reno Kindergarten Association provided financial support for materials, room rent, janitor and transportation, while the Reno Public School System paid Nichols' salary.
After a successful year, the Reno School Board made the private kindergarten part of the district and moved the school to the Riverside School. In 1900, enrollment increased and the kindergarten was moved to the Old Congregational Church. The Reno Kindergarten Association continued to provide financial support but realized that a building dedicated to a kindergarten was needed to prevent the continued shuffling of the location.
In 1896 Babcock suffered a stroke that left her ill and slightly paralyzed. She never regained her health and died September 19, 1899. In 1901, the Reno Kindergarten Association and the Twentieth Century Club began raising funds to build a kindergarten building. Hannah Clapp donated the first $1,000 with the condition that the people of Reno contribute funds and the building be named the Babcock Memorial Kindergarten. A lot was purchased at the corner of Fifth and Walnut Streets for $750 and the building costs were approximately $5,000. In addition, a special tax was levied for the support of the kindergarten building. Plans for the building were donated and drawn by a former Sierra Seminary student, a Mr. Bliss, from a San Francisco architectural firm. On May 28, 1901 the cornerstone ceremony took place and the Reno Evening Gazette reported "Cornerstone laid: The Dream of Two Educators Now Takes Tangible Shape." The building was completed by December 1901 and described as "a model building and an ornament to the town."
The Babcock Memorial Kindergarten provided a permanent school for Reno's children until 1932. In 1932, the building was given to the board of trustees of Reno school district No. 10 but was closed during the Depression. In 1946, the Reno School District moved the district office to the Babcock Memorial Kindergarten building and in 1956 the building became the Administration Building for Washoe County School District until 1961. In 1961 the building was sold to Dr. Roberts for medical practices. It is now a parking lot.
Elizabeth Babcock and Hannah Clapp had a unique friendship that lasted over 35 years. Babcock's obituary summed up their relationship: "For over 35 years she has been a close companion of Miss Clapp and the two have shared each other's sorrows and joys during all these years……. Miss Clapp is well-nigh prostrated with grief over the loss of a companion that has been by her side, both night and day, for three decades and a half."
Eliza Babcock's remains were taken by train to Oakland for interment and eventually she was buried in Maine next to her family.
Researched by Patti Bernard and Susan H. Davis. Biography written by Susan H. Davis. Posted to website April 2018.
Sources of Information
Totton, Kathryn Dunn "Hannah Keziah Clapp: The Life and Career of a Pioneer Nevada Educator, 1824-1908," Nevada Historical Quarterly, Vol. XX, No. 3, Fall 1977, pp. 167-183
Hulse, James W, The Silver State, Nevada's Heritage Reinterpreted. Reno and Las Vegas: University of Nevada Press, 1998
Miriam Michelson, "A Sketch From Life," San Francisco Bulletin, October 8, 1899. Nevada Historical Society, Hannah Clapp Collection
Abby A. Nichols, "History of the Reno Public Kindergarten" By-laws of the Reno Public Kindergarten, Nevada Historical Society, Hannah Clapp Collection
Phillip Earl, "Kindergarten Movement Came to Reno in 1880's" North Lake Tahoe Bonanza, March 10, 1999, Nevada Historical Society, Hannah Clapp vertical files
"Historical Sketch-Kindergarten Work Here from its Inception." Reno Evening Gazette (Reno, Nevada), p 4:1.
James, Ronald and Raymond, Elizabeth. Comstock Women, The Making of a Mining Community. Reno/Las Vegas: University of Nevada Press, 1998
"Death of Miss E.C. Babcock." Reno Evening Gazette (Reno, Nevada), September 19, 1899, p 3:2.
1850 United States Federal Census, Orono, Penobscot, Maine (Elizabeth C. Babcock)
1860 United States Federal Census, Bangor Ward 4, Penobscot, Maine (Elizabeth C. Babcock)
1870 United States Federal Census, Carson City, Ormsby, Nevada (E. C. Babcock)
1880 United States Federal Census, Carson City, Ormsby, Nevada (Elizabeth C. Babcock)