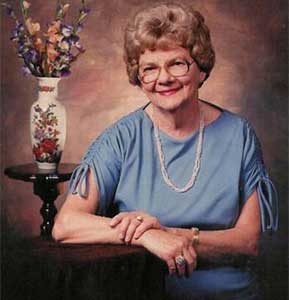 EMMA LOU MONTGOMERY BRANDT
The information below has been compiled from a variety of sources. If the reader has access to information that can be documented and that will correct or add to this woman's biographical information, please contact the Nevada Women's History Project.
At A Glance:
Born: October 13, 1917
Died: May 9, 2006
maiden name: Montgomery
Race/Nationality/Ethnic Background: Caucasian
Children: one son and one daughter
Primary City and County of Residence and Work:
Las Vegas, Clark County
Major Fields of Work: Teacher, Drugstore owner/manager
Other Role Indentities: Housewife, Girl Scout leader, Community volunteer
Biography
Emma Lou (Monty) was born October 13, 1917, in Oswego, Kansas, to Madge and Clarence Montgomery. Monty grew up in the Midwest where she received an AA degree from Christian College, Columbia, Missouri, and an AB degree and teaching certificate from the University of Kansas, Lawrence, Kansas. She taught history and home economics in Stillwell, Kansas.
On April 7, 1941, Monty and Ted Brandt were married in Oswego, Kansas. During their honeymoon in Mexico City they experienced an earthquake. They truly started their marriage with a bang. After the wedding they settled in Denver, Colorado, where Ted was working at the time. Daughter Peggy (Margaret Ann) was born November 29, 1942; three years later on October 16, 1945, Robert was born. In the fall of 1946, Ted, a pharmacist, accepted a job with the Mayfair Drug Store in Las Vegas. They left Colorado in a Chevrolet coupe that had only a shelf in the back. Ted, Monty, and four-year-old Peggy sat on the seat. Bob was so little he slept on a blanket in a box on the ledge in the back window. They drove straight through from Denver to Las Vegas. They arrived on September 30, 1946. On October 1st they moved into their first Las Vegas home located on Wengert Street, just one block from John S. Park Elementary School. This was a friendly neighborhood and soon they had a wide circle of friends. The year the Brandts arrived in Las Vegas, it was a city of about 19,000. The east side of town extended from 15th on the east to Oakey on the south. There were only two casinos on the strip, the Last Frontier and the El Rancho. Downtown was the place to be. The Sal Sagev, Las Vegas Club, Fremont, Horseshoe and the Golden Nugget were a few of the downtown casinos.
Their first Christmas in Las Vegas, Ted went down to check the store; the safe was open, and there was no money in it. The owners lived in Utah so Ted called the local attorney and asked him what to do. The attorney said they should walk in and out of every casino until they found the suspect. They had walked about a block, and sure enough, there the suspect was playing. He was positive he was going to win and be able to return all the money he had stolen. The attorney had him sign a paper and he agreed to leave town that night. He was to pay back everything, including the Social Security owed the government. Everything was paid back. This was Las Vegas justice in the 1940's. Ted managed the Mayfair Drug for only a year. The owners failed to live up to their contract. Ted left and bought a half interest in the White Cross Store.
Monty accepted jobs as a substitute, teaching third grade at Biltmore School. The next year she taught full time at the school where Harvey Dondero was principal. Manny Cortez was one of her students. That was the last year she taught because Ted said it cost him for her to teach; and if he would give her the twelve dollars a month, she would have it made.
W. E. Ferron opened the first drug store at First and Fremont on the north side of Fremont Street in 1916. Soon he opened a larger store, the White Cross Drug at Second and Fremont across from the Golden Nugget. It was this store in which Ted bought half interest. During this period, Helldorado was the city's biggest event. It lasted three days, highlighted by a big parade. The entire town participated. The hotels had expensive, ornate floats; all the school bands, Scout Troops, and every kind of group marched. Everyone went down to the parade route that started at Main, went down Fremont to Fifth and then down to Cashman Field. They brought blankets and chairs to save a spot on Fremont Street to watch the parade. One year Ted let the cosmetic girl take everything out of the front window and put chairs in it. This was the best view in town and you were out of the May heat. One year it got so cold that all the girls in bathing suits had blue skin.
A short time later the White Cross Drug Store on Oakey was opened. This store was the city's first 24 hour drug store. It was popular with the hotels because they would deliver. The local doctors depended on this service. One year this store won an award for selling more hair coloring that any other drug store in the United States. The award included a trip to New York City. This was Monty's first visit to New York and she was thrilled. The Oakey store was popular with the show people, waitresses, and tourists alike, because of the night hours. It was here that Monty first saw Christine, the man who had one of the first sex change operations. Monty said he was a good looking girl, but was too tall. Red Skelton, the McGuire Sisters, and an Arab, complete with his harem, were some of their best customers. After Ted's death, Monty, who was the major stockholder, hired a manager, but she oversaw the managers, the ordering, and maintained financial control until her retirement in 1980.
In 1952, 27 people gathered at Bunker Brothers Mortuary to get acquainted with the Reverend Walter Haney and his wife Ruth. They had just arrived in town to make plans for a Presbyterian church, the first in Las Vegas. This founding group met at many locations before the church was built at 1515 W. Charleston. Monty taught Sunday School for 25 years and was an active member of the church since it was founded.
She was active in many civic organizations, including the Service League, Junior League, Southern Nevada Museum, A.F.S. Foreign Exchange, Panhellenic Club, DAR, and AAUW. She was second president of Area Council of the Girl Scouts and was a Den Mother when her son Bob was a Cub Scout. Monty wrote a weekly column in the Review Journal called "Scout About," which reported Girl Scout activities. While she was Council president, the parents at Paradise Elementary School complained about one of the volunteer leaders. Even though she was well trained and drove a school bus, the parents didn't want their children taught by a nudist. When the volunteer was asked about her life style, she said it was a wonderful way of life and invited the entire Council to visit their camp. They all declined.
Monty died May 9, 2006.
Written by Jean Spiller from an oral interview conducted in 1999 by Betty Middleton and Jean Spiller.
Added to NWHP Web site March 2009.
Sources of Information:
Oral interview by Betty Middleton and Jean Spiller May 1999.