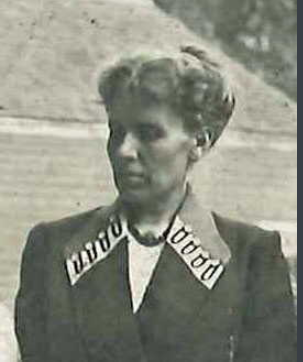 FLORENCE HUMPHREY CHURCH
The information below has been compiled from a variety of sources. If the reader has access to information that can be documented and that will correct or add to this woman's biographical information, please contact the Nevada Women's History Project.
At A Glance:
Born: January 22, 1869 in St. Clair, Michigan
Died: Februbary 5, 1922 in Reno, Nevada
Maiden Name: Florence Humphrey
Race/Nationality/Ethnic Background: Caucasian
Married: James Edward Church, June 30, 1894, in Reno
Children: Willis and Donald Church
Primary City and County of Residence and Work: Reno, Washoe County
Major Fields of Work: Suffragist, Volunteer/leader in many women's clubs
Biography
Reno leader united women's clubs in suffrage crusade
Mention the name Church in Reno, and people will most likely connect it to the Church Fine Arts Building at the University of Nevada, named for a professor.
But say the name Church to those familiar with women's right to vote in the state, and his wife Florence should come to mind, one of several women in Nevada's history who fought tirelessly for women's rights, especially the right to vote, and for prohibition.  
(The UNR building was named for her husband, James Edward Church, distinguished professor of history, languages and classical art as well as founder of the Nevada Museum of Art.)
Florence Humphrey was born in St. Clair, Michigan on January 22, 1869, to Phebe and Willis Humphrey, was educated there, and studied at both Oberlin College and the University of Michigan.  She traveled to Munich, Germany, for 18 months of study, and returned to the University of Michigan. It was there she met and soon married her husband James in the town of Ingham, Michigan. The two traveled to Nevada in 1894, and she continued her education, getting both a Bachelor and Master of Arts at UNR.
Florence Church quickly founded and became president of the Nevada Woman's Faculty Club and vice-president of the Nevada Alumni Association.  But it was in other organizations outside of campus that she started to make her mark. She was known to be a "champion and servant of womankind," according to an appreciation of her in the
Michigan Alumnus
magazine.  
She bore her son Willis in 1899 and her son Donald in 1905.  She was active in her sons' schooling, and was president of the Mary S. Doten Elementary School Mothers' Club.  She was also a Sunday School teacher and volunteer in the Aid Society of the Baptist Church.
A lifelong member of the Twentieth Century Club, Church balked at the "no-politics" provisions of that group, which was comprised of mostly white, wealthy women.  While presenting essays on more mundane subjects like the poetry of Elizabeth Barrett Browning, education and subjects related to her beloved outdoors, she also often tried to expand her sharing into subjects of social reform and suffrage.  At varying times she was successful and sometimes not so.
Abolition was also important to Church.  In August of 1911, she was elected vice president of the Women's Christian Temperance Union of Nevada. (WCTU)  At the meetings, not only were the dangers of alcohol railed against, but also inappropriate movies. The meeting in Fallon adopted a resolution to request the formation of censorship boards to "fight against the production of pictures that contain scenes injurious to children."
From 1912-1914, Church attempted to convince the Twentieth Century Club that gaining the vote for women was in the members' best interest, but met resistance from the "Antis," who used the "no-politics" rule to keep her quiet.  Despite the resistance, she gave a talk about social reformer and suffragist Jane Addams. By the end of 1914, many members were active suffragists, so the cause was finally allowed discussion. Church wrote a program called "Women's Work" during which club members dressed in costume to perform character sketches of notable women.  Church herself portrayed Susan B. Anthony.
She worked side by side with renowned Nevada suffragist Anne Henrietta Martin in creating the Nevada Equal Franchise Society (NEFS).  Martin was president and Church was vice president. Church eventually resigned due to differences with Martin, but did not stop her work for the vote.
Church and others saw the benefit in consolidating women's groups, and she became the president of the newly formed Nevada Federation of Women's Clubs (NFWC) and a founder and vice-president of the Intermountain and Coast Federation of Women's Clubs, as well as spokesman of the far western states at the biennial council of the General Federation of Women's Clubs.
At the 1913 NFWC convention in Carson City, which Church was a delegate to, the group endorsed a long list of reform legislation, ending with women's suffrage.  At this time, Church traveled and gave numerous speeches supporting the vote, and hosted Chicago suffragist Antoinette Funk, who was traveling the state preaching the cause.  (Funk was reported to walk through a 6,000-foot tunnel in an Aurora mine to reach the mine workers and discuss the importance of suffrage.)
On November 3, 1914, voters in the state of Nevada approved women's right to vote by 10,936 to 7,258, with most of the "yea's" coming from the state's 12 mining and agricultural counties.  The hard fought battle won, Nevada women were not of one mind how to move forward.
According to the
Reno Evening Gazette
in 1914, at a YMCA meeting, Church was empowered to organize a civic association to study government and the "activities of women voters in other states," as well as how Reno women could become informed on the "machinery of government and other public questions."  Thus was created the Women's Citizens' Club in Reno, which Church and other members adamantly kept separate from the Nevada Civic League, which they considered an autocratic organization.
Despite suffrage's success in the West, it was still not the law of the land.  When it passed Congress in 1919, it then had to be ratified by the states individually.  Church had a hand in convincing Nevada's 13
th
Governor, Emmet Derby Boyle, to call a special session of the Nevada Legislature for the sole purpose of voting on the 19
th
Amendment to the Constitution.  As a member of the governor's "Women's Committee," she looked into the costs of such a session, including which legislators expected to be paid to come to Carson City, which would donate their time, and who wanted travel expenses.  She was quoted in the
Reno Evening
Gazette
as saying "The governor was apparently satisfied with the report.  Women are using automobiles to transport legislators from outlying counties" to the capitol.  The ratification was approved on February 7, 1920, making Nevada the 27
th
state in the "Roll of Honor."
After ratification, Church continued her speaking engagements around the state.  In her capacity as president of the NFWC, she went to Wadsworth and Fernley to speak to the Wadsworth PTA on the benefits of "club work among women."
Amid all her club work, Church maintained an active outdoors lifestyle.    She was one of the first women to ride horseback along the Sierra Nevada mountain range from Yosemite to Shasta, a trip of more than a thousand miles.  She attempted Christmastime camping in the mountains, enjoying the snow and gleaming night skies, but later admitted she was unfit for winter mountaineering.  
At the age of 53, Church was attending a UNR football game when she suffered a debilitating stroke.  Three months later, February 5, 1922, she passed away at her Washington Street home. In WCTU's tribute to her, M. R. Steinbach wrote that Church had spent the last quarter of a century laboring for the welfare of Nevada women.  She noted that Church was chairman of the WCTU's "Woman's Dry Campaign" when prohibition was voted for. She also reported that throughout the afternoon of February 7, 1922, representatives from several women's clubs visited to pay their last respects to their former leader whose body lay in repose on a sofa, surrounded by flowers.  She was later cremated in San Francisco, and her ashes were brought by train to Lake Tahoe, where her ashes rest on the mountaintops she loved so well.
Researched by Patti Bernard and written by Kitty Falcone, February 9, 2019
Sources of Information:
Year: 1870, Census Place: St. Clair Ward 2, St. Clair, Michigan; Roll: M593-699; Page: 459B; Family History Library Film: 552198. [Florence Humphrey]

Michigan Department of Community Health, Division of Vital Records, and Health Statistics; Lansing, MI, USA; Michigan, Marriage Records, 1867-1952, Film: 52, Film Description: 1894 Horon – 1894 Ottawa.

W.C.T.U. Close Annual  Meeting. "

Nevada State Journal (Reno, Nevada

), August 11, 1911, p. 8:6.

"Wadsworth Notes."

Reno Evening Gazette (Reno, Nevada

), p. 8.

"Citizens' Club Won't Affiliate."  

Reno Evening Gazette, (Reno, Nevada),

March 20, 1915, p. 6:6.

"Women Plan To Study Use of Franchise."

Reno Evening Gazette (Reno, Nevada

), December 12, 1914, p. 

3:3.

"Call is Sent Out By Governor For Extraordinary Session."

Reno Evening Gazette (Reno, Nevada),

January 27, 1920, p. 1:1.

"Special Session Call Was Due in October."  

Reno Evening Gazette (Reno, Nevada)

, January 30, 1920, p. 8:1.

Year: 1920: Census Place: Reno, Washoe, Nevada; Roll: T625_1005; Page: 23B; Enumeration District: 52. [Florence H. Church]

"

Special to the Gazette

."  

Reno Evening Gazette (Reno, Nevada),

February 1, 1921, p. 3:2.

"Two Houses Ratify in Record Time."

Reno Evening Gazette (Reno, Nevada),

February 7, 1920, p. 1.

"Fernley Women Hear Mrs. Church."

Reno Evening Gazette (Reno, Nevada

) March 26, 1920, p. 7:3.

"Federated Club Notes Taken At Recent Meetings."  

Nevada State Journal (Reno, Nevada

), May 2, 1920, p. 10:1.

"State Women Start To Club Convention."

Nevada State Journal (Reno, Nevada)

, June 11, 1920, p. 8:1.

"Prominent Nevada Club Woman Dies At Home in Reno."

Nevada State Journal (Reno, Nevada),

February 6, 1922, p. 4:5

"Mrs. J.H. Church Called By Death."

(Reno Evening Gazette (Reno, Nevada),

February 6, 1922, p. 8.

"Mrs. Florence Humphrey Church-A Tribute."

Nevada State Journal (Reno, Nevada),

February 8, 1922, p. 2:3.

"Three Michigan Women."

The Michigan Alumnus

, Vol. 28, October 13, 1921-September 14, 1922, p. 851-852.

Nevada Department of Health; Carson City, Nevada; Nevada Death Records.

uwe.Gail. "No Politics Allowed: Nevada Club Women and Suffrage," Master's thesis, California State University  Dominguiez Hills, 2018.