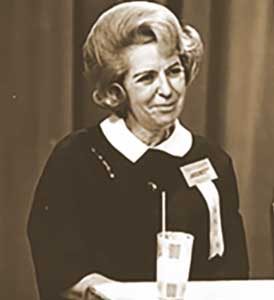 FLORENCE SANFORD BURGE
The information below has been compiled from a variety of sources. If the reader has access to information that can be documented and that will correct or add to this woman's biographical information, please contact the Nevada Women's History Project.
At A Glance:
Born: 1912
Died: 1986
Race/Nationality/Ethnic Background: Caucasian
Primary City and County of Residence and Work:
Reno (Washoe Co.)
Major Fields of Work: Journalism
Other Role Identities: Wife, Mother, Volunteer, Journalism Organization Leader
Biography
Reno journalist Florence Sanford Burge was born in 1912 in Rochester, New York and lived in Ypsilanti, Michigan before graduating from high school in Los Angeles. She began writing in second grade when she produced a play about John and Priscilla Alden. She wrote for publications while in high school.1 Burge attended the University of California at Los Angeles and studied journalism before leaving school to attempt a professional dancing career. She then worked for several years in accounting and office management.2 She met Lee Burge, who went on to become director of the Nevada Department of Agriculture, and married him in 1944. She gave birth to twin girls the following year. She managed rental properties while she raising their daughters.
In 1956, Burge attended the University of Nevada, Reno and again studied journalism, while also freelance writing for the Reno Evening Gazette.3 In 1959, she became women's editor of the newspaper. She remained in that position until 1966. While there, Burge was the 1964 recipient of the J.C Penney-University of Missouri award for best women's pages for a newspaper with circulation of up to 25,000. It was one of the only national award for women's pages at the time and was often considered the Pulitzer Prize of women's pages. In her January 8, 1965 column, Burge wrote of her win: "Well, your columnist is beginning to catch her breath – although the air up here on cloud nine is still pretty thin!"
In the 1960s, the Reno newspaper, like others across the country, changed the focus of the women's page to reflect the changing role of women in society. It was Burge who had to explain the transformation to her readers and sources. She wrote in an industry publication, "while it is difficult, the transition from 'club calendar' pages to international, national and local news of interest to women can be made."4 Burge said she took the time to speak with Reno women club leaders about space limitations and news values and found that press releases from club members "soon included information of general interest."5
Burge encouraged the coverage of hard news in her section by including quotes from local residents on each side of an issue. She suggested that this approach could be used to cover topics such as birth control, medical research and abortion legislation.6
Burge also wrote many profiles, including stories about Princess Margaret, Eleanor Powell, Indian Ambassador B.K. Nehru and his wife Madam Nehru, and Marry Stitt, women's editor of England's Manchester Guardian. In addition to celebrities, she also regularly wrote about women in her community who had interesting careers and hobbies.
After Burge resigned from the Reno Evening Gazette in 1966 to pursue a freelance career, she helped to establish the Nevada Press Women, a chapter of the National Federation of Press Women. The professional organization focused on creating a writing competition for women journalists and addressing industry issues, such as pay inequity. She also served as a Region 2 director of National Federation of Press Women, which included representing Arizona, California, Hawaii and Nevada, and was a president of the National League of American Press Women.
Burge received a 1967 National Federation of Press Women honorable mention for a January 19, 1966, Reno Evening Gazette story about a plane crash that killed four people. Burge spoke with witnesses who had watched the plane go down and burst into flames. The story ran on the front page of the newspaper, rather than the women's section.
During the late 1960s and early 1970s, Burge worked for several publications. She spent three years as a reporter and editor at the Sierra Sun, North Lake Tahoe beginning in 1967. She then went on to own and operate the Flo Burge public relations and advertising agency at Incline Village, Nevada during the 1970s. She died in Reno in 1986.
Her personal and professional papers were donated to the Special Collections of the University of Nevada, Reno in 1981.
Biographical sketch by Kimberly Wilmot Voss
Footnotes:
Echeverria Family Records
Cerveri, Doris, Ed. Nevada Historical Miscellany. Sparks: Western Promoting and Publishing Company, 1976. Burge, Florence. "Judge Richard Nash Held Esteem of Entire Town." pp 61-68.
No author. "Penney-Missouri 1964 Winners." Available in the Florence Burge Collection in the Special Collections of the University of Nevada Reno. (82- 36/II/1)
Burge, Florence. Editor's Note in "Nevada's Part in GOP Convention History is Outlined." Reno Evening Gazette. August 16, 1956.
Burge, Florence. "Women's Pages Come Alive." Publishers' Auxiliary. Jan. 29, 1966.
Burge, Florence. "Women's Pages Come Alive." Publishers' Auxiliary. Jan. 29, 1966.
Burge, Florence. "Women's Pages Come Alive" Publishers Auxiliary. January 29, 1966.