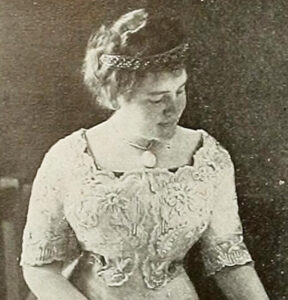 The information below has been compiled from a variety of sources. If the reader has access to information that can be documented and that will correct or add to this woman's biographical information, please contact the Nevada Women's History Project.
At A Glance:
Born:  March 17, 1863, Stockton, Calif.
Died:  May 4, 1953, Alameda, Calif.
Maiden Name: Helena Suzanne Bidwell
Race/Nationality/Ethnic Background:  Caucasian
Married:  Frederick Otto Norton, April 25, 1898
Primary City and County of Residence and Work: Reno, Washoe County, Nevada
Major Fields of Work:  Artist, Suffrage Activist, Club Woman
Reno social leader championed women's suffrage
Helena Suzanne Bidwell, known more frequently as Lena, was born on March 17, 1863, in California to Calvin L. Bidwell and Mary A. Gratton Bidwell. She was the youngest of four children, and the Bidwell family were popular and well-known residents of Stockton, Calif. She graduated from Stockton High School in June 1881 and was an accomplished artist whose paintings were prized by many Stockton residents.
On April 25, 1898, in a society wedding at the St. John's Episcopal Church of Stockton, Lena married Frederick Otto Norton of Reno. He was born in June 1867 in Idaho and was in the mining industry as her father was. After a honeymoon train trip through southern California, the Nortons settled in Reno and were soon joined by her parents and sister, Ella. Norton and his father-in-law owned and operated a mine in the Pyramid Mining District near Reno. At some point between 1900 and 1903, the Nortons constructed a two-story home, the largest in north Reno at the time, and several outbuildings at the top of Ralston Street where the Nortons and Bidwells lived together. In 1905, Norton discovered silver in the Fairview Mining District in Churchill County, which added substantially to the family's wealth. The Nortons also owned considerable amounts of real estate in and near Reno, and in 1920, they donated a large parcel at Carnelian Bay (Lake Tahoe) to the YMCA to use as a summer camp. They did not have any children.
As prominent Reno residents, Fred (sometimes called Frank) and Lena Norton entertained frequently at their home at 833 Ralston Street. In July 1906, one of their card parties offered a grand prize of a ride in their new automobile, likely one of the first in Reno. Like their business and social colleagues, they also joined the city's best-known organizations. Lena was a member (and served as president in 1918) of the Reno Arts and Crafts Club, and her home often hosted public art showings. She was also a member of the Trinity Episcopal Church Guild and Reno's most prestigious women's organization, the Twentieth Century Club. In 1913, she was installed as its President, serving during most of the 1914 campaign to amend the Nevada constitution to allow women to vote and hold public office. Lena was elected president again in 1922, the only woman to lead the Twentieth Century Club twice within its first 50 years.
In recognition of her social standing and access to capital, Lena was appointed to the State Executive Committee of the Nevada Equal Franchise Society when it was organized in 1912. The committee was characterized as a "band of brainy and capable women" who actively promoted the suffrage cause throughout Reno during the 1914 campaign, and the local newspapers reported that Lena Norton was, indeed, actively engaged in promoting woman suffrage. She hosted many events that year, including a September tea in honor of visiting national advocate Mrs. Laura Craig Cannon. Lena's husband supported her political interests, most notably by driving the elaborate, horse-drawn suffrage float in a Reno parade in July 1914.
One of the most notable 1914 events for Nevada women was the Reno meeting of the Nevada Federation of Women's Clubs in September. Delegates traveled from throughout the state to attend the meeting, and many stayed at Reno homes. In addition to Mattie Pugh, a shopowner from Mason, Nevada, the Nortons hosted prominent guests Edith L. Brake West of Yerington and Bird May Wilson of Goldfield. West had been the Federation's president in 1912 and was then a vice president in the Nevada Equal Franchise Society. Wilson was also a vice president in the Society and served as the chair of the Legislative Committee whose report created controversy at the gathering. Knowing that many members did not support the suffrage campaign, some Federation leaders attempted to keep the issue from coming to a vote, but the committee's report endorsed passage of the upcoming ballot question. Sophisticated parliamentary actions by Wilson and leading suffragist Anne Henrietta Martin and spirited debates resulted in the membership voting 37 to 25 to endorse suffrage.
In addition to providing housing for traveling delegates, Lena Norton directed the decoration of the Twentieth Century Club where the gathering was held. A few weeks before the Federation met, Norton had passed the presidential torch to Ada Lee, a leader in the Nevada Association of Women Opposed to Equal Suffrage. Lee then served as the official hostess of the gathering. Lena was nominated to be a Federation vice president but lost to Louise Ellis of Carson City who was also a member of Nevada's anti-suffrage association. In 1914, both the Federation and the Twentieth Century Club struggled to accommodate vigorous leaders who were on opposing sides of the suffrage question.
Norton's political interests continued after the 1914 suffrage victory. During the first election in which Reno women could vote (March 1915), she was appointed to the Fifth Ward Election Board. A year later, she was chosen as vice-chair of the Washoe County District of the Nevada Branch of the Woman's Party. In that capacity, she was the closing speaker when U.S. Presidential candidate, Charles Evans Hughes, and his wife, Antoinette Carter Hughes, visited Reno. Because women's public speeches from this time period are so rare, following is the transcript of Norton's speech:
Gov. Hughes, I am a Democrat by tradition and I never expected to see the day when I would be congratulating any Republican presidential candidate for anything whatsoever, but I find that I am a woman first, and I would not feel myself to be true to my principles and convictions if I did not use this opportunity to congratulate you for the splendid stand you have taken upon the Susan B. Anthony amendment.
Loyalty to women comes first with me, party affiliate second. I believe this is the point of view that all thoughtful women will take when they understand the situation fully.
We appreciate the privilege of being able to vote and we want all women to have that same privilege and to have it soon. Again I thank you, Gov. Hughes for the stand you have taken and in the name of the Woman's party I wish you a safe and happy journey. It is a pleasure to meet you and we hope to meet you again.
On August 7, 1918, the Norton lawn was the site of a campaign rally and first Reno precinct meeting on behalf of Anne Martin who was running for the U.S. Senate. The event's featured speaker was Miss Margaret Whittemore of the National Woman's Party.
Reno residents clearly expected Lena Norton to be involved in politics and assumed that, in 1926, she was the woman named Norton who was running for the State Assembly. The assumption was strong enough that the local newspaper printed an article explaining that the candidate was not Lena, but another woman named Margaret (Peggy) Norton, a Republican who was a labor union activist.
The Nortons' wealth accommodated two residences—the one on Ralston Street in Reno and one in Hayward, California. Beginning in 1923, they leased their large Reno home to the Gamma Phi Beta sorority during the school year and occupied it themselves during the summers. They moved to their Hayward home full-time at some point between 1927 and 1929, likely in response to Fred/Frank Norton's declining health. He died on June 5, 1931, in Hayward, and Lena's subsequent activities suggest that the Great Depression adversely affected the Norton fortune. Lena returned to Reno in 1933 and was employed as the first housemother for the Sigma Alpha Epsilon fraternity at the University of Nevada, Reno. She also rented rooms to female university students at her old home on Ralston and continued to lease the house to the Gamma Phi Beta sorority. By the end of the decade, Lena had sold the house to Mrs. F. Nance who was converting it to an apartment house when it was extensively damaged in a fire on December 29, 1939.
It appears that Lena then returned permanently to Hayward and yet often visited Reno through at least 1950, usually staying with her long-time friend and suffrage colleague, Minnie Flanigan. The State of California recorded her death on May 4, 1953, in Alameda, California. No obituary has been located.
Researched and written by Dana R. Bennett, PhD