HILDA M. COVEY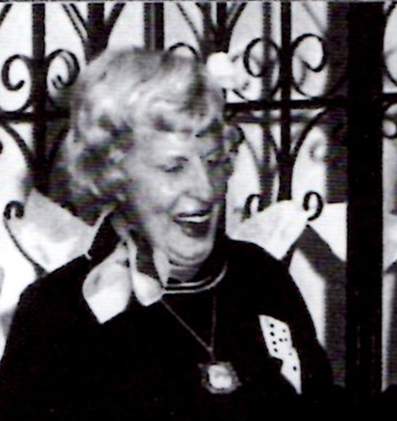 The information below has been compiled from a variety of sources. If the reader has access to information that can be documented and that will correct or add to this woman's biographical information, please contact the Nevada Women's History Project.
At a Glance
Born: 1909
Died: 1982
Maiden Name: Dickinson
Race/nationality/ethnic background: Caucasian
Married: William "Bill" H. Covey, 1949
Children: daughter Paula R. Lawson, son William Covey
Primary city and county of residence and work: Las Vegas, Clark County
Major Fields of work: Restaurateur, journalist
Biography
Las Vegas entrepreneur founded restaurants, construction trade publication
Hilda Margaret Covey, daughter of Anna Seeley Dickinson and Lynn Dickinson, was born in 1909 on a farm outside of Millerton, Penn., the oldest of three children. She graduated from the Elmira Academy in Elmira, N.Y., and later attended the Rochester Institute of Technology in Rochester, N.Y.
After being trained in the restaurant business by Howard Johnson's in New York City, she opened one of the company's first restaurants in Rochester. The company at the time actually created and sold dozens of flavors of ice cream in their fine dining facilities. During the next 10 years she had much success heading a chain of restaurants in Sibley, Lindsay & Curr, a large New York department store. At this time, she was also the National Education Chairperson for the Stewards and Caterers Association.
In 1949, she met and married New Yorker William "Bill" H. Covey. They came to Las Vegas and opened an eatery called The Skillet downtown on Main Street. Bill ran the kitchen and Hilda operated the front when she wasn't making the pies for which she became famous. Next, the couple purchased land from the Old Smoke Ranch and built the Coffeepot Ranch, a Las Vegas showpiece in its day. Hilda and Bill's coffeepot on Garces and their Coffee Pot II were equally loved for good soups, pies and a bottomless cup of coffee served with friendly banter and lots of tall tales.
The Coffeepot restaurants were extremely popular with architects and men in the construction trades. In 1953, Hilda, who worked up to 20 hours some days, saw the need for a specialized trade publication for the growing Las Vegas construction business.
In a back room at the Coffeepot, she produced the first issues of Construction Notebook. A man named J.A. Tiberti was signed up as her first subscriber. Construction Notebook contained bid notices, a resource directory, and everything anyone needed to know about the local construction world, along with some charming cartoons and business-card-type ads. In 1974, Hilda's daughter, Paula Lawson, joined the Construction Notebook staff where she served as office manager until her retirement in 1993.
Hilda and Bill Covey were loved and respected in their community. They both became members of the 36th Ward of the Church of Jesus Christ of Latter-Day Saints and were remarried at the Mormon Temple in St. George, Utah. Their son William "Billy" was born on September 28, 1958 in Las Vegas.
The Coveys were very involved in Las Vegas. She served on the Board of Directors of Citizens for Private Enterprise and was on the board of St. Jude's Ranch and Nevada Economic Development Corporation. For 12 years, she served as Executive Secretary of the Las Vegas Chapter of the American Institute of Architects. In 1978, she became the first woman president of the North Las Vegas Chamber of Commerce. She also wrote the witty "Sidewalk Superintendent" column in the Las Vegas Sun for many years.
Hilda Covey was always in charge at her businesses and never hesitated to threaten obstreperous customers with what she called "a trip to the woodshed." A woman for all seasons and reasons, she is remembered for an amazing capacity for hard work, for prodigious numbers of Christmas fruitcakes and Relief Society pies, and for her infectious laugh and love of pranks. She could "dish it out" and she could "take it." Once, after her return from a birthday dinner party, she found a gift from a well-known Las Vegas contractor, Vern Frehner; he had tethered a braying burro to her atrium, and she stayed up all night feeding it peanut butter sandwiches to keep it quiet.
Missed and mourned by family and friends, Hilda Dickenson Covey died in 1982 and is at rest at Palm Cemetery on Main Street in Las Vegas.
Researched and written by Frankie Williams
Sources of information
Construction Notebook, vol XLIX, No. 41.
Construction Notebook., vol XXX No. 50, December 10, 1982.
Interviews with daughter Paula R. Lawson, Fall 2001.
Obituary of Paula R. Lawson, Las Vegas Review Journal, on www.Legacy.com, accessed 12/13/2019
Obituary of William "Billy" Covey, Venture County Star, on www.Legacy.com, accessed 12/13/2019
Personal memorabilia of Paula R. Lawson.