The information below has been compiled from a variety of sources. If the reader has access to information that can be documented and that will correct or add to this woman's biographical information, please contact the Nevada Women's History Project.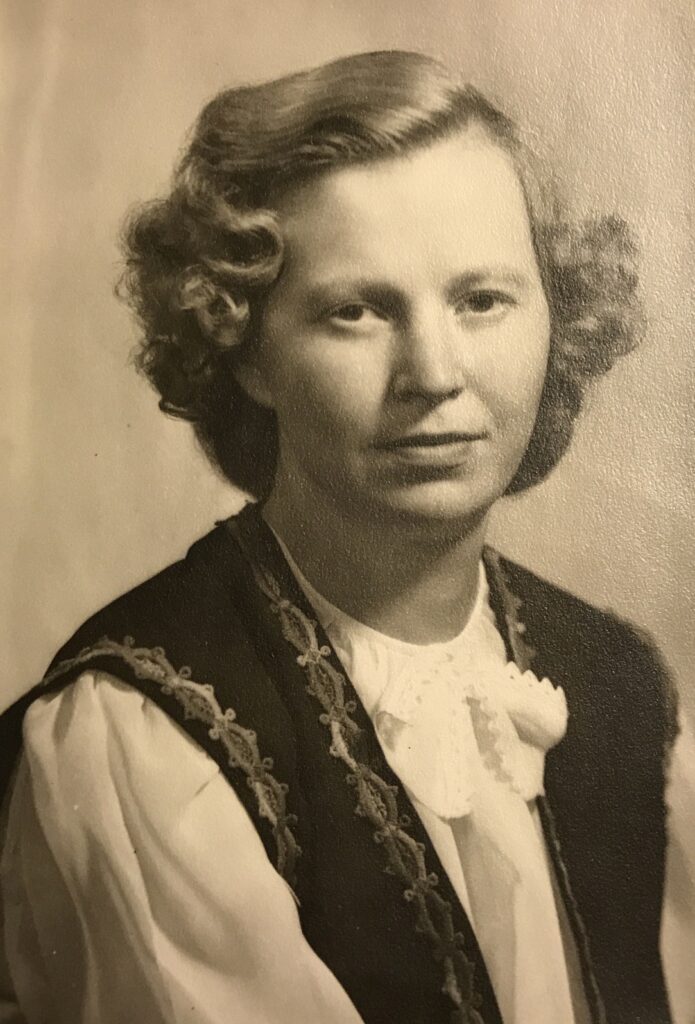 At a Glance:
Born: May 14, 1918, Reno, Nev.
Died: July 17, 2001, Reno, Nev.
Race: Caucasian
Married: Claude Hunter, Sept. 6, 1941
Children: Paul, Claude Jr., Carol
Primary city and county of residence and work: Reno, Washoe County, Nev.
Major Fields of Work: Education
Biography
Reno teacher, community activist descended from Nevada pioneers
Janet Holcomb, a descendent of the well-known pioneer Nevada family of Grove R. and Sarah Lyell Holcomb, was born in Reno on May 14, 1918, to Thad and Frances Judd Holcomb. She was raised at the Holcomb Ranch located west of Huffaker's Station. Her father, Thad Holcomb, managed the Holcomb estate, which grew to over 31,000 acres and included land in Nevada and California.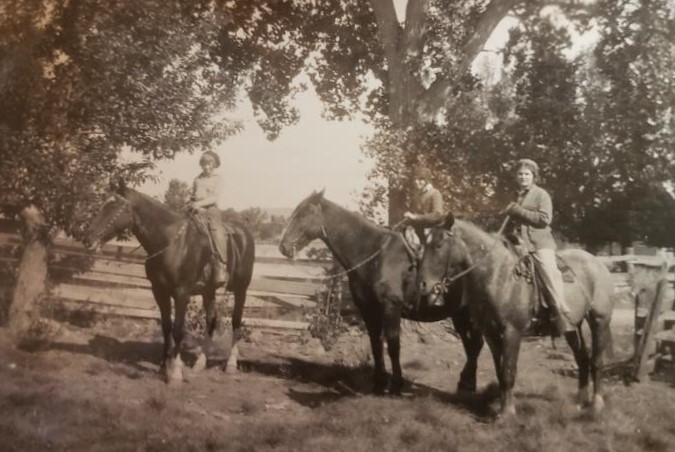 As a youngster Janet enjoyed the pleasures of living on the vast ranch among uncles, aunts, cousins, her brothers Grove and Thad, and her sister Lois. The first born and oldest child in the family, she was taught by her father to ride horses. She became so proficient in horse riding that she participated in local horse shows winning many ribbons and awards.
Years later, when Janet was living in Reno and attending college, she was given a class assignment to write her autobiography. She wrote of her happy days growing up on the ranch and declared she rode horseback before she took her first step. She expressed her confidence that she could handle any bit of horseflesh on the ranch and the ranch chores expected of her. On a lighter note, she wrote that at the age of 8 she attended public school for the first time. The student body of the typical "little red schoolhouse" was composed of classes from first to eighth grades made of about 15 "farmers."
A tragic incident that Janet mentioned in her 1940 autobiography was being a lone witness of her father's death, which occurred a week before her tenth birthday. On that day she had joined her father to deal with a problem at the ranch that needed immediate attention. Janet, who owned three horses, selected her horse of choice for the outing. As Janet and her father rode their horses along the family's ranch, her father's horse suddenly bolted and he was thrown from his horse, sustaining head injuries causing his sudden death. Unable to assist her father and with no one in sight, Janet managed to get on her horse and ride out to seek help for her father.
Her father's sudden death had a strong effect on Janet, a tragic memory she carried until her death. His death also brought many changes to how the ranch was being managed and operated by the surviving family members.
The combined circumstances of the death of Thad Holcomb and the Great Depression caused many changes on the ranch and in Janet's life. The operation faltered and there remained no recourse for the Holcomb estate but to sell the ranch and divide the money among the heirs. As a result, Janet's mother, Frances Judd Holcomb, moved her family to Reno where she purchased three houses. One house served as a home for her young family and the remaining two were established as rentals.
Mrs. Holcomb was approached by a judge to consider setting up a boarding home for women seeking a divorce. The city of Reno had proclaimed itself as the "divorce capital of the world." In a matter of a mere six weeks, women could establish residency in Reno, thus avoiding a lengthy process and uncertain outcome for a quick degree. Establishing a boarding home in the large house situated at 770 California Street provided Mrs. Holcomb additional income for the family.
In time, other states lessened restrictions and maintaining a boarding home was no longer necessary to support the home and her family. The home continued to be a gathering place for family events and visits. Frances Holcomb and members of the family continued to reside in the home until 1963.
The Holcomb legacy continues through the presence of many proud descendants and two street names: Holcomb Ranch Lane in southwest Reno and Holcomb Avenue in downtown Reno.
Once situated in Reno, Janet attended Reno schools: Mount Rose Elementary, B.D. Billinghurst, Reno High School and the University of Nevada. She received her bachelor's degree in 1940 and later a master's degree, both in education, from the University of Nevada.
Following her college studies, Janet held teaching positions in
Winnemucca and a variety of other schools throughout rural Nevada. She worked as a substitute teacher in the Reno/Sparks area when her children were young. In the late 1960s, she accepted a permanent teaching position at Mount Rose Elementary School in Reno, the school she had attended as a child. She taught the fourth grade for the next 25 years.
Janet loved being a teacher. She took a personal interest in each of her students, often spending extra hours tutoring those needing a bit of "extra care." She also was a mentor to other teachers, sharing her knowledge and teaching materials at every opportunity. One of her "self-proclaimed" assignments was maintaining a centrally located bulletin board. Janet posted photos, sayings, and artwork that represented every holiday and special event. One of her favorite holidays was Nevada Day. She would skillfully design and post items that told the history of her state. She also crafted her class curriculum around Nevada history to help her students understand and appreciate the state that she loved. Janet also had a great respect for American history, and she used her bulletin boards and her curriculum to impart as much history as possible to her students.
On September 6, 1941, Janet married Claude E. Hunter. They were married for almost 50 years and had three children: Paul, Claude Jr., and Carol. Claude Hunter passed away on July 1, 1991.
After her retirement from teaching, Janet served as an active member on the "Committee to Save Mount Rose Elementary School" when the building was threatened with demolition in 1976. The school, built in 1912, was saved from destruction by the intervention of teachers, students, community leaders and the general public. Not only was the school saved by this intervention, but it was also listed in the National Register of Historical Places in 1977, to ensure the building would be preserved for future generations.
Janet was also an excellent writer and grammarian. She was often called upon by friends and family members to compose and/or proofread writing assignments and other documents. She distributed countless copies of dictionaries, thesauruses and other helpful tools to promote her value of clear, concise writing skills. She loved poetry and generously shared her passion with her students, friends and other teachers, hoping to spark the same interests. Ideas for many of her bulletin boards and lessons came from Ideals magazine, a very popular publication at the time that was filled with prose, poetry and homey philosophies.
She was also knowledgeable on the history of the Steamboat Ditch Company that oversaw a series of about 40 ditches and drains throughout the Truckee Meadows drainage area and that allocated water rights. These ditches, in use from the 1860s and still in existence, were of obvious importance to ranches such as the Holcomb Ranch. In a June 12, 1940 Nevada State Journal article on the history of the ditches, Janet was credited: "Miss Janet Holcomb recently completed a study of the ditch development here and she provided a considerable part of the historical data."
Janet was an active member of Trinity Episcopal Church and several civic patriotic and fraternal organizations. A Republican activist, she was a member of Washoe County Republican Central Committee as well the National and State Federation of Republican Women. An active member of Kappa Alpha Theta Sorority, Janet was honored twice as "Outstanding Alumna." She was also a member of Adah Chapter #4 of Eastern Star, Alpha Delta Kappa International Sorority of Educators, Washoe Unit of Retired Teachers Association and a lifetime member of the Parent-Teacher Association, the Nevada Sagebrush Chapter of the Daughters of the American Revolution, and the Thomas Holcomb Chapter of the Colonial Dames of the XVII Century. She also assisted with the placement of the Nevada Historic marker at the original location of the Huffaker School and supported the Huffaker School Restoration Project in 1992, when the school was moved to its present location in Bartley Ranch Regional Park in Washoe County.
When not attending meetings, she enjoyed gardening and cooking. One of her favorite flowers was the iris; she once had over 100 different varieties. All were carefully cataloged on index cards with planting dates and location within her garden. Consistent with her love of Nevada, she always had sagebrush planted around her house. Cooking was also a favorite: her grape, mint and chokecherry jellies were treasured holiday gifts.
Janet passed away on July 17, 2001. She is buried at Mountain View Cemetery in Reno, Nevada.
Researched by Patti Bernard.  Written by Gilda Johnstone, Carole Hunter and Susan McCormack