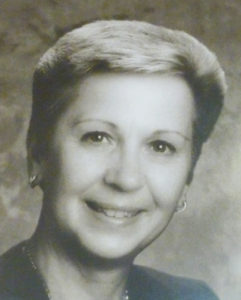 Birth: November 22, 1937, Cleveland, Cuyahoga County, Ohio
Death: April 24, 2000, Sparks, Washoe County, Nevada
Maiden name: Welch
Race/nationality/ethnic background: Caucasian
Married: Gano Senter Evans
Children: daughter, Tracey Evans Heath, and son, Robert Evans
Primary city and county of residence and work: Sparks, Nevada. Primary work: Sparks, Reno, and Carson City, Nevada
Major fields of work:State Assemblywoman; Development officer, University of Nevada School of Medicine
Other role identities: Teacher, lobbyist, community volunteer
Biography:
State legislator supported causes of women, children
As a child, the youngest of seven children (six half-siblings), and only child of Lillian Cyrk Sebek Welch and George Welch, Jan Evans's dream was to be a professional dancer. The late Reno Gazette-Journal columnist Rollan Melton said, "you could have knocked her over with a feather by suggesting she would ultimately seek public office." Evans not only won that office, but left a legacy that changed Nevada's culture forever.
Her father was a Bulgarian immigrant who fled the Balkan wars for America. She grew up in Ohio and eventually moved to Greeley, Colorado, where she received a Bachelor of Arts degree at the University of Northern Colorado. There she met and married Gano Evans, an educator, and the couple relocated for a time to Washington, D.C., where she developed a fascination with politics, haunting congressional committee hearings and thinking that someday she'd like to work there.
The couple moved to Sparks in 1969, where two children were born, and Evans taught high school history and plunged into community work, volunteering many hours at the Committee to Aid Abused Women. Through training by the organization's director, Joni Kaiser, Jan became part of the tribe of CAAW volunteers, including the author, and developed deep insights into the plight of abused women and their children in Nevada and their complete lack of resources.
She and her husband divorced September 4, 1985, and she became a single working mother, before child care or women's pay equity were available. Evans obtained her master's degree in sociology from the University of Nevada, Reno. For her thesis she interned with State Senator Sue Wagner during the 1981 Nevada Legislature, and her tireless lobbying efforts helped pave the way to passage of Sen. Wagner's bill that increased marriage license fees, which for the first time provided permanent funding to support domestic violence programs in Nevada. This landmark bill became the foundation for abuse prevention and shelter programs throughout the state. At graduation in 1983, the University of Nevada, Reno, presented her with the Thornton Peace Prize for these efforts.
The late philanthropist and peace activist Maya Miller wanted to initiate a women's foundation to raise money to support efforts of women and girls. Miller, Reno's Barbara Thornton and Las Vegas' Renee Diamond signed the Articles of Incorporation for the Nevada Women's Fund in 1982, and they recruited Evans to be the organization's first executive director. The board was up and running in1983 and, the author knows from personal experience, that although not a wealthy woman, Evans contributed her $500 Thornton Peace Prize money to the Fund. She held the director's position for 12 months.
At this time she lobbied in the state legislature on behalf of the Nevada Women's Lobby and Women of Nevada. In addition to NWL she was involved in several other organizations in Reno and Sparks, including Western Industrial Nevada and Northern Nevada Child Care Coalition. As legislative chair of the Reno Branch of the American Association of University Women, she urged the Reno City Council's adoption of a strong code of ethics to ensure an "honest, trustworthy, and aboveboard" code.
Evans was an active community member, especially on behalf of women and children. She was legislative chair of Anne Martin Women's Political Caucus and in that capacity addressed the wage gap between men and women, at a time when women were earning less than 59 cents for every dollar men earned.
She also worked with the Sparks Heritage Foundation and the Sparks Community Chamber of Commerce. With Mike Jauron, she formed the University of Nevada-Reno BoostHERs, designed to provide greater recognition and encouragement for women's sports, and served as trustee of the Washoe County Library Board. She became a member of the advisory councils of the Committee to Aid Abused Women, Women's Health Initiative, and KNPB-TV Channel 5, and was a trustee of the Washoe County Library System. In 1984 she received the Soroptimist International's Women Helping Women Award, and in1985, the Hannah Humanitarian Award from the Committee to Aid Abused Women. It comes as no surprise that Reno Gazette-Journal's Melton referred to her as an "energetic 5-feet-3-inch, 116-pound dynamo."
In September 1985, she was named assistant director of development for the University of Nevada School of Medicine.
In 1986 she ran for the Sparks Nevada Assembly district 30. She won a close primary race with help from her friends at CAAW and many of the women she had empowered, and the following November Evans was elected to that office. She was easily re-elected thereafter. Her concern for the underprivileged, the sick and the old elevated her to the chairman of the subcommittee on Welfare, Youth Services, and Aging. In its 1992 endorsement, the Reno Gazette Journal said Evans "has established herself as a leader" and "is a clear choice, both for her experience and her balanced views."
Evans served in the Assembly from 1986 to2000— seven regular sessions and one special session. A Democrat, she easily defeated Republican opponents in each election, even though Republicans dominated in the district she represented. She was known for crossing the aisle and was able to build consensus among those with differing opinions, and both Democrats and Republicans supported many of her bills.
Terry Ann Stone, who managed Evans' first campaign in 1986, recalled that Evans said she wanted "to be like a duck." Stone said Evans knew it was important "to get all your ducks lined up and have all your information before you ever walk in the door." Evans laid the groundwork for her issues months before the Legislature went into session, lining up support and neutralizing opposition. She prepared for one legislative session, when her organizations wanted an increase in welfare-payment levels, by approaching dozens of county officials and winning them over, carrying their endorsement to the legislators.
Issues around women and children were her primary focus. She did her homework and worked long hours researching and discussing bills with legislators, and, when things didn't go her way, she backed up and tried again. She wanted to be like a duck in another way, and said, "When the rain comes, just let it roll off your back and keep with your own agenda."
Evans authored Nevada's hate crime bill and, among other measures, sponsored important legislation to assist victims of domestic violence, enhance funding for occupational education, improve public services pertaining to alcohol and substance abuse, and establish state spending priorities for money derived from federal tobacco settlements. Assembly Speaker Joe Dini noted her expertise in K-12 education and welfare funding.
Her Nevada Assembly service included: Member of Interim Finance Committee, 1987-98; Assistant Majority Floor Leader, 1991; Chairman, Select Committee on Reapportionment, 1991; Chairman of the Committee on Health and Human Services, 1993; Vice Chairman of Committee on Ways and Means, 1991 and 1995-99; Speaker Pro Tempore, 1995-99.
Other personal and professional achievements were: Elected Official of the Year, People's Guardian Award, Truckee Meadows Human Services Association; Trustee of the Year, Nevada Library Association; Excellence in Government Award, Governor's Conference on Women; Civil Libertarian of the Year, American Civil Liberties Union; Psychological Services Award, Paul McReynolds Foundation; Governor's Mental Health Leadership Award; National Merit Award, State Democratic Leaders Association; Toll Fellowship, National Conference of State Legislatures.
In spring of 1999 she was diagnosed with ovarian cancer, but, after surgery and during chemotherapy treatments, she continued to work as she was able, never complaining about the pain, according to Dini. "She'd be in here at 7 a.m and leave at 7 at night," and when friends asked about her health, she'd change the subject. She wanted to see some of her work come to fruition, such as restructuring how juvenile crime was treated in Nevada.
"We have not done an adequate job on prevention and early intervention with youngsters," Evans lamented. She said many resources were given to substance abuse and mental health programs for adults, but children had been left out of the picture. And as the state raised educational standards, she wanted to add more support to special-needs children.
She took a leave of absence May 11, but from her bed at a Reno-area health care facility, she tracked legislation, keeping an eye on bills she introduced, one that would give Washoe County $3 million towards replacing the current outmoded juvenile facility and put $500,000 annually into adolescent drug treatment programs. Her bill passed, and today's Jan Evans Juvenile Justice Center carries her name.
Her last piece of legislation, a birth-defects measure, was still hanging fire in the closing days of the 1999 session when she was hospitalized with the cancer that would kill her. After her departure, lobbyists moved in to defeat the measure, but women lawmakers of both parties united to protect it and saw it enacted into law
.
Her funeral service included an honor guard from the Washoe County Sheriff's Department, both the Sparks and Reno Police Departments, and the Nevada Highway Patrol. It was fitting that her memorial reception was held at Robert Mitchell Elementary School, with refreshments provided by the Job Corps of Nevada and sponsored by the Nevada State Education Association.
Sue Meuschke, executive director of the Northern Nevadans Against Domestic Violence, said "Jan Evans was one of Nevada's most beloved and accomplished legislators. To those of us at NNADV who were lucky enough to know her, Jan was a friend, an advocate, and a mentor." After her death, NNADV inaugurated the Jan Evans Direct Assistance Fund, which provides direct emergency financial assistance to battered women and their children who are fleeing abusive relationships or attempting to reestablish themselves.
She was posthumously inducted into the Nevada Women's Fund Hall of Fame, and in her tribute, former Nevada Lt. Gov. Sue Wagner said, "She instilled in women a lot of self worth and brought out the best in them. She represented those who didn't have a voice."
In 2001 she was memorialized in the Nevada Assembly, when Assemblywoman Barbara Buckley said, "There were few champions like Jan Evans . . . I think our best tribute to Jan is that we can keep fighting for the people that she fought for.' Assemblyman Perkins noted that Evans' being a "liberal" wasn't a bad thing. "Because she never asked for anything for herself. She always looked out for those who couldn't help themselves."
In 2005 Jan Evans was added to the Nevada Assembly Wall of Distinction.
Researched by Patti Bernard and written by Mary Lee Fulkerson
Sources of Information:
Ancestry.com. Nevada, Divorce Index, 1968-2015 [database on-line]. Provo, UT, USA: Ancestry.com Operations, Inc., 2007. [Janice Evans]
Bray, Martha. "Lillian Cvrk and Joseph Sebek family history." personal correspondence.
Anderson, Fay, interview and personal correspondence, August 2017.
Bremner, Faith. "Evans tracking bills despite illness." Reno- Gazette Journal, (Reno, Nevada), May 30, 1999, p. 5A:1.
Cizauskas, Carol, "Still missed." Reno News and Review (Reno, Nevada), April 28, 2005, https://www.newsreview.com/reno/still-missed/content?oid=24569 , Accessed April 28, 2019.
Crowe, Jennifer, "Assembly honors former colleague Jan Evans." Reno Gazette-Journal (Reno, Nevada), March 28, 2001, p. 6:1
Crowe, Jennifer, "Remembered as champion for women, youths." Reno Gazette-Journal (Reno, Nevada), May 18, 2000, p. 25.2.
Damon, Anjeanette Coles, "Longtime lawmaker faces challenge for assembly seat." Reno Gazette-Journal (Reno, Nevada), October 16, 1998, p. 16:1.
Editorial Opinion, "It's good to see work started on juvenile detention center." Reno Gazette-Journal (Reno, Nevada), December 12, 2002, p.7:1.
Editorial Opinion, "Jan Evans gives Washoe County a strong voice in state Assembly". Reno Gazette-Journal (Reno, Nevada), October 2, 1992, p. 15:1.
"Evans, Jan". https://www.leg.state.nv.us/Session/70th1999/legislators/Assembly/evans.htm Accessed November 8, 2018.
Events, "Nevada Women's Fund." Reno Gazette-Journal (Reno, Nevada), March 20, 1985, p. 2D:3.
"Fowler VS Evans." Reno Gazette-Journal (Reno, Nevada), October 25, 1986, p. 33:3.
Fulkerson, Mary Lee, "Jan Evans: talk to Nevada Women's Fund Board of Directors." August 17, 2007.
Guidos, Rhina, "Women's Fund event honors late lawmaker." Reno Gazette-Journal (Reno, Nevada), May 25, 2000, p. C: 1.
"Jan Evans, Democrat, Washoe County Assembly, District No. 30, Development Officer. https://www.leg.state.nv.us/Session/70th1999/legislators/Assembly/evans.htm. Accessed March 5, 2017.
Melton, Rollan, "'Rookie' Evans is Legislative veteran". Reno Gazette-Journal (Reno, Nevada), August 24, 1986, p. E1:1.
People, "Jan Evans was named assistant director." Reno Gazette-Journal (Reno, Nevada), September 22, 1985, p. 2F:1.
Students, faculty recognized at UNR Honors Convocation." Reno Gazette-Journal (Reno, Nevada), May 6, 1983, p. 2C:3
Richardson, Guy, "Hannah winners go beyond call of duty." Reno Gazette-Journal (Reno, Nevada), May 14, 1985, p. D5:5.
Vogel, Ed, "Jan Evans – Hundred mourn, salute Evans." Las Vegas Review-Journal (Las Vegas, Nevada), May 18, 2000, http://infoweb.newbank.com.ezproxy.st-charles.lib.il.us/abnl/obituaries/doc/obit/11E8713492EABA48-11E8713492EABA48. Accessed June 10, 2014.
Year: 1940; Census Place: Medina, Medina, Ohio; Roll: m-50627-03112; Page: 7B; Enumeration District: 52-17. [Janice Evans]