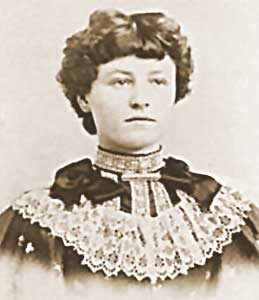 JENNIE O'HARE RIORDAN

The information below has been compiled from a variety of sources. If the reader has access to information that can be documented and that will correct or add to this woman's biographical information, please contact the Nevada Women's History Project.
At A Glance:
Born: May 10, 1874
Died: July 6, 1965
Maiden Name: Jeanette (aka Jennie) O'Hare
Race/Nationality/Ethnic Background: Caucasian (Irish)
Married: James Riordan
Children: Six (three sons, three daughters)
Primary City and County of Residence and Work:
Carson City (Ormsby County), White Pine County, Nye County
Major Fields of Work: Ranching, Hotel proprietor, Mining
Other Role Identities: Teacher, Wife, Mother, Church Worker
Biography
Jeanette (aka Jennie) O'Hare Riordan was born in Carson City on May 10, 1874. Of Irish descent, she was the third daughter and fourth child of Michael and Margaret O'Hare. When she was five years old she attended Hannah Clapp's private kindergarten, which was operated out of her home near the existing governor's mansion in Carson City. Jennie received her first through twelfth grade education in the Carson City schools, graduating from high school in 1893. For the next four years, she taught school in Esmeralda, Nye and Lincoln counties. She began her teaching career at Coyote Hollow in the Cambridge Mining District. She also taught at the Cambridge Mine, White River Valley, Cave Valley and Sunnyside. While working at the school in Nye County (White River Valley), she met James Riordan. They were married on September 5, 1897, in St. Teresa's Church in Carson City. James Riordan was the first Anglo child born in White Pine County. His parents had immigrated from County Cork, Ireland, and settled in the White River Valley, where they initially made their living selling milk, butter and eggs to residents of the mining camps of Pioche and Hamilton. Later, they raised beef. The Riordan ranch became one of the well known ranches in eastern Nevada.
Jennie and James made their first home at Lane City, Nevada, where they had some mining interests. After three years, they sold the mine, leased the O'Neill ranch in Spring Valley, White Pine County, and went into the cattle business. At the end of three years, they decided to move to the western part of the state. Getting out of the cattle business, they purchased a hotel at Plumas Junction, about 35 miles north of Reno, in Lassen County, California. It was located at the junction of the Nevada, California, Oregon and Sierra Valley Railroads. The nearest town where all their business was transacted was Reno. When the Western Pacific Railroad was completed, the junction became a thing of the past, which meant another move for the Riordans. When James' father passed away, they returned to his ranch in White Pine County and continued the operations. There they raised their six children, Francis, Emmett, Lawrence, Ethel (Fraser), Loretta (Rodrigue), and Gertrude (Gottschalk). All of their children were sent to California to be educated. After spending 34 years on the ranch, the couple retired in 1943. Their youngest son, Lawrence, became the new ranch owner. Jennie happily returned to her beloved Carson City with her husband. James died at the age of 90 in 1960; Jennie at the age of 91 in 1965.
Jennie's parents were most interesting. Her father Michael O'Hare, born in Ireland, was a Civil War veteran having served in the Union Artillery from New York City. He came to Carson City in the late 1860s, and was employed first at the United States Mint and later at the Virginia and Truckee Railroad foundry. Her mother, Margaret McNally, also a native of Ireland, immigrated with her family to New York at a young age. She met and married Michael Francis O'Hare in 1866, and preceded him to Carson City, where her parents, the McNallys, had moved in the early 1860s.
The story of Margaret's journey from the East Coast to Nevada is one of courage, endurance and determination. In 1867, accompanied by a younger brother and sister, she traveled via ship to the Isthmus of Panama. While on board the Henry Chauncey, she gave birth prematurely to a baby boy. Continuing on to her destination she, her four-day old son, and younger siblings rode donkeys across the Isthmus to board another ship on the Pacific side. From San Francisco she journeyed to Sacramento by boat, then by train to Placerville, and lastly a stagecoach to Carson City. Her parents met her there. She was joined later by her husband Michael. In 1886, Michael died of pneumonia leaving Margaret with eight children to rear.
Jennie's four sisters also taught school in Nevada. The eldest, Minnie, taught at Wadsworth and Campbell's ranch in eastern Nevada, where she met her future husband, Josiah Miles. Tessie, the second O'Hare daughter, taught at Reese River, Candelaria, and Ione. She met her future husband, John Mayette, while teaching at Ione. Maggie, the fourth daughter, taught at the Star Mine in Cherry Creek, at Lane City, and in McGill where she was principal and one of the two teachers employed there. She later became an operator for the telephone company in Ely, a position she held for many years. Maggie never married and made her home with her mother. The last O'Hare daughter, Lyda, taught one pupil at a place called Johnny on the Phelan ranch near Currie. She married Fred Oldfield of Ely, and taught naturalization classes in that area until 1959.
When Jennie was 90 years old (1964), she wrote a piece for the Carson City paper. In it she reminisced about earlier days, "I wonder how many Carson residents remember that Carson City once boasted a large Chinatown and quite a colony of Chinese. It was situated in the southeast section of the city, not far from Sunny Acres. I remember it best in the early 1880s when my father used to take us for a walk at night when they celebrated their New Year. The whole town would be lit with Chinese lanterns with tapers or candles in the windows. The firecrackers would be going off all around . Their funerals were another source of childhood delight, since they were so entirely different from anything we ever saw as they paraded to the cemetery moaning and beating cymbals to keep evil spirits away from the dead person." Her concluding paragraph was, "I have had a very happy life, and I look back to my school days and am glad that I lived in the best era of our country. The Gay Nineties were happy, carefree times, and we have seen so much progress over the years. I have seen Carson City grow from a small frontier town to its present population of fifteen thousand. I am glad that it has been my home."
An outstanding Nevada pioneer lady, Jennie lived her Catholic faith, raised a wonderful family, and contributed to each community in which she lived. Her biography is included in Special Collections at the University of Nevada, Reno.
Biographical sketch by Kay Sanders.
Sources of Information:
Gottschalk, Gertrude R., genealogical research papers, unpublished, in Special Collections, Getchell Library, University of Nevada, Reno.
Harris, Judge, "Another Soldier Gone", obituary written to eulogize Michael O'Hare, December 19, 1886, Carson City, NV.
Las Vegas Review Journal, "First White Pine Child, James Riordan, and Wife, Carson Native, Wed 59 Years", April 22, 1956, article by Gene Tuttle.
Oldfield, Lyda, "The O'Hare Women", AAUW – IKG – 1976.
Riordan, Jennie O'Hare, "Capsules of the Past", (unpublished personal memoirs), early 1940s., Special Collections, Getchell Library, University of Nevada, Reno.
Ibid, "Meet Your Neighbor – Jennie O'Hare Riordan", Carson City Appeal, 1964.