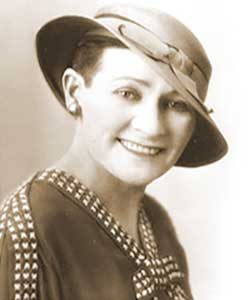 JOSIE ALMA WOODS

The information below has been compiled from a variety of sources. If the reader has access to information that can be documented and that will correct or add to this woman's biographical information, please contact the Nevada Women's History Project.
At A Glance:
Born: December 29, 1889
Died: February 19, 1983
Race/Nationality/Ethnic Background: Caucasian
Primary City and County of Residence and Work:
Eureka (Eureka County)
Major Fields of Work: State government (elected member, Nevada Assembly), Ranching
Other Role Identities: Civic Worker, Dental Technician, Women's Club Member
Biography
Josie Alma Woods was born in Clyde, Texas on December 29, 1889. (Her obituary says 1889; other sources indicate 1888 and 1892.) Arriving in Nevada in the early 1900s, she spent five years riding a circuit between mining towns in a horse-drawn buckboard, assisting her business partner, Dr. Mabel Young, in her dentistry practice.
During this time Josie purchased forty head of cattle at an estate auction and aquired a former stagecoach and Pony Express station located between Eureka and Austin which she named "The Willows." With no previous ranching experience, she soon became known as an expert judge of cattle and transformed the 320-acre homestead into a successful cattle ranch, encompassing 1,200 square miles by the time it was sold in 1954. Dr. Young shared the log cabin home as well as a house in Eureka.
Molly Flagg Knudtsen, in her book, Here is our Valley, described Woods as having an unerring eye for quality livestock:
"In the years that she lived in the neighborhood, Grass Valley sold registered Hereford range bulls. Many of the neighboring ranchers bought them from us. It was Dick Magee's practice to bring in all the calves he had for sale and let the rancher take his pick.

With the exception of an old Indian called Frank Rogers, who lived in Smoky Valley, Alma Woods was the best judge of anyone who bought our bulls. Not only could she select the top individuals from the herd, but once she bought them, she knew how to take care of them and use them to the best advantage.

She lived…first with her partner, a lady dentist, and later alone…in a little log cabin which reminded me of the gingerbread house in the fairy tale. Every nook and cranny was crammed with objects she had accumulated in the course of her life. Dried flowers and grasses sprouted from purple bottles, and ox shoes and rock specimens were displayed in a tangled jumble that would have driven an interior decorator crazy. But the overall effect was cozy and addly agreeable, rather like Queen Victoria's sitting room at Windsor Castle, on a smaller, more rustic scale.

One day a man came walking up the winding dirt track from the highway (now Highway 50, known then as the Lincoln Highway) and asked Miss Woods if he could do some chores to pay for a meal and a night's lodging in her barn. The man's name was Campbell. He was a Scot, taciturn and hard working. He stayed on to help around the ranch, and twenty years later he was still working for Miss Woods. Alma valued him highly, as well she might. When she retired, Campbell was financially able to retire, too."
Josie joined the state and national livestock associations and was a director and Vice-President of the Eureka Farm Bureau. According to a biography of Woods published in 1975 by Mary Ellen Glass, it was in the summer of 1940 that she filed as an Independent candidate for the short-term county commissioner's post, but received less than 25% of the vote that year as she ran third against a Republican and another Independent — both men.
In 1942, with renewed determination and the lessons learned in 1940 as her guide, she filed for the state assembly on the Republican ticket. She conducted a personal campaign, spending no money for advertising in the local newspaper. She won the election, receiving more than 60% of the vote over her male opponent and achieving the distinction of being the first woman elected to the state legislature in Eureka County. She took her seat in the 1943 Legislature along with one other woman, Democrat Mary Sharp of Nye County.
Woods was re-elected in 1944 over her same opponent, becoming the second woman in legislative history to achieve a second term. She served on committees dealing with agriculture, banks and banking, counties and county boundaries, livestock, and state publicity. In the 1945 session there were two additional women in the Assembly: Martha Woolridge of Nye County and Edna Montrose of Mineral County.
She introduced no legislation in either session, made one recorded speech, and generally voted "aye" with the majority. She ran for a third term in 1945, but lost to a veteran returning from the War, Lester Bisoni. According to Glass, Woods herself believed she had been used in a political "deal." The incumbent state senator, she said, planned to run for reelection himself and she had originally determined to challenge him. The senator visited her, promising the local political organization's support for another term in the assembly if she would give up her desire to run for the state senate. She agreed, but lost her election, and the 1947 Nevada legislature convened with no women lawmakers.
Back home in Eureka, Josie became active in the Business and Professional Women's Club, serving as legislative chairman and then President.
Josie Woods sold The Willows in December, 1954 and spent her last years traveling or living in retirement in Arizona. In her later years, she was somewhat victimized in one more "deal." She wrote the story of her life, and being by her own admission "not a writer," she somehow contacted a professional in the field. The "ghost writer" sold her memoirs "to a movie outfit in Hollywood." The result was a motion picture titled "The Ballad of Josie," starring Doris Day in the leading role. Josie Alma Woods – the real "Josie" – received only the vicarious satisfaction of seeing her life dramatized on the screen and later on television.
Josie Alma Woods died on February 18, 1983. Her life was memorialized as one who "embodied the true spirit of the pioneer" … and "personified the contributions that women have made in our state" by the passage of Assembly Concurrent Resolution by the 69th session of the Nevada Legislature on May 28, 1997.
Biographical sketch by Jean Ford.
Sources of Information:
ACR 30, Nevada Legislature, May 28, 1997.
Glass, Mary Ellen. "The Lady Lawmakers," Nevada Public Affairs Report, University of Nevada, Reno, October, 1975.
Knudtsen, Molly Flagg. Here Is Our Valley. Reno: UNR College of Agriculture, 1975.
Walton, Clifford. Who's Who in Nevada, 1949-50. Portland: Capital Publishing Co., 1949.