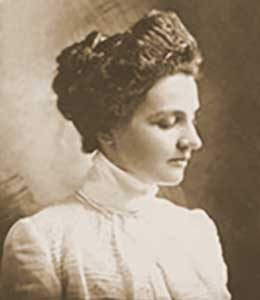 LAURA MAY TILDEN WILSON – FIRST WOMAN LICENSED TO PRACTICE LAW IN NEVADA

The information below has been compiled from a variety of sources. If the reader has access to information that can be documented and that will correct or add to this woman's biographical information, please contact the Nevada Women's History Project.
At A Glance:
Born: April 24, 1872, Sacramento, California
Died: May 31, 1928
Maiden Name: Laura May Tilden
Race/Nationality/Ethnic Background: Caucasian
Married: Fred Ray in 1898 and Walter Curtis Wilson in 1916
Primary City and County of Residence and Work:
Virginia City (Storey County)
Major Fields of Work: Lawyer, Notary public
Other Role Identities: Suffragist
Biography
Laura May Tilden was born in Sacramento, Sacramento County, California on April 24, 1872 and was the fourth of six children. Her parents were Marcellus Crane Tilden and Elizabeth J. Ralston. Her father was from Ohio, and her mother was from Illinois. The U.S. Census for 1850 shows a 15 year old Marcellus living with his parents, John M. And Laura A. Tilden in Nelson, Portage County, Ohio . His father is listed as a farmer and his mother is listed as keeping house. By 1860 Marcellus is an attorney living in Sacramento, California. In 1870 he is married to Ella, has three children and still lists his occupation as an attorney. During the next 10 years this family faces many changes and losses.
In June, 1880 they are in Virginia City, Nevada. Both Laura and her four year old sister Elizabeth have been born and two people are missing from the census list: one of Laura's older brothers and her mother. Nine year old Laura is listed as "at school." A cousin, A.M. Crane, has joined the household and is "keeping house". One can only surmise what impact these losses and changes had on such a young girl.
Laura next emerges as a 22 year old young woman who wants to be an attorney in Nevada. We have no record of her having attended law school so she probably studied law in her father's law office which was a common route to joining the profession in those days.
The Virginia City Evening Chronicle of July 24, 1893 credits her with obtaining the passage of a Legislative statute the previous winter giving women the same rights and privileges as males "so far as becoming attorneys is concerned." The article goes on to say that the women of Nevada owe her a debt of gratitude for this feat and that she is the first lady to be allowed to practice law in Nevada. Laura is reported as having passed a "creditable exam" and receiving "encomiums from the entire bench for the manner in which she had borne herself." Although she was Nevada's first woman attorney, there is as yet no available evidence of her actually having practiced law in Nevada.
Her first victory in a California Superior Court was reported, however, in the Virginia City Territorial Enterprise of February 1, 1894. The story was said to have originally come from the Sacramento Bee. She was said to be "young and rather pretty" and had "a clear, pleasing voice which was distinctly heard throughout the courtroom." Even though she had only recently " hung out her shingle", she addressed the court as though she had been accustomed to doing it every day. She defended a young boy who had been accused of burglary by his foster father by arguing that the boy had had no criminal intent and should be discharged. Both the District Attorney and the Judge agreed with her, and she won her case.
Capital Women , An Interpretive History of Women in Sacramento, 1850-1920, by Elaine Connolly and Diane Self, reports that the Sacramento Bee in 1895 describes Laura Tilden as "Sacramento's woman lawyer" and that this implies that she was the only female in the city practicing law at that time. She was her father's law partner in an office located at 504 J Street. Connolly and Self credit Laura's father Marcellus Crane Tilden with inspiring her interest in the law and in the women's suffrage movement because he had signed an equal suffrage petition that was circulated in Northern California in 1870. Mary Erickson in Women Lawyers' Male-Connectedness points out that women lawyers were typically connected with husbands, fathers or male mentors who were attorneys.
Connolly and Self report that Laura Tilden attended and spoke at a public meeting in the California Assembly chamber to give the "woman side of the woman suffrage question". They quote a sympathetic Sacramento Bee reporter as assuring readers that the suffragists were not "pantaloonitics", or "bloomers, " or "free lovers," or "dowdies". The reporter described Laura as beginning her speech "with a smile that could win a thousand votes". She went on to say that she was helping to pass around a woman suffrage petition and that nineteen out of every twenty women in Sacramento were signing it. She described women in the United States as " brainy and well educated."
Laura's father died on January 30, 1896. She moved to Denver, Colorado in 1901 and practiced there until she moved to Montrose, Colorado in 1916. Laura married twice that we know of, first to Fred Ray in 1898 and then to Walter Curtis Wilson in 1916.
Laura Tilden Ray Wilson died from a fractured skull suffered in an automobile accident in Colorado on May 31, 1928 at the age of 56. She is buried in her family's plot in the Old City Cemetery in Sacramento, California.
Biographical Sketch written and researched by Kathleen F. Noneman, Esq. Additional Research by Elizabeth Pederson, Stanford University. Revised by Kathleen Noneman, Esq., April 2008.
Endnote:
Elaine Connolly and Dian Self, Capital Women , An Interpretive History of Women in Sacramento, 1850-1920. Sacramento, California. The Capital Women's History Project (1995) pp. 72, 117, 132, 179.
The Journals of Alfred Doten, 1849-1903. EditorWalter Van Tilburg Clark, University of Nevada Press, Reno, Nevada, 1973. Book No.69, p.1844.
Evening Chronicle, Virginia City, Nevada, July 24, 1893.
Territorial Enterprise Viorginia City, Nevada, Thursday, February 1, 1894.
United States Federal Censuses, 1850, 1860, 1870, 1880.
Guy Rocha, Stepping Up To The Bar: Female Attorneys in Nevada , Nevada State Archives, Historical Myth a Month , Myth #72, modified, 3/11/2004, http://dmla.clan.lib.nv.us/docs/nsla/archives/myth/myth72.htm.
Mary Erickson, Women Lawyers' Male Connectedness, Stanford, 1988. http://www.law.stanford.edu/library/wlhpb/profiles/WilsonBird.htm.
Query #27524, http://www.cousinconnect.com/d/a/27524.
Unpublished Research: Kathleen F. Noneman, Esq.