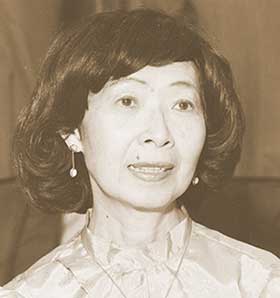 LILLY HING FONG

The information below has been compiled from a variety of sources. If the reader has access to information that can be documented and that will correct or add to this woman's biographical information, please contact the Nevada Women's History Project.
At A Glance:
Born: June 17, 1925
Died: March 20, 2002
Maiden Name: Hing
Race/Nationality/Ethnic Background: Chinese
Married: Wing Fong
Children: One son, one daughter
Primary City and County of Residence and Work:
Las Vegas (Clark County)
Major Fields of Work: Education (teacher), University Regent, UNLV and
Community College of Southern Nevada Benefactor
Other Role Identities: Wife, Mother, Public Servant
Biography
Lilly Fong was eldest of ten children born to Helen and Ong Chun Hing. Lilly's father immigrated to the United States in 1912 and with family members opened restaurants inthe Phoenix area. In 1921 he established a branch of the American Kitchen Restaurant in Superior, Arizona that was half restaurant and half grocery store. Lilly's mother Helen was born in Scranton, Pennsylvania, but returned to China in 1903 where she lived until she became a 'picture bride'. Before they had met in person the couple was married in a traditional Buddhist ceremony in 1921. Ong left his new bride in China for two years while he completed the first home built by an Asian American in Arizona. It was located adjacent to the business. In 1925 Lilly was born in Superior, Arizona. In 1930 Helen took her five-year old daughter and three younger siblings to China to care for her ailing mother.
Lilly spent the next seven years in China where she began her education. She reported that children played marbles, checkers and hopscotch for fun, while in the classroom they memorized the last will and testament of Sun Yat-Sen. They also explored the history of the dynasties and the birth of the Chinese Republic while the ethical and moral teachings of Confucius also were a part of the curriculum. In addition, manipulating the abacus, executing lines and strokes of calligraphy and painting dragons on bamboo with a brush were learned. Lilly felt that her Chinese instruction was 'firmly grounded'.
In 1937 when the war with Japan began, Lilly's father brought the family back to Arizona. He was a firm believer in education and she often recalled his quote, "Confucius said education is the equalizer of all. It knows no distinction in class. If I give you money you would spend it, so I am going to give you an education that is going to last for life." Their parents worked and sacrificed so this would become possible and eventually all ten children in the Hing family earned degrees in various fields.
Lilly felt that, although she was a girl, she was treated as well as the first-born son who arrived several years later. She reported that she encountered outward discrimination and social ostracism experienced by the Chinese-Americans in California and Nevada only after she left Superior. Lilly was the first child in this family to earn a college degree and graduated from Arizona State University in Tempe. She met her future husband, Wing Fong, while he was a student at Woodbury College in California and they were married in 1950. They made their home in Las Vegas where he became a manager for the Las Vegas Bottling Co. and later opened Fong's Gardens Restaurant that became a favorite eating establishment of local residents. Meanwhile, he also became active in banking and real estate.
Lilly was the first Asian American to be hired by the Clark County School District and taught for five years at the Fifth Street Elementary and West Charleston schools. In 1952 she was recognized as an outstanding teacher in Clark County. In 1955 a son, Kenneth was born, followed by a daughter, Susan who joined the family in 1957. Because of her active involvement at her children's elementary school she was given a lifetime membership in the West Charleston PTA and was honored as Clark County's Mother of the Year.
In 1957 she and her husband, Wing, donated two days' business proceeds to the libraryat UNLV. In the 1960s, while raising money for the Performing Arts Center, she convinced major donors, such as Judy Bayley and Artemus Ham Jr., to financially support the endeavor. Consequently, when these facilities were opened in 1970 they were named for the exceptionally generous donors.
During the 1970s she began making annual donations for academic and athletic scholarships. In 1974 Lilly was elected and served as a Regent for the University of Nevada System where she remained for ten years. One of her many accomplishments during this time was to establish an endowment fund for the first Chinese Language Program at UNLV, made possible in part because she donated her per diem stipend as a Regent to the program. During this period of time she initiated the first Excellence in Student Teaching Awards in the College of Education. The Outstanding Professor of the Year also can be attributed to her suggestion. In addition, through her efforts, Tonopah Dorm was saved and consequently was turned into offices and classrooms for the Colleges of Business and Hotel Administration.
In 1980 at age 55 she earned her Master's Degree in Education and in 1982 was chosen UNLV Alumnus of the Year. From 1982–1984 with her insight and vision for the future of the institution, she was instrumental in raising three million dollars for Beam Hall, as well as for the Engineering and Computer Science Schools. In recognition of this the Nevada Society of Professional Engineers later honored her as a Partner for Progress. Subsequently the geo-science building was renamed in her honor. Because of her appreciation for art and through her further financial endeavors it became possible, with private contributions, to fund the Oldenburg Flashlight and the Rita Abbey original murals in the Performing Arts Centers. By means of her fund raising abilities Alta Ham Hall was funded by three quarters of a million dollars. In 1984, she and her husband, Wing, donated a quarter of a million dollars to UNLV and the Clark County Community College.
Lilly Fong was active in many community affairs. She was Past State President of the American Association of University Women and served on the Governor's Commission on the Status of Women as Education Vice Chairman. She was a member of the US Small Business Advisory Council, a member of Opportunity Village's advisory board, and a member of the Las Vegas Symphony Board of Directors as well.
In recognition of their many years of service to the Las Vegas community a Clark County school is named Wing and Lilly Fong. Lilly died on March 20, 2002 at age 76 after many years of devotion to the importance of and belief in the value of education as preached to her by her father while she was growing up.
Biographical sketch written by Dorothy Bokelmann and researched by Jean Spiller, March 2008.
Sources of Information:
Fong, Lilly. "My Roots: The Story of a 20th Century Chinese-American Family". Gold Hill News.
Patton, Natalie. "Fong, former member of Board of Regents, dies". Las Vegas Review Journal, March 31, 2002.
Clark County School District Naming of School Facilities file. Letters from Ken Fong, Jim Miller, and Vernon Burk, and the School Dedication & Reception Program.