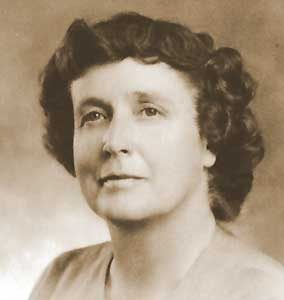 LOIS ELIZABETH HATCH DEIMEL WASHBURN

The information below has been compiled from a variety of sources. If the reader has access to information that can be documented and that will correct or add to this woman's biographical information, please contact the Nevada Women's History Project.
At A Glance:
Born: January 11, 1902, Clyde, Kansas
Died/Buried: September 10, 1959, Fallon, Nevada
Maiden Name: Hatch
Race/Nationality/Ethnic Background: Caucasian
Married: Edger Bertram Deimel, 1923 – 1936
George Dewey Washburn, 1936 – 1959
Children: Lois "Dolly" Deimel – 1932, William DuBois Washburn – 1942
Primary City and County of Residence and Work:
Pahrump, NV, Carson City, NV, Hawthorne, NV, and Fallon, NV.
Major Fields of Work: Teacher, Nevada Assemblywoman – Nye County, Federal Unemployment Specialist, Real Estate and Insurance, Community Activist
Other Role Identities: : Wife, Grandmother, American Association of University Women, Daughters of the Civil War, District 11, Women's Clubs in Nevada, Churchill County Farm Bureau, Democratic Party
Biography
Nye Assemblywoman taught elementary and high school, led women's groups
Lois Elizabeth Hatch was born on January 11, 1902 in Clyde, Kansas to the Reverend Elmer Ellsworth and Elizabeth Mary Ranney Hatch. Both Elmer and Elizabeth's ancestors had been born in New York and had fought for the Union during the Civil War. Lois was the second eldest of the seven children (Josephine, Lois, Manning, Alice, Worth, Dean and Laurence). The demands of the ministry led the family from Kansas to Nebraska, and then Oklahoma. According to a family biography written by Lois's daughter, Lois Deimel Whealey, her mother's memories of life in Oklahoma included not being able to "walk outdoors without smashing grasshoppers with her bare feet"(1). Life was hard for the struggling family and eventually the ministry was given up and the family headed to the San Joaquin Valley in California. The family prospered and in 1919 Lois completed high school in Lodi, California just when World War I had made "the world safe for democracy"(2). The 19th Amendment which guaranteed all women the right to vote had been passed by Congress on June 4, 1919 and was awaiting ratification. Lois entered the University of California at Berkeley in September of 1919 with high aspirations. With perseverance she worked her way through college by doing housework in exchange for room and board and "hustling ads" for the advertising department of the Oakland Tribune. She graduated in 1923 with a degree in English and aspirations to become an author and newspaperwoman"(3).
Lois met her future husband, Ed Deimel, while attending the University. The Deimel family was wealthy and Ed's childhood experiences were quite different than those Lois had experienced. They married on September 28, 1923 and immediately took a steamer to Mazatlán in Mexico where they lived for the next 3 years. One must remember that Mexico in the 1920s was still in the stages of Revolution. Ed was employed by the steamship line, but by 1926 suspected medical issues for Ed and the safety of the young couple dictated they return to the United States. In the spring of 1929 the Deimels were living in New York City where they both worked for Ed's father's company, the Linen-Mesh Company. Ed worked in accounting and Lois wrote advertising for the firm. The financial crash of 1929 and the ensuing depression took its toll on the Linen-Mesh Company and the Deimel. Their first and only child, Lois "Dolly", was born on June 20, 1932 in New York City, but the financial situation and the need for a better climate was the impetus for a move back to the West Coast where Ed began trying "his hand at real estate" in Lodi, California (4). Lois and baby Dolly followed Ed, who had by now begun managing the Southern Nevada Pahrump Valley Ranch which was owned by the father and associates of a boyhood friend. Lois and baby Dolly returned to Lodi briefly in order to get Lois's teacher certification renewed and by 1934 Lois was teaching first grade in Pahrump.
While in Pahrump, Lois took an interest in politics. In June of 1936, she attended the Democratic National Convention in Philadelphia, Pennsylvania and was named a "vice president of the Women's section of the national Democratic Party"(5). That Fall, 1936, she ran for the Nevada State Legislature to represent Nye County and was elected. Her slogan was "A New Dealer for the New Deal"(6). Shortly after winning her election for the Nevada State Assembly, Lois and Ed were divorced and on December 26, 1936 she married George Dewey Washburn, a highway engineer and motor grader operator she had met while living in Pahrump. Lois went to Carson City in January 1937 to begin service as Nye County Assemblywoman, the only woman to serve in the Assembly that session. Meanwhile, George procured a new home for the two of them in Tonopah. Lois served in the Legislature for just two years (1937-1938) and once defeated in her rebid for the Assembly, she returned to teaching. In the fall of 1940 Lois secured employment with the Federal government as a U.S. Employment Specialist in Hawthorne, Nevada.
The spring of 1943 found George and Lois "jammed into a dark, one room jerry-built tar paper covered tourist cabin" (7) at the end of a dead end Hawthorne street. Housing was scarce in 1940 and people took what they could get. But by June 1940 George had built a small but immeasurably improved cabin across the street from the high school. In May 1942, the Washburn's became parents of a new baby, William DuBois Washburn, born on May 9th – Mother's Day.
World War II was the impetus for the growth of Hawthorne as more and more Military personnel and dependents were assigned to the base there. Ammunition bunkers were being constructed south and east of town. Civilian housing was being laid out between the base and Hawthorne. The new community was named Babbitt. By the fall of that year, the family had moved into a new three bedroom duplex with all the accoutrements of modern living in the newly formed community of Babbitt. After the men began returning home from the war, Lois lost her position at the Hawthorne Naval Base when a man was appointed to the position she had held. She once again resumed her teaching career at the Hawthorne Elementary School.
In June 1943, George quit his job in Hawthorne and purchased an 80 acre ranch just outside Fallon. Lois and the baby were living in Tonopah and George and Dolly were living on the ranch. Lois and baby Bill would travel to the ranch using the "B" gas ration sticker she had been assigned. By the time Dolly was in the eighth grade she was back in Hawthorne living with her mother who was now teaching English and languages at the Mineral County High School. The family ranch was producing milk and butter. Alfalfa was harvested. A beekeeper rented land for bee hives and the Washburn's enjoyed "two five gallon tin cans of honey" (8) as rent for the bee hives. The honey provided the Washburn's with sweetener as sugar was rationed during those war years.
Economically the country was improving and the Washburn's purchased Guernsey cows and 160 acres at Stillwater, some 24 miles from the ranch. In 1948 Dolly entered Stanford and Bill began first grade. Lois challenged the Churchill County Assemblyman and lost the race. Lois "was appointed as a Nevada delegate to a celebration in Havana, Cuba in December of 1950"(9). Cuba was celebrating 50 years of an educational system which had been set up with the help of the U.S. following the Spanish-American War. Her Spanish skills were invaluable as most of the U.S .delegates spoke little to no Spanish.
In 1952-1953 Lois taught at the Schurz Indian School. Another year she taught at the Kaiser Mine. In February, 1954 she attended the State Democratic Convention in Boulder City, NV (10). She earned a real estate license in July, 1955 and in 1956 earned her insurance license. She took out a health insurance policy on herself, never realizing how important that policy would come to be. In1955, she oversaw the hay harvest at the Lodi ranch in California (she had purchased the ranch from her mother in the late 1930s).
During all these years, Lois Washburn was a community activist. She helped found the Tonopah, Hawthorne, and Fallon branches of the AAUW (American Association of University Women). As a descendent of Revolutionary War ancestors, she served as the Fallon Chapter Regent for the Daughters of the American Revolution in 1958. She served as president of the Women's Clubs of Nevada – District II. She served on the Board of the Churchill County Farm Bureau and was active in other state political, professional and women's conventions.
Lois Hatch Deimel Washburn was a force in Nevada politics. Her life appears to have been one of constant motion, always working for the betterment of her community.
She was diagnosed with colon cancer in the late 1950s. The health insurance policy she had sold herself in 1956 paid for two colon cancer operations in Reno in April and June of 1959. On September 10, 1959, Lois Hatch Deimel Washburn died as a result of colon cancer. She was buried in the Lockeford Harmony Grove Cemetery located in the vineyards east of Lodi.
On February 8, 1960 Lois was memorialized by the Nevada State Legislature for her "contributions to the welfare of her State and community by serving as an Assemblywoman from Nye County in the 38th Session of the Legislature of the State of Nevada, as a delegate of her political party at numerous national conventions, and as an elementary and high school teacher for many years in various areas of Nevada …" (10).
Researched and written by Marcia Bernard Cuccaro with the valuable assistance of Lois Deimel Whealey's August 1992 family biography. Posted to website May 2016.
Sources of Information:
Family biography written by Lois Deimel Whealey, daughter of Lois Hatch Deimel Washburn–p. 3
Ibid, p. 3.
Ibid, p. 4.
Ibid, p. 7.
Ibid, p. 10.
Bunny Corkhill, "Re: Your mother, Lois Washburn", Feb. 15, 2016, personal mail from Whealey, Lois (w182104@ohio.edu.).
Family biography written by Lois Deimel Whealey, daughter of Lois Hatch Deimel Washburn – p. 13.
Ibid, p. 13.
Ibid, p. 9.
Ibid, p. 17.
Ibid, p. 19.
1910 United States Census – Ancestry.com, Lois E. Hatch.
1920 United States Census – Ancestry.com, Lois E. Hatch.
1930 United States Census – Ancestry.com, Lois E. Hatch.
1940 United States Census – Ancestry.com, Lois E. Hatch.
http:///www.archives-gov/global-pages Joint Resolution of Congress proposing a constitutional amendment extending the right of suffrage to women, May 19, 1919; Ratified Amendments, 1795-1992; General Records of the United States Government; Record Group 11; National Archives.
http//www.findagrave.com/Lois Elizabeth Hatch Washburn (1902-1959).
"Lois Washburn Dies in Fallon", September 11, 1959, Reno Evening Gazette (Reno, Nevada).