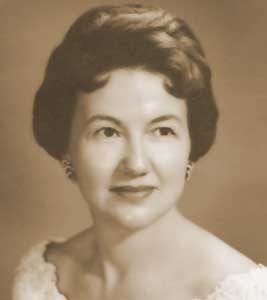 LUCILLE ELIZABETH EMMERT PETTY

The information below has been compiled from a variety of sources. If the reader has access to information that can be documented and that will correct or add to this woman's biographical information, please contact the Nevada Women's History Project.
At A Glance:
Born: September 1, 1913 – Mount Carroll, Ill.
Died: August 27, 2006 – Carson City, Nevada
Maiden Name: Emmert
Race/Nationality/Ethnic Background: Caucasian (Dutch, German)
Married: Richard A. Petty
Children: Four (Patricia Petty Geiger and Beverly Petty Davenport)
(Died as infants – Baby Boy Petty and Richard A Petty II)
Primary City and County of Residence and Work:
Carson City (Ormsby County)
Major Fields of Work: Community and Civic Organizer
Other Role Identities: Wife, Mother, Grandmother, Civic Leader
Biography
Lucille Emmert Petty was born to Ruth and Paul Emmert on September 1, 1913 in Mount Carroll, Illinois, a town that in 2009 had a population of 1,649. Lucille was the eldest of five children, the others being Ethel, Paul, Harold and Helen. Lucille attended the Mount Carroll school system and in the 7th grade she met her future husband Richard Petty who had moved with his family from Hooppole Village in rural Illinois to the larger community of Mount Carroll. One of her favorite activities while in high school was playing the tuba in the Mt. Carroll High School Jazz Band. She was an active member of the First United Methodist Church. While in high school she was a caregiver for Richard's mother, Mable Poffenberger Petty who was dying from breast cancer. She and her other 36 other classmates graduated from Mount Carroll High School in 1931.
At the urging of an aunt, Lucille furthered her education at a hospital sponsored nursing school inFreeport, Illinois, a town located about 30 miles northeast of Mount Carroll. After completing the three year program at St. Francis Hospital, Lucille graduated as a Registered Nurse (R.N.) in 1934 and began her nursing career. In her 2001 Oral History that was conducted by Eileen Cohen, Lucille describes the time after her graduation as difficult because in the Great Depression work was hard to come by. She said "There were only two of us (out of a class of 16-18) working for about two years during the Depression."
Richard, meanwhile, had gone on to Findlay College where he earned his undergraduate degree. He followed that by earning an M.S. in parasitology at Northwestern University and had entered medical school at Northwestern University in Chicago. In 1937 he and Lucille eloped to La Porte, Indiana where they were married. They returned to Chicago where Richard completed his medical studies and Lucille worked as a surgical nurse and supported husband Richard through his medical program at Northwestern.
In 1939 Lucille and Richard moved across the country to San Francisco, California where Richard would complete a rotating Internship at Southern Pacific General Hospital. Lucille worked as nurse at St. Joseph's Catholic Hospital during those years. After Richard completed his training in San Francisco, he and Lucille were traveling back to Illinois when he received a telegram from Dr. Fred Anderson, a local Carson City physician, who had been called to serve in the U.S. Military. Dr. Anderson asked Richard and Lucille to stop in Carson City on their trip back to Illinois. He subsequently made Richard an offer to join his practice. Initially, Richard declined as he had planned to join his father's practice in Mount Carroll. However after returning to Illinois for a couple months, Dick and Lucille returned to Carson City, Nevada in the fall of 1941. They were moving from a small Illinois community to a somewhat larger community with a population of 2,500. Dr. Petty took over Dr. Anderson's practice and in September of 1942, they became parents of a baby girl, Patricia. The war intruded into their lives and Richard was called to serve three and one half years in the U.S. Navy, of which two and a half years were spent in five combat areas.
Meanwhile, Lucille went to work for the Nevada State Legislature as a clerk-typist during 1942-43. She then worked for the head of the U. S. Forest Service and briefly for the University of Nevada. When her husband returned home, Lucille began her years of community involvement. Lucille and Dick joined the Leisure Hour Club shortly after arriving in Carson City. She also actively participated in the Carson chapter of the Order of Eastern Star organization. Their second daughter, Beverly, was born in 1947 and Lucille and Richard suffered through the infant deaths of two subsequent babyboys born in 1948 and 1949. During this time the entire community of Carson City had become involved in the funding of a hospital for the community and once the hospital had been established Lucille, at the behest of a local physician, organized a group of twelve women to fundraise for much needed hospital equipment and supplies. The group grew in membership and formally organized as the Carson Tahoe Hospital Auxiliary in 1952 with 122 Charter Members. Lucille served as the Auxiliary's second president in 1956. Willa Oldham, in her book recounting the history of the Carson Tahoe hospital writes, "….Lucille suggested that there might be more interest stirred up by having luncheon meetings, instead of at 3 p.m….." That decision proved to be most advantageous in generating member participation.
Throughout the years Lucille worked tireously in support of the hospital. She helped spearhead many of the Hospital Auxiliary's activities. One of those began in 1955 when the members began transporting blood from Reno to the Carson hospital on a weekly basis for patient use. This practice continued until November of 1960 when the hospital began a donation and blood supply program in Carson City. She was instrumental in organizing a local chapter of the national volunteer organization known as "Pink Ladies". They provide non-medical services to the hospital to free up professional staff from duties such as staffing the front hospital desk, delivering flowers and reading materials to patients and other time consuming tasks. Lucille was "front and center" in that organization by volunteering on a weekly basis for twenty-five years. She took the least popular early Monday morning shifts.
In 1956 Lucille headed a fund raiser activity that still continues to benefit both the organization's ability to fund hospital improvements, as well as to provide a service for both patients and visitors alike. In her history of Carson Tahoe Hospital, Willa Oldham wrote, "Lucille Petty, wife of Dr. Petty, former 1953-54 Hospital Auxiliary President, announced plans to open a "gift bar" at the hospital where items could be purchased by patients and visitors." That gift grew in both inventory and income and helped fund major improvements to the hospital.
For twenty-five years Lucille served on the Girl Scouts State Board and in various offices with that organization. Although Carson City already had Brownie and Girl Scouts, Gardnerville did not. Lucille, at the behest of Mrs. Max Fleishman (wife of major Carson Tahoe Hospital donor Max Fleishman), organized a Girl Scout troop in Minden, Nevada. Marcia Bernard Cuccaro was a member of Lucille's Carson City troop and has vivid memories of Lucille driving the girls to the Meeks Bay, California to Girl Scout Camp. Lucille Petty's driving habits were legendary in the Carson City community and riding with Lucille was always a hair-raising adventure! Marcia also recalled that Lucille was instrumental in postponing a scheduled tonsillectomy as Lucille thought it more important for her to attend Girl Scout camp than to have the scheduled surgery. Marcia never did have that surgery and has remained grateful to Lucille ever since.
Lucille was also a charter member of the Washoe Medical Hospital Auxiliary and she was a founding member and the 2nd President of the Doctor's Wives (now the Carson-Douglas Medical Society Alliance). The Doctor's Wives organization raises money for education and sets up health clinics throughout the area. On October 19, 2003 Alliance membership chairman Pia Parapid credited Lucille Petty as being one of the founding members. By 2003 the Alliance had donated more than $100,000 to charities such as Advocates to End Domestic Violence, the Dr. Ross Memorial Clinic, the Children's Museum of Northern Nevada, the local school district, Carson Tahoe Hospital and at that time the organization was raising money for the Carson Tahoe Cancer Center.
Lucille held the position of National Chairman for the American Medical Association Education and Research Foundation (AMA-ERF). This is a loan program which is funded through the generosity of physician donors. The AMA-ERF provides medical schools with funds to award loans to medical students with verified financial need. Awards are granted on the basis of financial need and availability of funds.
With the Petty girls in school, Lucille became a State and Local President of the Parent Teacher Association (PTA). She became involved as she believed parents should have more to do with the children than simply sending them to school. When her daughters were in high school, Lucille was promoting mental health programs for high school students and programs about the effects of drinking. During basketball season, Lucille and Dick often drove a carful of giggling girls to gamesin Reno, Minden, Fallon and Hawthorne. There were teen-age dances in the Petty garage and young people often were invited to the Petty's summer home at Fallen Leaf Lake. Lucille always liked having young people around.
Lucille's sense of community involvement covered a wide scope of activities and groups. She became active in the Multiple Sclerosis Society when both her daughters were diagnosed with the disease.
She was a charter member of the Mark Twain Garden Club and was awarded an honorary status after becoming a fifty year member. She enjoyed golf and became a Charter Member and past president of the Carson City Golf Association, the first golf organization in Carson City, as well as being a member and President of the Reno Hidden Valley Golf Club. Lucille enjoyed hiking and was active in the Sierra Club. She was active in the Carson City Jr. Ski Program and usually accompanied the young skiers to Mount Rose for their Sunday lessons and a day of skiing.
She was there when the Brewery Arts Alliance was started and in later years enjoyed painting lessons at the Carson City Senior Center. As a member of the Statewide Nevada Humanities Organization, she volunteered in various capacities.
Kay Winters, one of the first people Lucille met when she arrived in Carson City recently said of Lucille, "She was a person of her own mind – lots of energy, heart of gold, a doer."
It seems that she never stopped. She was raising a family, attending to the necessary social demands made of a physician's wife and yet she found time for enriching her community. She never stopped wanting to learn and attended both Elder College at the University of Nevada, Reno and the Carson City based Western Nevada Community College until well into her eighties. Having grown up in a solid Methodist family, she continued her religious activities in Carson City with the First United Methodist Church and again she was active well into her nineties.
When Lucille's daughters were asked to describe their mother, Patty Geiger replied "I think she was a mom's mom." Daughter Beverly Davenport described her mother as "a very loving mother who enjoyed participating in her early childhood with hiking, skiing and she always supported me. WhenI went to Girl Scout camp, I remember her painting my pet lizard's back with fingernail polish so that she could find it on my black stuffed animal which of course killed it" (laughter).
This author believes Lucille Petty was a woman well ahead of her time. She marched to her own drummer and lived life to the fullest. She wasn't held back by worrying about what others might think of her. She simply did what she wanted while making sure she was making her community a better place and those around her into better people. At the end of her 2001 Oral History Lucille made the following statement: …I do think I've done some things right or I wouldn't be here. The Lord isn't ready for me yet, and I'm telling you that. When he does call me, I'm going to say, "Saint Peter, I've got one more thing to do. I can't go." Lucille passed away at the age of 93 in Carson City, Nevada.
Researched and written by Marcia Bernard Cuccaro. Posted on Web site February 2012.
Sources of Information:
"Screening tool to keep jokes to a minimum", www.nevadaappeal.com/apps/pbcs.dll/article?AID=/20031019/News.
Lucille E. Petty obituary, Founding member of hospital auxiliary dies www.nevadaappeal.com/apps/pbcs.dll/article?AID=20060830/NEWS/108300056.
"Founding member of hospital auxiliary dies", www.nevadaappeal.com/article/20060803/NEWS/108300056.
Lucille E. Petty obituary, www.nevadaappeal.com/apps/pbcs.dll/article?AID=20060905/OBITUARIES/1090.
Willa Oldham – "The Story of a Caring Community" – Desk Top Publishers; First edition (January 1, 1987).
www.city-data.com/MountCarroll, Illinois.
Lone Mountain Cemetery Registry.
1910 United States Census.
1920 United States Census.
1930 United States Census.
Lucille Elizabeth Petty "Memories of Carson City "- Oral History 10/08/2001 Eileen Cohen.
Interview with Kathleen Winters – May 30, 2011.
Collaboration with Beverly Petty Davenport.
Interview with Patty Petty Geiger – June18, 2011.
Journal American Medical Association 1962; 179(11):892-893. doi: 10.1001/jama.1962.03050110060015.
http://www.faqs.org/abstracts/Health/AMA-ERF-awards-grants-to-US-medical-schools-Med-schools-reel-as-funds-dip.html.