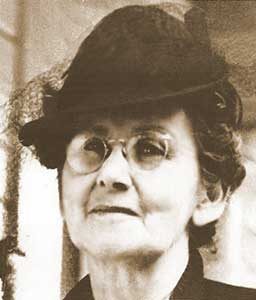 LUELLA KIRKBRIDE DRUMM

The information below has been compiled from a variety of sources. If the reader has access to information that can be documented and that will correct or add to this woman's biographical information, please contact the Nevada Women's History Project.
At A Glance:
Born: June 17, 1872 – Vermont Towsend, Illinois
Died: February 11, 1962 – Reno, Nevada
burial: Drumm Family Plot – Churchill County Cemetery, Fallon, NV
Maiden Name: Kirkbride
Race/Nationality/Ethnic Background: Caucasian
Married: Andrew Dellard Drumm, Sr., April 3, 1895
Children: Gertrude, Marguerite, and Andrew
Primary City and County of Residence and Work:
Fallon, Nevada
Major Fields of Work: Homemaker, Civic Activist, State Legislator
Biography
Luella Kirkbride Drumm was born June 17, 1872 in Vermont Township, Fulton County, Illinois, to Ellen Randolph and Andrew B. Kirkbride. She was married on April 3, 1895 in Wilmington, Nebraska, to Andrew Dellard Drumm, Sr. They moved to Colorado where Andrew was an irrigation specialist, and then on to Santa Cruz, California. Their first home in Nevada was in Goldfield. The family arrived in Fallon, Churchill County in 1906, where they settled on a farm while Andrew pursued a successful contracting business.
Luella was very active in civic organizations including VFW Auxiliary, Artemisia Club, the Federation of Women's Clubs, and DAR. She was especially proud of being a charter member of the Lahontan Chapter of Daughters of the American Revolution, which she qualified for through Thomas Randolph of Pennsylvania.
She and Andrew were the parents of three children: Gertrude (David H. Smith), Marguerite Drumm, and Andrew Dellard Drumm, Jr. who became a well-known Nevada highway contractor.
A lifelong Democrat, she was elected to the 1939 Nevada State Legislature to represent Churchill County. She was the only woman in that year's Assembly. She was appointed to the chairmanship of the Engrossment Committee and to the Fish and Game, Federal Relations and Agriculture committees. Her main interests were in agriculture and women's rights.
Among other bills, she introduced a bill to protect certain species of hawks that Royal Crook, Churchill County Extension leader, believed were beneficial in the killing of insects and rodents which were damaging Lahontan Valley crops.
The fifth bill introduced in the 1939 Assembly was AB5, sponsored by Assemblywoman Drumm. It related to an amendment of the Community Property Law to grant the right of survivorship to either spouse. The former law only gave property to the male survivor. Her bill received much opposition. Her objectors saw something sinister in placing a woman in the same position as a man under the law giving the same rights to full possession of community property as that of a surviving husband. They declared that it would deprive the husband the right to will any community property to a child or other dependent relative, a right denied to the wife in 1939. A wife got her half of the community property, and no more, if the husband chose to will his half to someone else. The bill was killed in the Nevada State Senate. Ironically, Andrew Drumm, Sr. died March 2, 1939, during Luella's term.
Speaker Bunker of the Assembly praised her for "the fine type of womanhood" she represented. She gained the reputation of voting her mind and was not afraid to stick to it because the wind for a minute happened to be blowing the other direction. Luella was defeated in a bid for reelection in 1940 by two Republican candidates, Allan Dalbey and Harold Kispert. Luella was named by Governor Vail Pittman on a Governor's committee in the late 1940s to attend the organization of the United Nations in San Francisco.
A member, Luella played the organ at the Episcopal Church for many years. Her son Andrew, Jr. built her a small cottage in town following her husband's death. She passed away on February 11, 1962 at the Good Luck Nursing Home in Sparks, Nevada, where she had been a patient for several years.
Research and written by Bunny Corkill. Posted to Website June 2015.
Sources of Information:
Corkhill, Bunny. Personal family genealogical information.
The Fallon Eagle, March 4, 1939
Statutes of the State of Nevada, 1939
"Luella K. Drumm to Seek Office." Nevada State Journal, July 15, 1940, p.3:8. Fallon, July 14, 1940 (Special).
Application for Membership to the National Society of the Daughters of the American Revolution, December 18, 1941.
"V.F.W. Install Officers." Nevada State Journal, May 9, 1943, 12.2. May 8, (Special) section: Nevada Veterans News, Hawthorne, NV.
The Fallon Standard, June 1, 1949. 1:5 photo.
Nevada State Journal, February 13, 1962. Obituary.
Fallon Eagle Standard, February 21, 1962. Obituary.