The information below has been compiled from a variety of sources. If the reader has access to information that can be documented and that will correct or add to this woman's biographical information, please contact the Nevada Women's History Project.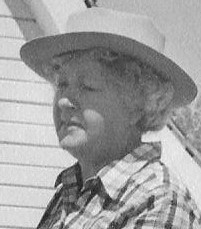 At A Glance:
Born: August 20, 1884, in West Blue, Nebraska
Died: April 28, 1968, in Reno, Nevada
Maiden Name: Beery
Marriages: Laurids Jorgenson, Robert J. "R. J." Flick
Children: Genevra, Patricia Louise
Race/Nationality/Ethnic Background: Caucasian
Primary City and County of Residence and Work: West Blue, Nebraska; Kansas City, Missouri; Palm Springs, California; Reno, Washoe County, Nevada
Major Fields of Work: Ranch owner; Nevada Humane Society trustee; Nevada White Hats member; Washoe Horsemen's Association
Agriculture upbringing led Reno woman to promote animal welfare
Margaret Berry was born and brought up in a rural, agricultural setting, but her life took her to many urban areas and interests. In the later quarter of her life she was associated with well-known landmarks and participated in respected animal organizations in Washoe County and Reno.
She was born August 20, 1884 to Isaac N. and Nellie G. Beery of West Blue, Fillmore County, Nebraska. Isaac Beery had moved to Nebraska in 1876 and worked a large cattle and horse ranch.
Local newspapers tell of a "big scare" at the Beery home when Margaret, at the age of 2, wandered out of the home and could not be found. The family and three ranch hands searched the water tanks, the hog pens, and the horse stable without finding little Margaret. Finally, she was found in the orchard near a watermelon patch. When asked why she was there, she responded that "she was getting a melon for papa."
Margaret graduated from Fairmont High School near West Blue in 1904 and delivered the "class prophecy" at the commencement ceremony. She went on to attend the University of Nebraska, Lincoln.
In 1908, Margaret married Laurids Jorgenson of Ladysmith, Wisconsin, on June 10, 1908, and the couple's daughter Genevra was born April 14, 1909.
When the Bank of Fairmont (Nebraska) was opened in December 1909, Margaret's father, Isaac Beery, was listed as president and her husband Laurids as vice president. Local newspapers described the stockholders of the bank as "well-to-do farmers." Laurids sold his stock and retired from the banking business in 1911 to accept employment in Kansas City, Missouri, as vice president with Franklin Ice Cream Company. At the same time, Margaret's parents moved to Kansas City to be with their daughter. Isaac Beery died there in 1915. Margaret lived in Kansas City until 1929.
Franklin Ice Cream, founded by the Franklin Brothers in 1895, was considered the largest and best known ice cream company in the Midwest, selling and distributing ice cream in Missouri, Kansas, Iowa, Nebraska, Oklahoma, and Arkansas. The company was sold to Robert J. Flick in 1898. Franklin Ice Cream produced ice cream under the Sealtest label, which was known for its "high standard, rigid step-by-step quality control. "
In late 1926, National Dairy Products acquired financial control of Franklin Ice Cream and merged with the Kansas City company in late 1926. Robert J. Flick continued as the president and Laurids Jorgenson remained as vice president. At the same time, National Dairy Products was buying ice cream and dairy products from manufacturers and distributors throughout the United States and would later become Kraft Foods.
While living in Kansas City, Margaret and Laurids had another daughter, Patricia Louise, born 1922. The couple were members of the Kansas City Art Institute and often entertained guests. Margaret also took part in Genevra's school activities. Margaret and Laurids shared mutual social activities with Robert and Grace Flick. Grace died in 1926.
Margaret filed for divorce from Laurids in 1927 with the charge of "habitual quarrelsomeness." Margaret was not given alimony but was granted custody of daughters Genevra and Patricia Louise. Local newspapers reported that she received a "substantial property settlement."
Margaret and Robert J. Flick were married May 11, 1929, and soon moved to Beverly Hills, California. While in Beverly Hills, Margaret supported the arts, participated in horse shows, and was hostess to bridge club luncheons and dinners.
Margaret's daughter Genevra married Lawrence Kimpton in San Jose, California, in November 1930. Margaret's mother Nellie lived with Margaret and Robert. Nellie died in 1936 leaving Margaret as the sole heir to the property in West Blue that she sold to Lauber Seed Farms in 1945.
Margaret and Robert lived in grand style in the 12-bedroom, 11-bathroom, 14,127-square-foot estate at 904 Benedict Canyon Drive, Beverly Hills. While in Beverly Hills, Robert and Margaret may have seen Nevada's "One Sound State" promotion that publicized Nevada as a tax haven to the very rich. Norman Biltz, an advocate of "One Sound State," referred to Robert as "one of my boys" and said that "he got Flick interested in Nevada for its tax advantages and that they became good friends."
In 1941, Margaret, daughter Genevra and son-in-law Lawrence moved to Washoe County after buying the Mapes ranch from Gladys Mapes, widow of Charles W. Mapes. One thousand acres were added to the property with the purchase of the nearby Questa Ranch in 1946. The ranch was known as the Kimlick Ranch merging the Kimpton and Flick names. A large majestic ranch house possibly built by Norman Biltz's Sierra Construction Company in 1941-42 was their first home in Washoe County. Margaret and Robert along with Genevra and grandson John moved into the house at the end of 1942.
Lawrence Kimpton was expected to help run the ranch, but he and Genevra divorced in September 1942 and Lawrence moved to Chicago. Tennessee Walking Horses along with 700 purebred Hereford cattle were bred here. The Reno Catholic Diocese bought approximately 15 acres of the ranch including the ranch house in 1948 to use as the first Bishop Manogue High School, and when Manogue moved into a larger school in 1957, the Brothers of Our Lady of the Holy Rosary occupied the ranch house.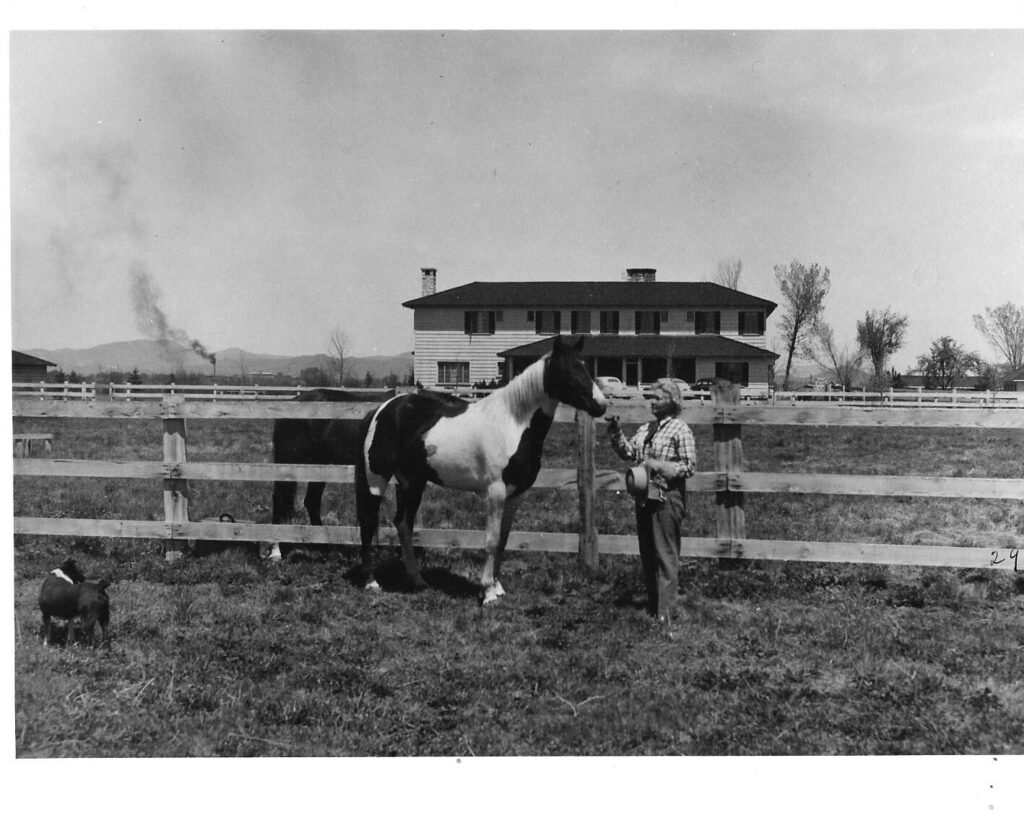 In 1946, Robert and Margaret became charter members of the Washoe Horsemen's Association and Robert was elected as a director for several years. The goals of the association were to develop riding facilities, promote events and to further the interest of horses. The group established riding trails through the foothills and mountains. A 3-acre park, Horsemen's Park, was constructed on Skyline Boulevard in the late 1940s. By 1952, the park was fenced, with a brick and log clubhouse and barbecue pit.
Margaret rode "Grey Cloud" one of the Kimlick ranch Tennessee Walkers, as an exhibition entry in a University of Nevada Aggie club horse show in 1947. She came in third with Grey Cloud in a show at Horsemen's Park in 1950 and would continue to ride this horse for several years.
Margaret and Robert became interested in the fate of Nevada's wild horses in the early 1950s and in 1952 Robert was the spokesman for the Nevada Humane Society in an attempt to save wild horses in Storey County from a "request of a rendering firm to round up the horses and dispose of them." After Robert's death in 1956, Margaret continued to support the Washoe Horsemen's Association and the Nevada State Horsemen's Association when both came out against Nevada Assembly Bill 404 that allowed hunting of wild horses by aircraft in 1957.
Robert and Margaret were members of the Nevada White Hats and were part of the group that escorted John Wayne when he won the Silver Spurs Award in 1950.
Both were involved with the Nevada Humane Society and from 1944 through 1950, Robert and Margaret were directors. In early January 1944, Margaret, as a member of a Humane Society committee, presented suggestions for a new program of care at the animal shelter. In February 1944, the Humane Society took over management of the shelter.
Honorary pall bearers for Robert's funeral in 1956 included some of the movers and shakers of the Truckee Meadows, among them Robert Z. Hawkins (Flick's attorney), Norman Biltz, Roy Crummer, Silas Ross Sr., and George Wingfield Jr. Margaret died in 1968. Both Robert and Margaret are buried at Forest Lawn, Glendale, California.
Researched and written by Joyce Cox
Posted April 9, 2021
Sources of Information:
Clifton, Guy. "Project Hopes to Preserve Ranch House with a History." Reno Gazette Journal (Reno, Nevada), April 30, 2014, p. C 1-3.
Cox, Joyce M. "The Flick Ranch: An Endangered Historic Property." Nevada in the West, Fall, 2015, p. 9-13.
Cox, Joyce M. "Preserving Flick Ranch" FootPrints, Historic Reno Preservation Society, Spring 2016, p. 1-3.
"Divorce to Mrs. L. Jorgenson: Wife of Franklin Ice Cream Co. Executive Given Custody of Children." The Kansas City Star (Kansas City, Missouri), June 11, 1927, p. 1.
Gaffney, Wilbur G. Fillmore County Story, Geneva, Nebraska: Geneva Community Grange No. 403.
"Location Studied for Animal Shelter." Nevada State Journal (Reno, Nevada), September 21, 1948, p. 11.
"Margaret B. Flick." Reno Evening Gazette, (Reno, Nevada)April 29, 1968, p. 12.
"New Program Mapped for Animal Care." Nevada State Journal (Reno, Nevada), January 1, 1944, p. 12.
"Robert J. Flick is Married: Mrs. Margaret Jorgenson Bride of Franklin Ice Cream Head." The Kansas City Star (Kansas City, Missouri), May 11, 1929, p. 1.
"Robert J. Flick, Prominent Rancher and Cattleman, Dies at His Reno Home on Friday." Nevada State Journal (Reno, Nevada), August 19, 1956, p. 7.
Thompson, Tommy, "Saddle Chatter." Nevada State Journal (Reno, Nevada), February 6, 1955, p. 13.
University of Nevada Oral History Program. Norman H. Biltz Memoirs of "Duke of Nevada": Developments of Lake Tahoe, California and Nevada; Reminiscences of Nevada Political and Financial Life. 1967. "West Blue." The Nebraska Signal (Fairmont, Nebraska), September 4, 1884, p. 8.