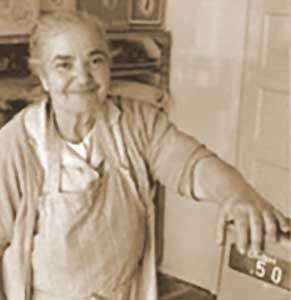 MARIA GARIFALOU PAVLAKIS

The information below has been compiled from a variety of sources. If the reader has access to information that can be documented and that will correct or add to this woman's biographical information, please contact the Nevada Women's History Project.
At A Glance:
Born: November 9, 1912, Ismir, Turkey
Died: July 26, 1982, Ely, Nevada
Maiden Name: Maria Garifalou
Race/Nationality/Ethnic Background: Greek
Married: August 12, 1929 to Tony Pavlakis
Children: Lazo, Christine, Sevastos, Arene, James and George
Primary City and County of Residence and Work:
Ely, White Pine County, Nevada
Major Fields of Work: Baker, Pastry shop owner
Other Role Identities: Wife, Mother, Hotel Manager
Biography
Maria "Mama" Pavlakis knew how to run a bakery. But this was only one of the reasons why she became a beloved businesswoman and unforgettable personality in White Pine County, Nevada. Growing up in Ismir, Turkey, Maria experienced wealth, poverty, war, dislocation, the death of her parents, and the life of an orphan and refugee – all before the age of seventeen.
Maria was born in 1912 to one of the wealthiest export businessmen in Turkey. But, in 1922, Greeks living in Turkey had a sudden change of fortune. Because Greece had entered World War I on the side of the victorious Allies, a peace treaty gave Greece temporary control of Ismir on Turkey's west coast. But peace was short lived. In 1921, Greece renewed its historic war with the Ottoman Empire (Turkey). Because of the war, 1.25 million Greeks living in Turkey had to return to Greece, and the 400,000 Turks living in Greece had to return to Turkey. The Greeks of Ismir, among them Maria's family, were moved into concentration camps prior to relocation. Before leaving, Mr. Garifalou had buried the family's gold, diamonds, and platinum to keep them from the Turks. On the forced march to the camp, a Turk demanded that Maria's father disavow his Christian faith and submit to Islam. He refused, and the Turk killed him with the butt of his gun. As refugees, Mrs. Garifalou and her children went on to Athens, where they had relatives. In Greece, Maria's mother died, leaving the children to raise themselves. Maria and her siblings supported themselves by picking olives.
In 1929, at age seventeen, Maria entered into an arranged marriage with Tony Pavlakis. Tony had emigrated from Greece to Ely, Nevada, nine years earlier. He had started a bakery that catered to the many Greeks who came to the area in the early 1900s to build the railroad and to work in the mines. A traditional man, Tony returned to Greece to find his bride. Maria quickly learned about her new country and the bakery business. She soon became a well-liked member of the Ely community, and the Pavlakis bakery made most of the bread and pastries for the town's restaurants, stores, and hotels. Six children were born to Maria and Tony. After each birth, Maria started a bank account for that child's college education.
At first, the family managed the Royal Hotel and ran the Royal Bakery in downtown Ely. Tony was up at two in the morning to start baking. Maria arrived between five and six to greet the customers. The business became a family affair.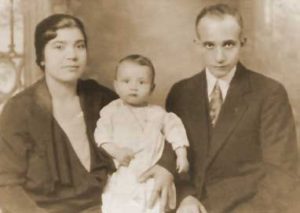 From an early age, the Pavlakis children worked in the bakery and delivered baked goods by panel truck to its many customers. Five of the six children attended college – in 1956, all five were in college at the same time!
Out-of-town politicians frequently stopped by the pastry shop, not only for the fresh bread and pastry, but also to have a conversation with the owner. The talk they got was straightforward, to the point, and without pretext. Some regarded the Pavlakis bakery as the stock market weather-vane for White Pine County. When the economy was good, Maria could hardly keep up with the orders. Governor Mike O'Callaghan was a frequent visitor to the shop, and Mama Pavlakis would tell him ways to solve the world's problems. She was considered a Nevada institution. Her loving spirit and complete candor made her a favorite with politicians and locals alike. Maria represented the best characteristics of pioneer women: a willingness to help others, a strong work ethic, and concern for her state, community, and family. When Tony died in 1967, Maria, with the help of her children, continued to run the bakery.
In the early 1980s Mama Pavlakis was interviewed on PBS Channel 10, appeared on the cover of Mt. Wheeler Power Company's monthly magazine, and was Grand Marshall of Ely's Fourth of July Parade. After Maria died in 1982, she was eulogized by former Governor O'Callaghan, who was also an honorary pallbearer, and by former Representative Jim Santini and State Supreme Court Justice Noel Manoukian. All commented on her positive contributions to the life and lore of White Pine County.
Kennecott Copper Corporation's huge mining complexes – the pit and mines in Ruth and Kimberly, the mill and smelter in McGill – are long gone. Nevada Northern Railway operations have ended. The good times have left these once bustling communities. The Pavlakis Pastry Shop has been torn down, and the corner where it stood is empty. But for those who knew her, Mama will still be there, smiling and waving to all who pass by.
Addendum: In the year 2000, this writer was walking through Ely Cemetery and noted one gravesite different from the others. It was piled high with wreaths and bouquets of flowers. Curious, I went closer to see who might be held in such high esteem. The name on the tombstone? Maria "Mama" Pavlakis.
Researched and written by Doris Drummond. Posted to Web site February 2011.
Sources of Information:
Interview with George Pavlakis, May 3, 2002.
Picker, Marc. "Ely's 'Mama' Pavlakis Called Spirit of Community." Ely Daily Times, July 27, 1982.