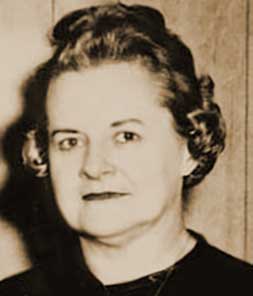 MARTHA GRUSS BARLOW
The information below has been compiled from a variety of sources. If the reader has access to information that can be documented and that will correct or add to this woman's biographical information, please contact the Nevada Women's History Project.
At A Glance:
Born: November 6, 1920 in Silver City, Nevada
Died: December 27, 1993 at Washoe Medical Center, Reno Nevada.
Race/Nationality/Ethnic Background: Caucasian, her maternal grandfather was born in Ireland
Primary City and County of Residence and Work:
Hawthorne, Mineral County
Major Fields of Work: Elected Mineral County Clerk/Treasurer
Other Role Indentities: Wife and Civic Leader
Biography
Martha Barlow was the epitome of a successful public servant. She was born Martha Gruss in Silver City, Nevada, and her parents were Joseph W. Gruss and L. Martha Harley Gruss, a Virginia City native. While her father was born in Michigan, he migrated to Nevada from Arizona in 1907. He was associated with the primary industry in Nevada at the time, milling and mining. Her mother's father emigrated to the Comstock from Ireland in the 1860s.
Well-educated, Martha attended primary schools in Simon in Mineral County and in Silver City in Lyon County, Nevada. Simon, northeast of Mina, Nevada, was the site of the Simon Silver-Lead mine. The heyday of this town was from 1919 to 1927. A post office and a 100-ton flotation mill operated during this period. During Martha's childhood, Silver City's mining was never as important as Virginia City's, but the town was famous for its quartz mills.
Martha attended high school in Dayton, in Lyon County, Nevada, and completed her education at Mt. St. Mary's Business Academy in Grass Valley, California. Apparently, this educational experience gave her the skills she needed to serve in public office.
She moved to Carson City (Ormsby County) in 1941 and remained there until about 1945-1946. During World War II, she was a civil employee of the Selective Service System in Carson serving as an auditor and state procurement officer. Because of her job, Martha traveled numerous times to Hawthorne, where she met her future husband, Arthur R. Barlow. In 1945, he had been discharged from the Army and returned home to Hawthorne.
They were married in Our Lady of Perpetual Help Catholic Church by Father John R. Durocher in the afternoon of June 30, 1946. The wedding reception followed the ceremony at the Babbitt Community Center, and they honeymooned in California. Their first home was at the Barlow family's Dutch Creek Ranch. Later, they moved to Babbitt.
When Martha was elected county clerk, they had moved to Hawthorne. During part of his career, Arthur worked in the ordinance department at the Hawthorne Naval Ammunition Dump. When Arthur retired from civil service, he was a distributor for the Standard Oil Company and managed the Mineral County Airport. They did not have any children and had been married almost 40 years when Arthur died in 1984.
A year after her wedding, Martha began her career with the Mineral County government in July 1947 as the chief deputy in the office of the County Clerk/Treasurer A.J. Park. Her salary was $100/ month. In 1954, when Park decided not to seek reelection, Martha ran and was elected clerk/treasurer for her first four-year term. She was reelected to office nine times from 1958 to 1986. When she was first elected, her salary was $500 a month.
In her first campaign, her opponent was Jack W. Bay, a local businessman. He sold real estate and insurance and provided accounting services. Since they were both Democrats and no Republican filed for the office, they faced off in the general election on November 2, 1954. His campaign ad sported his picture and urged his friends to support him on November 2nd. Martha ran two types of ads. One ad stated that she was "Capable – Qualified – Experienced" and had been the Chief Deputy Clerk and Treasurer of Mineral County for the past seven years, and the other larger ad restated her abilities but took a swipe at her opponent. She stated that, "No Outside Business or Interests Will Interfere With Office Duties." An unofficial tally of the votes gave Martha 1636 votes to Bay's 694. Barlow was the second woman elected to this position in Mineral County. (Anita Tennison was elected in 1944 after being appointed to fill an unexpired term.)
In 1958, Martha did not have an opponent, but she ran an ad thanking her staff and the citizens of Mineral County and promised to continue to conduct her office on the basis of serving the public, honestly, efficiently, and as economically as is consistent with the performance of the numerous duties that are imposed by law.
Martha was reelected without opposition in 1958, 1962, 1966, 1974, 1978, and 1982. After her first election in 1954, the next time she had an opponent was in 1970. Democrat John Madraso, Jr., garnered 1164 votes to her 1643. Her opponent in 1986 was Lois Allen, another Democrat. In a decisive victory Martha received 1480 votes to Allen's 749. Governor Richard Byran declared June 20, 1987 Martha G. Barlow Day to honor her 40 years of service as the deputy and as the clerk/treasurer of Mineral County. This award was not enough to reelect Martha to a tenth term. After serving 36 years as the clerk/treasurer, in her final race for office in 1990 she was defeated by Marlene Bunch, a Republican, by 1319 votes to 1095. Martha had been one of the longest serving clerks in Nevada history when she was lost this election.
The reason Martha succeeded in being reelected nine times was because she was competent, outgoing, courteous and responsive to the public's needs. Local elected officials, those who hold the courthouse offices, are the most secure elected officials in the state. The courthouse is the one place where citizens come in direct contact with their elected government officials. If the office holder is friendly and responsive, the people will vote to keep them in office because they know the office holder and know that their matters will be taken care of by the official.
During Martha's tenure, her duties included serving as the clerk of the district court, board of county commissioners, county licensing board, and town boards of Hawthorne, Luning and Mina and as the treasurer, receiving, banking and investing the county's monies.
In addition to Martha's activities as clerk/treasurer, she was involved in numerous civil activities. In 1963, Martha was elected to serve as secretary at a meeting to formally organize a planning commission. In addition, she was a committed member of the Soroptimist International of Hawthorne. Martha served as Corresponding Secretary, Treasurer, Vice President and President. Beginning in 1959, she served a one-year term in each office. She was also a Trustee after serving as President.
Outside of work and civic activities, Martha did not participate in any hobbies, except as a collector of books. She listed this activity on a Biographical Questionnaire for Governor Paul Laxalt in 1967.
On December 27, 1993, at age 73, she died at Washoe Medical Center being flown by air ambulance to Reno after a fall while working in her yard. Grave side services were conducted by the Hawthorne Funeral Home on December 31, 1993. She was survived by her older brother, Harley Gruss of Santa Monica, California.
I first met Martha when I was campaigning in the Mineral County courthouse in 1978. The contact was a brief smile, handshake, and a, "Hi! How are you?" I saw Martha, however, over the years she served Mineral County. In the 1980s, we ate lunch together at the El Cap coffee shop. I came away from the meal thinking that she was a smart, plain-spoken and direct woman. She told it like she saw it; she was a no nonsense type of woman. She knew her responsibilities, her county and its people. I could not help but admire this "crusty old dame" of Nevada politics
Biographical Sketch by Patty Cafferata for the Nevada Women's History Project, October 9, 2004.
Sources of Information:
Helen S. Carlson, Nevada Place Names, A Geographical Directory, Reno, Nevada, University of Nevada Press, 1974;
Stan W. Paher, Nevada Ghost Towns & Mining Camps, Las Vegas, Nevada, Nevada Publications, 1970;
Nevada, The Silver State, Vol. I, Carson City, Nevada, Western States Historical Publishers, Inc., 1970;
Mineral County Independent 21 August 1946; 16 July 1947; 26 August 1953; 7 April 1954; 14 April 1954; 20 October1954; 27 October 1954; November 1954; 22 October 1958; 28 October 2003; December 1993 and January 1, 2004;
The Reno newspapers in July 1946;
Reno, Sparks, Carson City and Washoe County City Directory 1941-1942 and 1944;
Biographical Questionnaire for Governor Paul Laxalt completed by Martha G. Barlow; the Mineral County Clerk/Treasurer's record of the Affidavit of Application for Marriage License and the Mineral County Recorder's Marriage Certificate recorded in Book 2 of Marriages, page 99.