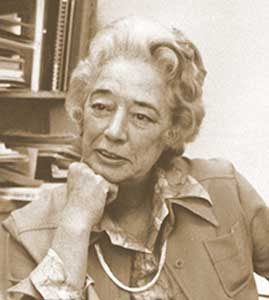 MARVEL RANSON GUISTI

The information below has been compiled from a variety of sources. If the reader has access to information that can be documented and that will correct or add to this woman's biographical information, please contact the Nevada Women's History Project.
At A Glance:
Born: July 12, 1912 in Smith Valley, Nevada
Died: January 23, 1979 in Reno, Nevada
Maiden Name: Ranson
Race/Nationality/Ethnic Background: Caucasian
Married: Marshall Armand Guisti
Children: Mary Louise Guisti Lopes and twins, Marsha Carol Guisti Flowers and Jean Frances Guisti Carbon
Primary City and County of Residence and Work:
Reno, Nevada, Washoe County
Major Fields of Work: Educator, Counselor, Scholarship coordinator
Other Role Identities: Wife, Mother, Grandmother and Friend
Biography
Marvel Ranson Guisti, was born in Smith Valley, Nevada, which is located on the West Walker River in Lyon County, on July 12, 1912, to Alexander and Flora (Smith) Ranson. Alexander was born in Wyoming in 1872 and passed away in Reno, Nevada, in 1954. Flora was born in Kansas in 1877 and passed away in Reno in 1955. They had five children; four boys and one girl. The boys were Matthew, Ted, Merle and Glen; Marvel was the fourth child and the only girl.
Alex had followed mining all his life rather successfully, but Flora wanted him in one place all the time, instead of roaming all over the Nevada desert. After Alex discovered what is now the U.S. Gypsum property in Empire, Nevada, Flora talked him into selling it and building a home in Smith Valley. Because of her mother's desire to clip her father's wings, Marvel was born on a ranch in Smith Valley, rather than being delivered somewhere on the desert floor.
The metamorphosis from miner to rancher did not take place as Alex did not become a contented rancher. Alex was probably the greatest self-taught mining engineer this state has ever known. The list of his discoveries and the properties he superintended from Empire to Gabbs, and beyond, reads like a history of Nevada mining. When Flora realized she was not going to curb her husband's love of mining, they traded the ranch for property in Reno and moved the family to town. Flora taught herself to paint in oils. A beloved family treasure is a scene she painted reminiscent of Charles Russell's painting of an Indian on a bluff watching a wagon train.
Growing up, Marvel attended Reno schools and was a 1929 graduate of Reno High School. She graduated from the University of Nevada, Reno in 1933, with a Bachelor's Degree in Education and Psychology. In 1967 she returned to UNR and received a Master's Degree in Counseling and Guidance.
Her teaching career began in Fernley, Nevada, teaching English and grammar. She taught English and drama for two years at the old Northside Junior High School in Reno, which was located on 4th Street. Reno's National Bowling Center currently occupies that site.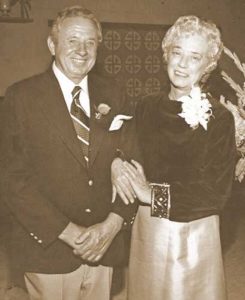 Marvel married her college sweetheart, Marshall Guisti, in the Methodist Church in downtown Reno on July 18, 1936, after a seven year courtship. They couldn't afford to get married right out of college as there was no money and no jobs because of the Great Depression. Marvel was honored at a bridal shower the evening before she was married by Frances Baker Siig at her home. A color scheme of pink, green and yellow was carried out in the decorations and favors were small poke bonnets. Those present for the bridal shower included Mesdames Carleton Webb, Virginia Niehoff, Wayne Hinckley, L.C. Hancock, Lucile Sanford, Misses Margaret Simpson, Gladys Cafferata, Evelyn Semenza, Jean Fanning, Lillian Guisti, and Patricia Harris. Mr. and Mrs. Edward Muth (Margaret) were attendants for their wedding. Marvel and Marshall were married for 43 years and had three daughters; Mary Louise and twins Marsha Carol and Jean Frances, all currently residing in Reno with their families.
After their marriage in 1936, Marvel retired. In those days, once a teacher married and started a family they were required to quit their teaching jobs. In 1953, she resumed teaching as a substitute for Washoe County School District. In 1954, she joined the staff at B.D. Billinghurst Junior High School teaching English and drama classes. She later became a counselor at Central Junior High School.
In 1950, according to Barbara Vucanovich, two young friends realized there were quite a few women volunteering to help elect Republicans running for office. "They decided to form a club and called it The Republican Women's Club of Reno. Those two friends were Marvel Guisti and Lucie Humphrey," Vucanovich stated. Barbara went on to say, "Marvel taught me a lot about Nevada polities. Later that year, the club members made an application for a charter to form the Nevada Federation of Republican Women's Club of America. After that the name was changed to Nevada Federation of Republican Women. Lucie Humphrey was the first president in 1952 or 1953. I was the fourth president of the Federation and Marvel Guisti was president between Lucie and me."
Marvel was very active in the Republican Party and served many times as a Washoe County delegate to the State and Republican National Committee Conventions.
In 1962, a new high school was opened in Washoe County named Earl Wooster High School. The only other high schools in the area were Reno High School, Sparks High School and Bishop Manogue High School. The first principal at Wooster asked Marvel to join the staff as a counselor. Mrs. Guisti was the founder and chairman of the Wooster Scholarship Foundation, which is still continuing today. She also administered the ACT and SAT tests for juniors and seniors in Washoe County while she was at Wooster High School.
In 1975, a scholarship was established by the Wooster Scholarship Foundation to honor Marvel, then a counselor at Wooster High School. During that year more than $100,000 in scholarships was awarded to 89 students by the foundation. She had the remarkable ability to recruit volunteers and bring out the best in each one for the betterment of the Foundation. Marvel truly believed scholarships that were awarded to senior students should be based on merit and not social standing. Her personal beliefs regarding counseling and education were highly regarded by her peers, students, and parents.
Marvel retired in 1977 from Wooster High School after working for many years as a teacher, counselor and coordinator for the scholarship programs in the Washoe County School District. She was honored during "A Valentine for Marvel" reception. After her retirement she continued to be actively involved in volunteer services for youth.
Washoe County School District Trustee, Dr. Robert McQueen, knew Mrs. Guisti as both a student at UNR and as a fellow scholarship chairman. "She raised more money for Wooster than all the other high schools combined," he said. "She established an endowment fund for Wooster High School which had two to three times more money for students than any other school. The money was raised through fashion shows, other donor programs and organizing parents." He described her as "a scrapper for scholarships; she both accepted and rewarded excellence."
Washoe County School Board member Virginia Palmer called Mrs. Guisti a marvelously dedicated person. "She was highly respected by fellow teachers because of her dedication and her interest in kids. Her outstanding quality was her ability to work with individual youngsters," Palmer said.
Marvel died on January 25, 1979 at the age of 66. The Washoe County School Board passed a resolution in Marvel's memory. "Her untimely death left a void in the ranks of outstanding citizens in the community which can never be filled. She made major contributions to the lives of many students by her personalized approach to counseling. Her diligent efforts as founder and patron of the outstanding scholarship program at Wooster have enabled many students to pursue their goals in higher education," the resolution read.
"She touched the lives of thousands with an impressively gentle but firm hand and never should be forgotten. She really and truly helped so many along the way with her great talent for expression, her keen perception, her enduring wit and vitality…small wonder that so many wandering, confused lives were put aright, and that so many were inspired by her to their full potential. She earned the mark of superior excellence in the solitary art of student counselor," stated Attorney Leslie Burns Gray. He went on to say, "Any of us, which is to say all of us, who had her for a friend or loved one, can attest that we are the better for having had her loving leadership and support."
In addition, Mr. Gray said, "With her husband, Marshall, in the estimate of many, there has never been a twosome so well-known and genuinely loved. For her work for the Arts, such as in Community Concert campaigns, in politics, in teaching and counseling and in achieving assistance for all who needed it, no one excelled her. Her organizational ability based on background, contacts, friendships and love, were a wonder to behold."
"Our mother's passion for higher educational standards is evidenced today in the lives of the students she touched during her 33 years as an educator in Washoe County. Their achievements are her legacy," stated daughters, Mary Guisti Lopes and Marsha Guisti Flowers.
Marvel was a member of the P.E.O., Delta Kappa Gamma, Washoe County Teachers Association, Sierra Arts Foundation, and Reno Executive Club. She was active in the Reno Community Concert Association, Community Chest, Junior Division Twentieth Century Club, Republican Party and the Young Turks.
Marvel's husband, Marshall Armand Guisti, was born in Tonopah, Nevada, November 25, 1907 to Vernerio "Joe" and Geny (DeRanieri) Guisti and lived in Reno most of his life. In the late '30s, he was Firestone Tire and Rubber Company's manager in California and Nevada. In 1947, he opened his own tire business, retiring in 1978. He was appointed to the City Council from Ward 6 in 1948 and was re-elected in 1951, serving until 1954. Marshall and Marvel were delegates to the Republican National Convention in 1972. During that same year Marshall was elected chairman of the Reno Urban Renewal Agency. He graduated with a Business Administration Degree from the University of Nevada in 1930 and was president of the UNR Alumni Association in 1936. In 1995, he was recognized for long service and dedication to the university, receiving the Distinguished Nevadan Award. Marshall passed away on April 25, 2000 at the age of 92.
Marvel Guisti touched the lives of many, many people, none more so than her family. The legacy she left behind drives her daughters and grandchildren to be the best they can be in their chosen fields.
Researched by Jean Guisti Carbon, Marvel Guisti's daughter, and Patti Bernard; compiled and written by Jean Guisti Carbon. Posted to Web site September 2012.
Sources of Information:
"Marvel Ranson, Marshall Guisti Will Wed", Nevada State Journal, June 1936.
"Scholarship Honors Wooster Counselor", Reno Gazette Journal, May 21, 1975.
"Retired Teacher to Be Honored", Reno Gazette Journal, February 7, 1977.
"Marvel R. Guisti's, Obituary", Reno Gazette Journal, January 25, 1979.
"Marvel Ranson Guisti's Eulogy" by Leslie B. Gray, January 25, 1979.
"Marvel R. Guisti's, Editorial", Reno Gazette Journal, January 25, 1979.
Vucanovich, Barbara, Telephone Interview, April 9, 2012, Reno, Nevada.
Mary Guisti Lopes, Interview, September 12, 2012, Reno, Nevada.
Marsha Guisti Flowers, Interview, September 12, 2012, Reno, Nevada.