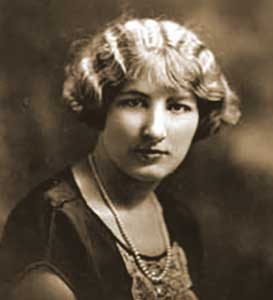 MARY AILEEN NORTON EVANS

The information below has been compiled from a variety of sources. If the reader has access to information that can be documented and that will correct or add to this woman's biographical information, please contact the Nevada Women's History Project.
At A Glance:
Born: March 13,1899
Died: November 3, 1993
Maiden Name: Norton
Race/Nationality/Ethnic Background: Caucasian
Married: Oliver Wheat Evans
Primary City and County of Residence and Work:
Dunphy, Eureka County; Winnemucca, Humboldt County.
Major Fields of Work: Telegrapher, The Western Pacific Railroad Company
Other Role Identities: Wife
Biography
Mary Aileen Norton was born on March 13, 1899 in Mitchell, Davison County, South Dakota to Ernest Nelson Norton, farmer (age 23, born in Yankton, South Dakota) and Florence Aileen (Hackett) Norton, housewife (age 24, born in Oelwein, Fayette County, Iowa).
Little is known of Mary Evans' early life. On October 6, 1923 in Yreka, Siskiyou County, California when she was 24, she married Oliver Wheat Evans, 31, a native of New York. They had no children. Her obituary states that she began working for The Western Pacific Railroad in 1918 and retired in the 1980's after sixty years of service (1916-1976). She was issued a very simple document stating, "The Western Pacific Railroad Company extends best wishes to Mary N. Evans upon the occasion of her retirement from the services of this Railroad. In Testimony Whereof we are privileged to bestow this Certificate of Appreciation of her many years of service and we are hopeful that her active interest in Western Pacific will long continue." It was signed by F. P. Whitman, President. Mary was one of the first women telegraphers, and the youngest at age 18, to work for the WPRR.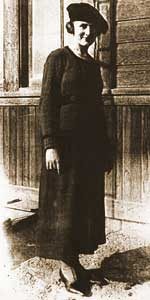 She was a member of the Winnemucca Rebekah Lodge and the Christian Science Church, and in her 80's she took care of the Guest Book of the North Central Nevada Historical Society Humboldt Museum as a volunteer. Pansilee Larson, Curator of that Museum, states that she was "a lovely person to have known."
Mary was preceded in death by her husband in February, 1970, and there were no known survivors. Graveside funeral services were held November 10, 1993 for Mary at the Winnemucca cemetery, with the Winnemucca Rebekah Lodge officiating.
Researched by Pansilee Larsen, Curator, North Central Nevada Historical Society, Humboldt County Museum. Written by Janet E. White.
Sources of Information:
Evans, Oliver L. Certificate of Birth obtained by his step-mother, Rosa L. Evans on March 16, 1942, in Salamanca, Cattaraugus County, New York.
Evans, Oliver Wheat, and Mary Aileen Norton. Marriage License dated October 6, 1923 issued by Albert H. Thomas, Justice of the Peace of Siskiyou County, CA.
Evans, Mary. Obituary, Humboldt Sun, November 5, 1993.
Norton, Mary Aileen. Affidavit of Birth August 27, 1936 signed by Florence Aileen Norton, San Francisco, CA.
Western Pacific Railroad Co. Certificate of Appreciation, no date, to Mary N. Evans.