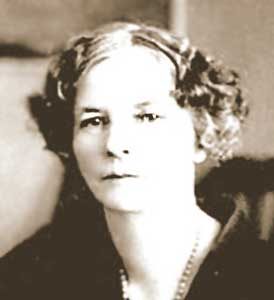 MARY GRACE O'DONNELL ROSE

The information below has been compiled from a variety of sources. If the reader has access to information that can be documented and that will correct or add to this woman's biographical information, please contact the Nevada Women's History Project.
At A Glance:
Born: February 1, 1875
Died: June 1, 1935
Maiden Name: O'Donnell
Race/Nationality/Ethnic Background: Caucasian (Irish)
Married: David McBane Rose
Children: Two (one daughter, one son)
Primary City and County of Residence and Work:
Carson City (Ormsby County), Winnemucca (Humboldt County), Reno (Washoe County)
Major Fields of Work: Education (teacher), Librarian, Government (elected to State Assembly, appointed State Land Registrar)
Other Role Identities: Wife, Mother, Rancher
Biography
Mary Grace O'Donnell was born on February 1, 1875, on the family ranch in Humboldt County (near Winnemucca), Nevada, to Patrick and Ellen Crown O'Donnell. Patrick was an Irish rancher, born in England. Ellen Crown immigrated from Ireland to New York, lived there and in Philadelphia, then travelled around Cape Horn to San Francisco in 1868 and eventually to Elko, Nevada, where she met and married Patrick O'Donnell on January 1, 1872. Soon after marriage, the O'Donnells moved to Winnemucca, where they bought land and ranched. They had three children, Thomas Crown born March 26, 1873, James born in 1877, and Mary Grace.
Mary received her education in the Winnemucca schools, taught for a short time in Winnemucca (school unknown), was librarian at the Winnemucca Public Library, and active in the Winnemucca Civic Club and the P.T.A. In 1900, she married David McBane Rose and they had a daughter, Helen Vida, born September 11, 1901, and a son, Donald Crown, born August 19, 1902. In 1908, after the death of Mary's younger brother, Thomas Crown, the family moved to Portland, Oregon, where they resided for six years. They returned to Winnemucca in 1914 to manage the O'Donnell ranches, as Mary's parents were then in their seventies.
Mary registered to vote on August 12, 1918, listing herself as a housewife, 5'7″ tall, Democrat, living on the O'Donnell ranch in Humboldt County, and then changed the address to read "Garteiz Bldg, Winnemucca." She was a registered voter in Humboldt County until she moved to Reno in 1928.
On March 11, 1921, Mary's exceptionally popular daughter, Helen Vida, died unexpectedly of appendectomy complications. The high school yearbook, the "Winnada," was dedicated to the memory of Helen Rose (nicknamed Pat), flags on the Victory and school flag poles were flown at half-mast as a mark of respect, and her funeral services were held in the Nixon Opera House in order to accommodate the large assemblage of mourners. Six of her classmates, dressed in white dresses, were pallbearers, and the students of Winnemucca High School marched in a body to the grave site, as did the Women's Benefit Association and the Ladies of the Maccabees. Helen's death was a great shock from which Mary never did fully recover.
Mary's son, Donald Crown, left Winnemucca shortly after graduation from Winnemucca High School in 1921, to become an international dancer. He married his dancing partner, Marian Stadler, and they appeared in the late 1920s from coast to coast in the United States, in France, Africa and Greece, as well as Reno, Winnemucca, and Elko.
The first woman legislator from Humboldt County, and the second woman to appear on a general election ballot in that county, Mary Rose was elected in 1924 to the Thirty-Second Session of the Legislature of the State of Nevada, to be seated in 1925. Mary was a member of several committees: Education, Internal Improvements, Enrollment, and State Library, and introduced four bills or resolutions during her term of office, one of which was an Assembly Substitute for Assembly Bill No. 8, "An Act to amend an Act entitled 'An Act to provide for free public libraries, and other matters relating thereto,'" which became the library law for the State of Nevada.
Humboldt County suffered the effects of the depression through the 1920s and 1930s with many ranchers losing their properties, and the O'Donnell ranch was one of those properties. Mary's mother moved off the ranch into Winnemucca and Patrick O'Donnell went to the Veterans Home in Yountville, California.
During her time in office, on February 20, 1925, her mother Ellen died in Winnemucca at the age of 89, after being in ill health for some time. Mary returned to Winnemucca to bury her mother next to her brother in the Winnemucca Cemetery. Assembly Resolution No. 10 was introduced noting Mrs. McDonnell's death and offering Mary the Assembly's condolences.
Mary and her husband moved to Reno in 1928, where he was employed as a solicitor for one of the Reno newspapers.
In 1932, Mary wrote a letter to her son in Chicago telling him that she would like to run in the Senate race that year, but that money was so short she and her husband were not able to pay the $15.00 fee for her candidacy. She said that her friend, Harriett Spann, was helping her, and that thirteen Democrats and nine Republicans were running for this one office. She, however, was not successful.
Mary's husband, David, was killed in an automobile accident near Susanville, California in July of 1933, and Mary again returned to Winnemucca, burying her husband next to her daughter in the Winnemucca Cemetery.
In 1934 after again running unsuccessfully for the Senate, Mary was appointed by Gov. Vail Pittman to the position of State Land Registrar, a federal position which she held until her death. She had been living in Carson City following the death of her husband, and was rushed to a Reno hospital where she died on June 15, 1935 from pneumonia. Mary was buried in the Winnemucca Cemetery next to her mother and brother, close to her daughter and husband.
Research and biographical sketch by Janet E. White.
Sources of Information:
Binheim, Max and Charles A. Elvin, Editors. Women of the West: A Series of Biographical Sketches of Living Eminent Women in the Eleven Western States of the USA, 1928.
David Rose obituary, Reno Evening Gazette, July 23, 1933.
Humboldt County Voters Registry, No. 2189.
Helen Rose obituary, The Humboldt Star, March 4, 1921 and March 11,1921.
Journal of the Assembly, 1925.
Winnada, 1921 edition, Winnemucca High School publication.
Ellen O'Donnell obituary, The Humboldt Star, Feb. 21, 1925.
Mary Rose obituary, The Humboldt Star, June 15, 1935.
Mary Rose papers, 1875-1935, North Central Nevada Historical Society, Winnemucca, Nevada.
1870, 1880, and 1900 Census.