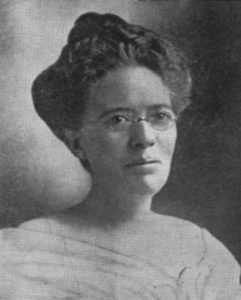 MARY LYDIA ADAMS-WILLIAMS

The information below has been compiled from a variety of sources. If the reader has access to information that can be documented and that will correct or add to this woman's biographical information, please contact the Nevada Women's History Project.
At A Glance:
Born: July 18, 1867, Douglas County, Nevada
Died: March 6, 1928, Los Angeles, Calif.
Maiden Name: Mary Lydia Adams
Race/Nationality/Ethnic Background: Caucasian
Married: Delbert Williams in Carson City, 1890; divorced in California, 1898
Children: N/A
Primary City and County of Residence and Work:
Genoa, Nev.; Washington D.C.; California
Major Fields of Work: education, lecturing, writing, politics
Biography
Adventurous Genoa-born writer promoted conservation of natural resources
Just an hour after the signal blast was fired opening the Walker River Indian Reservation near Hawthorne, Nevada, to gold prospecting, Lydia Adams-Williams was standing astride her claim. The 1500-foot by 600-foot patch of desert was near the famed Dutchman's Creek Mine.
Accompanied by her friend, Miss Evalin Findlay of Hawthorne, Adams-Williams wrote later that she was the first woman to stake a claim that day.
"…we plunged over rocks and boulders from a foot to two feet high, where our horse had difficulty finding footing," she wrote in a Dec. 9, 1906 article for the San Francisco Sunday Call, five weeks after the Oct. 29 rush. "Several times from exhaustion and discouragement he stopped altogether, and we frequently had to get out of the wagon and lead him over the worst places."
Teacher, writer, conservationist, political candidate, lecturer and, yes, prospector, she was born Mary Lydia Adams on July 18, 1867, on a ranch in Genoa, Nev., to Carson Valley pioneer John Quincy Adams and Ellen Dolan Adams. She attended Genoa public schools, then the State Normal School in San Jose, Calif., and Stanford University in Palo Alto, Calif. She set off on a career of teaching, writing and lecturing.
In Nov. 1890, Adams married Delbert Williams, publisher of the Genoa Courier newspaper, in the Carson City Catholic church. The marriage lasted only a few years. The couple divorced in California in 1898, with Adams-Williams claiming desertion. She was awarded $10 a month alimony and $60 in attorney fees. In 1900, Adams-Williams sued Williams for non-payment of alimony amounting to $209, but Williams fled back to Nevada to avoid arrest. Williams died in 1938, and he later was inducted into the Nevada Press Association Hall of Fame.
By 1906, Adams-Williams was writing for local publications such as the Reno Evening Gazette. That same year, she headed to Hawthorne and the Dutchman's Creek gold rush.
"The richness of the vast mineral belt is unknown, and it won't be known until the reservation is thoroughly prospected," she wrote in her San Francisco Sunday Call story.
It's unknown if Adams-Williams struck gold or even if she worked her claim. A German prospector had found gold in a steep canyon bordering Walker Lake in 1864, but in 1867, the prospector and his two nephews ran afoul of their Native American neighbors and were killed, according to a Jan. 21, 1979, story in a Reno newspaper. The legend of the gold strike lived on, but the area became part of the Walker River Indian Reservation in 1871, cutting it off from minerals prospecting by non-Native Americans until opened by the U.S. government in 1906.
After the 1906 rush, the strike thrived for a while, but by 1908 it was clear the stories of gold were exaggerated and by 1909 there was little left of the town of Dutch Creek, which had grown up on the site.
But by then, Adams-Williams was writing and lecturing around the country on women's topics and conservation, gaining national renown. In 1899, she had been appointed corresponding secretary of the Nevada State Board of the Paris Exposition Commission, which was involved with the Nevada mining exhibit for that World's Fair.
In June, 1908, she wrote a piece titled "Conservation–Women's Work" for the June 1908 publication Forestry and Irrigation. Her article stated that it's in a woman's power to encourage public sentiment to save resources from "rapacious waste and complete exhaustion."
Man, she wrote, "has been too busy building railroads, constructing ships, engineering great projects, and exploiting vast commercial enterprises" to protect the existing resources.
While Adams-Williams maintained her home address in Genoa, she spent years in Washington, D.C., and held several government offices, according to a short mention on the website ancestry.com. She was also an honorary member of the Second Scientific Pan American Conference, a member of the women's National Press Association and the International League of Press Clubs, according to the same ancestry.com item.
In 1921, Adams-Williams jumped more deeply into politics, announcing her candidacy for a Nevada U.S. Senate seat. Four other candidates were on the Republican primary election ballot. Her campaign took several unusual turns. With no funds to speak of, Adams-Williams traveled all over the state, speaking to voters, walking or depending on the kindness of strangers for rides, according to the Spokane, Wash., Spokesman Review newspaper. She also hitched a ride with a traveling circus to get around the state.
At one point, the car in which she was traveling ran out of gas between Las Vegas and Beatty. The driver, H.J. Woodard, set out to find help leaving Adams-Williams and Mrs. Woodard alone in the car for a day until a deputy sheriff picked them up. Adams-Williams then continued her trek by an unknown mode of transportation.
Adams-Williams lost the primary race, but told the Nevada State Journal that the campaign was a valuable experience and a bit of a lark.
"Will I try it again? That's hard to say," she told the reporter. "It depends on so many things." But that was Adams-Williams' last candidacy. She died March 6, 1928, and is buried in Genoa.
Researched by Patti Bernard and written by Susan Skorupa Mullen. Posted to website March 2018.
Sources of Information:
Adams, Lydia. "The Woman Who Led the Walker Reservation Rush," San Francisco Call (San Francisco, California), Dec. 9, 1906, p1:1.
Reno Evening Gazette (Reno, Nevada): July 2, 1887, p3:3, Sec. Personal.
Daily Nevada State Journal (Reno, Nevada), Nov. 1890, p2:1, Sec. Married.
"Williams Is Missing." The San Francisco Call (San Francisco, California), Feb. 17, 1900, p9:5.
"A Good Appointment." Nevada State Journal (Reno, Nevada), October 18, 1899, p2:4.
"Lydia Will Try For Senate Seat Again." Nevada State Journal (Reno, Nevada), Feb. 23, 1923, p6:4.
"Woman Has Odd Nevada Campaign." The Spokesman Review (Spokane, Washington), July 29, 1922, p10:4.
"A Plethora of Candidates." Reno Evening Gazette (Reno, Nevada), Sept. 12, 1921, p4:2.
"Position For Nevada Journalist." San Francisco Call (San Francisco, California), Oct. 18, 1899, p2:4.
"Mrs. Williams Funeral Held." Reno Evening Gazette (Reno, Nevada), Mar. 11, 1929, p3:3.
Ancestry.com. Nevada, Marriage Index, 1860-1987 [database on-line]. Provo, UT, USA: Ancestry.com Operations Inc, 2004.
Year: 1870; Census Place: Douglas, Nevada; Roll: M593_834; Page: 5B. (L. Adams).
Year: 1880; Census Place: Jacks Valley, Douglas, Nevada; Roll: 758; Page: 16B; Enumeration District: 002 (Mary E. Adams).