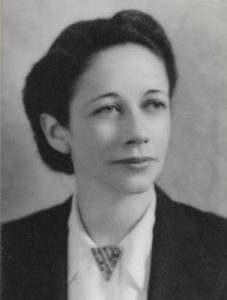 MARY O'NEILL O'CONNELL

The information below has been compiled from a variety of sources. If the reader has access to information that can be documented and that will correct or add to this woman's biographical information, please contact the Nevada Women's History Project.
At A Glance:
Born: December 13, 1908; Goldfield, Esmeralda County, Nevada
Died: January 22, 1984; Everett, Snohomish, Washington
Maiden Name: Mary Agnes O'Neill
Race/Nationality/Ethnic Background: Irish
Marrried: Albert Joseph O'Connell
Children: Michael John O'Connell July 18, 1941; Patricia Marie O'Connell Cobb August 30, 1942
Primary City and County of Residence and Work:
Tonopah, NV; Carson City, NV; Eureka, NV; Ely, NV
Major Fields of Work: Education (Teaching)
Other Role Identities: Wife, Mother, Grandmother, Member of St. Theresa's Church, Carson City, NV. Member of St. Brendan's Parish, Eureka, NV; Delta Delta Delta sorority at the University of Nevada
Biography
Mary O'Neill was born in Goldfield, Nevada on December 13, 1908 to Irish immigrants, Patrick and Catherine O'Neill. (Birth records were not collected by the Department of Vital Statistics until 1911.) Patrick worked in mining and in the 1920 census at age 50, he was employed as a night watchman at a silver mine in Nye County. (1920 census) Mary attended Nye County schools and graduated from high school in 1926 and matriculated at the University of Nevada in September of 1926 where she had received a full scholarship. At the University of Nevada she joined the Delta Delta Delta sorority and became its president in her senior year. During her college years she was active in student government and on several of the school publications: yearbook, the Artemesia; student newspaper, the Sagebrush; a humor magazine, the Desert Wolf; and the student News Bureau. While at the University, she majored in history and Spanish and graduated in 1930.
She began teaching at White Pine High School (Ely, Nevada) later in 1930. While living in Ely she met Al O'Connell, an Ely native and a 1934 graduate of the University of Nevada. Mary and Al were married at the St. Thomas Aquinas Cathedral in Reno in June 1939. They then settled at Minerva, a mining camp 50 miles south east of Ely where Al was the accountant for Tungsten Metals. They lived at the mine from 1939 to 1945 during which time two children were born, Michael and Patty.
In the spring of 1945 it became clear that the tungsten mine would soon close, as the end of World War II appeared imminent. By June of that year Al had secured employment as head accountant for Eureka Corporation, a mining company located at Ruby Hill, 2 ½ miles west of Eureka. The family relocated to Eureka that summer and eventually lived at the mining camp along with three other families. Mary stayed home raising her 2 small children until 1947 when she began teaching at Eureka High School.
Eureka High was a small high school that had, at that time, 25 to 30 students in all four grade levels. Normally only 4 or 5 high school teachers taught a variety of courses. Mary normally taught history, civics, and Spanish, but she was also called on to teach English, journalism, home economics, and art. She was also the advisor for the school newspaper and yearbook. Occasionally she directed student theater productions. By 1957 the mine at Ruby Hill began to close, so it was time again for Mary and Al to move on.
Al found a job in Reno as the accountant for the Holiday Hotel and Casino, so the family moved to Reno. Within a year Al found a better job as Head Auditor for the state Motor Vehicle Department in Carson City, prompting the family to move, once again, to Carson City. In Carson City, Mary returned to teaching first at Carson Junior High School for several years and then at Carson High School. In this much bigger high school Mary taught primarily history and civics. Son Michael wrote that his mother, "loved to teach and was very proud of the influence her teaching had on students." He recalled that during her teaching career she formed many life-long friendships with fellow teachers and former students. Many of her students went on to distinguished careers throughout the state.
By 1969 Mary and Al had both retired from their respective jobs and continued to live in Carson City. After retirement Mary and Al occasionally traveled to see their children and grand-children who lived during different times in Wisconsin, Colorado and Washington state.
After her husband's death in 1978, Mary's health began to decline. In 1983, she moved to Snohomish, Washington to live with her daughter Pat Cobb and her family. Mary died January 22, 1984 after a complicated surgery. She is buried in Carson City at the Walton Funeral Home cemetery next to her husband Al.
Mike O'Connell wrote about his mom: "Mary was a natural teacher. If you were her child you were always in her classroom, though you did not realize it. Subtly but effectively she taught the skills, values and discipline, to be successful in life. She had learned these the hard way growing up as the eldest child of two immigrant parents who existed at the lower rung of the economic ladder in a strange and hostile land."
Researched and Written by Michael John O'Connell. Posted to website August 2017.
Bibliography
1900 United States Federal Census, Patrick O'Neill, Ancestry.com
1920 United Stated Federal Census, Patrick O'Neill, Ancestry.com
1930 United States Federal Census, Catherine O'Neill, Ancestry.com
1940 United States Federal Census, Catherine O'Neill, Ancestry.com
Nevada Death Records, 1911-1965, Patrick O'Neill, Ancestry.com
Internet Sources:
EBOOK-Free, Patterson's American Education, Vol 46-61 by Homer L. Patterson, 512 Nevada