The information below has been compiled from a variety of sources. If the reader has access to information that can be documented and that will correct or add to this woman's biographical information, please contact the Nevada Women's History Project.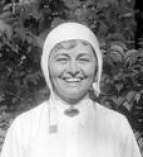 At a Glance:
Born: February 11, 1879, Petersburg, Illinois
Died: October 14, 1969, Reno, Nevada
Maiden Name: Wright
Race/Nationality/Ethnic Background: Caucasian
Married: Harry Foster Bain, Dec. 1, 1902
Children: Margaret
Primary Residence: Steamboat Springs, Washoe Valley, Nev.
Major Fields: Ranching, aviation
Other Role Identities: Wife, western history, journalism
Flying Grandmother of Steamboat Springs traveled the world
When she first started flying lessons in 1930 at the age of 51, Mary Wright Bain was so short (five feet tall) that she had to be propped up with six pillows and had what were called "chop blocks" placed under her feet. Despite her height, she quickly took to the task of piloting and continued flying through most of her late adult life, earning her the name of "The Flying Grandmother." Her height did not deter her, either, from running a large ranch south of Reno.
Mary W. Bain was born in Illinois to E.D. and Eva Wright on February 11, 1879, the oldest of four children. Her childhood was spent in the Midwest. She graduated from the University of Wisconsin in 1902, having studied civics and history, and she studied briefly in Geneva, Switzerland. She met her husband Harry "Hal" Foster Bain during her college years, and after graduation, they were married in Cripple Creek, Colo.
Her husband's career in geology took the couple many places, including Berkeley, Calif., Washington, D.C., when he was the director of the Bureau of Mines; Mexico; Alaska; and Manila, where he was the advisor to the Republic of the Philippines. It was there that, at the age of 71, he and Mary became prisoners of war during World War II, and were interned for two years, an experience he later told a Reno Rotary Club meeting was not as terrible as it could have been. They were repatriated back to the U.S. in a prisoner exchange and lived in Reno for two years before he returned to Manila for consulting work and died there of a heart attack in 1948. Mary was very supportive of his career, becoming a member of the American Institute of Mining Engineers auxiliary.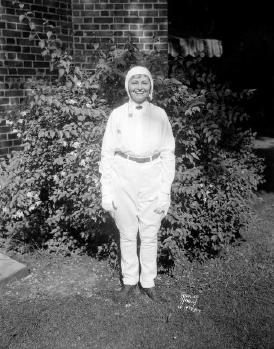 At the age of 51, in 1930, Mary, like many others at the time, was afraid to fly. But on a trip to Colombia, while her husband was away studying in Mexico, she was on a plane that had to make an emergency landing on the Magdalena River. The landing was safe, and the whole process intrigued her. She started flying lessons soon after that, not telling her husband about it until after she'd successfully soloed in 1931. She even bought her own plane, an English-made Gypsy Moth, but soon decided it was too slow for her and traded it in for a heavier Travel-Air that could top 100 miles per hour. She kept it until she moved with her husband to the Philippines in 1933. She became known as "The Flying Grandmother" as she had two grandchildren by then.
She flew many pleasure trips, including a cross-country trip that included many stops to visit relatives. But she was also recruited by the New Jersey National Guard to help locate clusters of power plants that were visible from the air, as part of national defense planning. She took part in President Herbert Hoover's 1932 "Air Safety Campaign."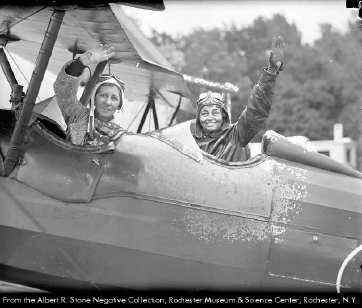 The Bains moved to the Reno area in 1941 and lived on a large ranch near Steamboat Springs. Mary ran the ranch, which eventually had 43 sheep, 13 horses, 6 cows, and a dog. She said she did almost everything, including cooking meals for the ranch hands. She and her daughter lived there with her two grandchildren. Mary stayed in Reno after the death of her husband in 1948.
In 1950, Mary became the first and only editor of The Steamboat Whistle, a tiny publication promoting the "world's smallest Chamber of Commerce." It attempted to sell the benefits of "not only one of the best known mineral hot springs, but also the natural wonders of Washoe Valley and Reno as well," according to a Nevada State Journal article at the time. She included historical and geographic tidbits in the paper as well, using her knowledge of Western history. She wrote the paper by hand and used stencils and mimeographs to produce the 100 copies.
She continued to fly almost until the end of her life. The instrument panels in newer planes confused her, she said in a newspaper interview when she was close to 80 years old. She said the planes in 1930 didn't have them. She was a member of the women's pilot group the "Ninety Nines."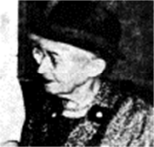 Among her adventures on her ranch, she told the story of the power going out and her having to make coffee over an open fire, "just as in her youth." At the age of 85, she survived a 43-foot slide down a dry wash on her property and ended up being rescued by searchers at 8:30 p.m.
On October 14, 1969, at the age of 90, Mary Wright Bain passed away at her Steamboat Springs home. She was survived by her daughter Margaret "Margo" Fry; her grandchildren Karen Lord of Steamboat Springs, and Allan Tanner of Washington, D.C.; and four great-grandchildren. She was cremated at Reno's Mountain View Crematory.
Researched by Patti Bernard and written by Kitty Falcone. Posted March 2022.
Sources of Information
Ancestry.com. Missouri, Jackson County Marriage Records, 1840-1985 [database on-line]. Provo, UT, USA: Ancestry.com Operations, Inc., 2015.
Ancestry.com. Year: 1880; Census Place: Petersburg, Menard, Illinois; Roll: 236; Page: 209A; Enumeration District: 138.
Ancestry.com. Year: 1940; Census Place: Washington, District of Columbia, District of Columbia; Roll: m-t0627-00561; Page: 11B; Enumeration District: 1-261.
"All Stories of Jap Atrocities Not True, Former Manila Internee Tells Reno Club." Nevada State Journal (Reno, Nevada), 4 January, 1944, p. 12.
Burge, Florence, Editor. "Your Neighbor – and Mine." Reno Evening Gazette (Reno, Nevada). 3 March, 1960, p. 6.
Connors, Edward. "Steamboat Whistles; Tiny Newspaper Makes Initial Bow." Nevada State Journal (Reno, Nevada), 21 May, 1950, p. 7.
"Explaining Use of Copy Machine." Reno Evening Gazette (Reno, Nevada). 2 April, 1960, p. 5.
"Four Die in Car Air Accidents in Western Nevada." Reno Evening Gazette (Reno, Nevada). 8 August, 1955, p. 11.
"'Flying Grandmother' dies at 90 in Washoe Home." Reno Evening Gazette (Reno, Nevada), 15 October, 1969, p. 23.
Kellogg, Nora. "Flying Grandmother Now 80 Really Earned Her Wings; Mrs. H. Foster Bain started at age 51." Reno Evening Gazette (Reno, Nevada), 1 February, 1958, p. 7.
McVicar, Angus B., Portrait of Mary Wright (Mrs. H. Foster) Bain. 1932, University of Wisconsin, Madison.
"Mining Engineer Dies in Manila; Foster Bain Lived in Nevada." Reno Evening Gazette (Reno, Nevada), 11 March, 1948, p. 4.
"Mrs. H. Foster Bain Club Speaker." Nevada State Journal (Reno, Nevada). 8 April, 1955, p. 5.
"Plane Crash Coincidence." Nevada State Journal (Reno, Nevada). 10 July, 1955, p. 8.
"Reno's Flying Grandmother Survives Fall." Reno Evening Gazette (Reno, Nevada). 24 June, 1964, p. 1.
"Society and Clubs." Reno Evening Gazette (Reno, Nevada), 3 March, 1960, p. 6.
"Women, 85, Survives Canyon Fall." Nevada State Journal (Reno, Nevada), 24 June, 1964, p. 2.