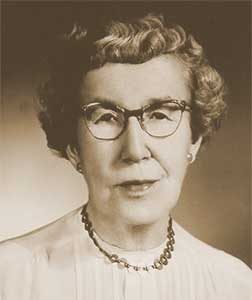 MAUDE FRAZIER

The information below has been compiled from a variety of sources. If the reader has access to information that can be documented and that will correct or add to this woman's biographical information, please contact the Nevada Women's History Project.
At A Glance:
Born: 1881, Sauk County, Wisconsin
Died: June 20, 1963, Las Vegas, Nevada
Race/Nationality/Ethnic Background: Caucasian
Primary City and County of Residence and Work:
Genoa, Douglas County; Lovelock, Pershing County; Sparks, Washoe County; Goldfield, Esmeralda County; Las Vegas, Clark County.
Major Fields of Work: Teacher, Administrator, Assemblywoman
Other Role Identities: Lt. Governor of Nevada
Biography
The pioneering spirit was bred into Maude. She was born on a farm in Sauk County, Wisconsin. Her Scottish heritage and her environment stressed self-sufficiency and resourcefulness. Maude was subjected to the stern discipline of the late 19th-century educational system which gave her the foundation she would need to deal with the wide-open spaces of Nevada.
Maude graduated from the State Teacher's College and began her teaching career in a small Wisconsin town. Soon she began writing letters of application to schools in the west and in 1906 was offered a teaching principalship in Genoa, Nevada. The fact that she couldn't even find Genoa on a map did not deter her. She boarded the train for Reno, then on to Minden, the end of the railway line. Next was a horse-drawn coach to Genoa. Her new position was principal and teacher of the upper grades in a two-teacher school.
Her early Nevada teaching career took her to Lovelock, a new mining camp at Seven Troughs. Maude next went to Beatty for $100 a month, but the mining activities in Beatty were slowing, and in 1912, she moved to Goldfield. In 1917, she had her first administrative job as principal of the Sundog School. All the mines were in a slump, and Maude took advantage of an opportunity to go to Sparks, where she became a member of a 19-teacher staff. In 1920 she was named principal of the Sparks Elementary School.
Because of the changes in the State Department of Education, new administrative positions became available, and Maude, always eager for advancement and adventure, applied for the position of supervisor over the public schools of Lincoln, Clark, Esmeralda, and Nye Counties, an area of 40,390 square miles. In 1921, to the amazement of the male candidates, Maude was selected for this assignment. The area to be covered was desolate, hot, virtually inaccessible and a challenge even for a seasoned man. Maude was undaunted by all the skeptics; she was no longer a "tenderfoot girl from the east."
To meet the requirements of her new position of supervising 75 schools in 63 school districts, with an enrollment of 2,824, Maude purchased a Dodge Roadster and a set of tools, took a course in auto mechanics, and went forth to fulfill her assignment. She traveled the deputy superintendent's circuit for six years. In 1927 she was the logical choice to become the superintendent of the Las Vegas Union School District, and principal of Las Vegas High School. Maude was responsible for many innovative programs and initiated the first major permanent building for Las Vegas, after the construction of the county courthouse.
The Boulder Dam project was approved not long after, and an increase in student enrollment was inevitable. A school bond issue was passed that provided the $350,000 needed to build the "ultra-modern" Las Vegas High School at 7th and Bridger. During Maude's administration, six new elementary schools were constructed plus many additions to the existing ones. Maude served as superintendent of Clark County Schools through the growth period before and after World War II, finally retiring in 1947.
Even though Maude had planned on relaxing and just taking it easy, she found that it was not the life for her. In 1948 she ran for the state legislature but was not elected. In 1950 she again ran and led the ticket from Clark County. She was appointed to the Education Committee and became known as a champion of public education. She was instrumental in getting the appropriations to establish a branch of the state university in Las Vegas. The first building on the new Nevada Southern University campus (now UNLV) was named in her honor. In 1955 she received an honorary doctorate of letters from the University of Nevada.
On July 13, 1962, at the age of 81, Maude was appointed Lieutenant Governor of the state to replace Rex Bell, who had died in office. This was the highest political position ever occupied by a woman in the state.
Maude Frazer died in her sleep on June 20, 1963. Governor Grant Sawyer said, "I was shocked and greatly saddened by the news of Maude Frazier's death. In her long career of public service, I can think of no one who contributed more to the welfare of the citizens of Nevada."
Researched and written by Jean Spiller. Posted to the Web site June 2010.
Sources of Information:
Green, Michael. "Happy Mother's Day, Las Vegas: Remembering the Founding Mothers." Las Vegas Weekly, May 10, 1995.
"LV Pioneer Maude Frazier Dies at 82," Las Vegas Review-Journal, June 21, 1963.
Schank, Pat. "Good LV Schools are Frazier's Memorial." Nevadan, May 23, 1982.
Schank, Pat. "Maude Frazier: Schoolmarm of Nevada." Nevadan, May 16, 1982.