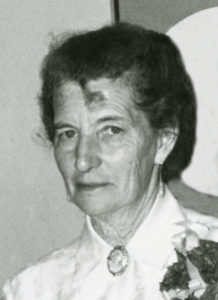 MILDRED MATHEWS BREEDLOVE
The information below has been compiled from a variety of sources. If the reader has access to information that can be documented and that will correct or add to this woman's biographical information, please contact the Nevada Women's History Project.
At A Glance:
Born: May 27, 1904, Arkansas
Died: August 14, 1994, Utah
Maiden Name: Cox/Mathews
Race/Nationality/Ethnic Background: Caucasian
Married: Crongy Preston Breedlove, September 1920
Children: Son Crongy Breedlove, daughter Barbara R. Breedlove
Primary City and County of Residence and Work:
Las Vegas (Clark County)
Major Fields of Work: Teacher, Columnist, Author, Poet
Other Role Identities: Wife, Mother
Biography
Nevada's Poet Laureate won awards, yet suffered disappointment
With a 10th grade education, Mildred Breedlove took just seven years of studying and writing poetry to become Nevada's Poet Laureate. She was not a native-born Nevadan, but she fell in love with Nevada through owning a ranch in southeastern Nevada and in studying to write a poem about Nevada for its Centennial Anniversary.
Mildred Cox was born to John F. Cox and Rose M. Wilson at Coal Hill, Arkansas on May 27, 1904. Her father died when she was just 4 years old after which her mother moved the family, including a brother, Hayden, first to Prowers, Colorado and then to Braggs, Oklahoma. There her mother married Daniel Mathews.
Mildred attended school in Braggs completing the 10th grade before marrying Crongy P. Breedlove at age 16. After her marriage she earned her teacher's certificate and taught school in Braggs. She also began her writing career as a columnist for two newspapers, the Muskogee Times Democrat and Muskogee Daily Phoenix.
Mildred and Crongy raised their two children — son Crongy Jr. and daughter Barbara — in Pomona, California. The children graduated from Pomona High School. Both went to college with Crongy Jr. graduating from Harvard and Barbara from Scripps College in Claremont, California. Barbara later received her master's degree from the University of Nevada, Reno and taught in the foreign language department at UNR. Barbara also worked in the chancellor's office as a contracts officer.
Mildred and her family moved to Las Vegas in 1949 and a year later she began seriously studying poetry. Her career as a poet quickly took off when she sold her first poem in 1953. The National League of American Pen Women (NLAPW) awarded her its achievement award in both 1955 and 1957. She organized the Nevada Poetry Society in 1961 and was active in the National Federation of State Poetry Societies.
For Mildred 1957 was a year of lows and highs. Mildred's husband died that year, and she was named by Governor Charles Russell as Nevada's poet laureate on July 15.
Governor Grant Sawyer commissioned her to write a poem about Nevada for the state's centennial in 1964. For this work Mildred spent three years traveling around Nevada to research information she used for her poem Nevada. The poem was bound and published, of which a limited edition included an original watercolor illustration by artist Lucile Bruner.
As a result of her work, the United Poets Laureate International Society nominated her for their Nobel Prize for literature and she received the Narrative Poet Laureate of Nevada award. The award was presented in Las Vegas by Dr. Amado M. Yuzon, founder and president of the international organization. Mildred received a gold medallion and gold laurel wreath from President Marcos of the Philippines among her many awards.
In 1965 Mildred read from her poem for an arts awards luncheon held in Reno. The poem was said to consist of 1,224 lines in three sections. "The first section describes the physical aspects of Nevada, its rivers, mountains and deserts. The second section concerns Nevada history while the third section describes Nevada today." (April 5, 1965 REG p13:2 Nevada Poet Honored)
However, in spite of all the awards and recognition for her poetry, in 1966 Mildred resigned her post as Nevada Poet Laureate. As quoted in a newspaper article, she resigned because Governor Sawyer suppressed the poem Nevada. The governor's office said it must be a misunderstanding.
Evidently this issue was never resolved. In a 1968 letter to a Mrs. Wengert, Mildred stated that this fight cost her all the assets from the ranch her husband left her in Lincoln County, Nevada. Perhaps the money was spent to self-publish the manuscript to protect her copyright. She had been aware of the suppression as early as 1963, she said, but did not resign then because, "I do not crush easily. My backbone is made of forged steel and I spit at tigers."
In the letter she said she had become so bitter she could not remain in Nevada. In fact, her address at the time of her death was the city of Ferron, Emory County, Utah.
Researched by Patti Bernard and written by Victoria Ford. Posted May 8, 2018.
Published Works:
Breedlove, Mildred. Those Desert Hills and Other Poems. Los Angeles: (publisher unknown), 1959.
Breedlove, Mildred. A Study of Rhyme & Rhythm in Creative Expression. Los Angeles: Veque House, 1959.
Breedlove, Mildred. Nevada: A Poem Commemorating Nevada's One Hundredth Anniversary as a State. Los Angeles: Duroset, 1963.
Sources of Information:
Biographical file, Special Collections University of Nevada, Las Vegas Library.
"In Reno This Week." Reno Evening Gazette (Reno, Nevada), Apr. 9, 1963, p.8:1.
"Art Contest Awards Presented." Reno Evening Gazette (Reno, Nevada), April 13, 1963, p..7:3.
"Nevada Poet Honored." Reno Evening Gazette (Reno, Nevada), Apr. 5, 1965, p.13: 2
"Poetess Laureate Resigns." Nevada State Journal (Reno, Nevada), Sept. 19, 1966, p.17:3.
Johnson, Frank. "The Lighter Touch." Nevada State Journal (Reno, Nevada), Sept. 20, 1966, p.4.1.
"Pomona Valley Beat." Progress Bulletin (Pomona, California), Dec. 15, 1968, p.1.2, Sec. 2.
"'69 Brought Honor to Mrs. Breedlove.", Las Vegas Sun (Las Vegas, Nevada), Jan. 4, 1970, p.29:1.
Breedlove, Mildred. "Controversy over Nevada art continues." Reno Evening Gazette (Reno, Nevada), Apr. 14, 1980. p.4:2 Sec2. Letters to Editor.
Bauman, Joseph. "Poet Makes Plea For Wilderness," Deseret News (Salt Lake City, Utah), May 4, 1990, p.2:1.
Mack, Rob, "Nevada's Miss Breadlove," Surroundings, Robmack.blogspot.com/2010/09/nevadas-miss-breadlove.html.
Whaley, Sean. "Angry Poet laureate carries epic snub to her grave." Las Vegas Review Journal (Las Vegas, Nevada), Aug. 13, 2014, www.reviewjournal.com.
"Mildred Breedlove Collection." Nevada Historical Society Quarterly, Volume XX, Number 4, Winter 1977: p. 274-275.
Ancestry.com. Oklahoma, County Marriage Records, 1890-1995 [database on-line]. Lehi, UT, USA: Ancestry.com Operations, Inc., 2016. [Mildred Cox Matthews]
Ancestry.com. U.S., Social Security Applications and Claims Index, 1936-2007 [database on-line], Provo, UT, USA: Ancestry.com Operations, Inc., 2015. [Mildred Cox Breedlove]
"U.S. City Directories, 1822-1995," indexed database and digital images Ancestry.com, (http://www.ancestry.com: accessed 10 January 2018), Breedlove Crongy P. [Mildred] entry; citing Pomona, California City Directory, 1940 (Pomona CA."p.62., 1940."
"Number: 441-14-1155; Issue State: Oklahoma; Issue Date: Before 1951." Ancestry.com. U.S., Social Security Death Index, 1935-2014 [database on-line]. Provo, UT, USA: Ancestry.com Operations Inc., 2014. (Mildred Breedlove)
Year: 1940; Census Place: San Jose, Los Angeles, California; Roll: m-t0627-00255; Page: 6A; Enumeration District: 19-735A. (Mildred Breedlove)
Year: 1930; Census Place: Braggs, Muskogee, Oklahoma; Roll: 1915; Page: 2A; Enumeration District: 0006; FHL microfilm: 2341649. (Mildred C. Breedlove)
Year: 1920; Census Place: Brewer, Muskogee, Oklahoma; Roll: T625_1477; Page: 6A; Enumeration District: 60. (Mildred Cox)
Year: 1910; Census Place: Prowers, Bent, Colorado; Roll: T624_112; Page: 22B; Enumeration District: 0004; FHL microfilm: 1374125. (Mildred Cox)
Social Security Death Administration. Social Security Death Index. Number: 441-14-1155; Issue State: Oklahoma; Issue Date: Before 1951. [Mildred M. Breedlove]
Ancestry.com. U.S., Social Security Death Index, 1935-2014 [database on-line], Provo, UT, USA: Ancestry.com Operations Inc., 2014. [Mildred M. Breedlove]