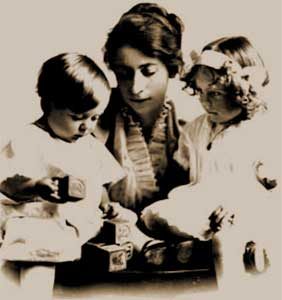 MINNIE NICHOLS BLAIR
The information below has been compiled from a variety of sources. If the reader has access to information that can be documented and that will correct or add to this woman's biographical information, please contact the Nevada Women's History Project.
At A Glance:
Born: September 9, 1886
Died: August 26, 1972
maiden name: Nichols
Race/Nationality/Ethnic Background: Caucasian
Married: Ernest Blair
Children: three (one daughter, two sons)
Primary City and County of Residence and Work:
Fallon (Churchill), Goldfield (Esmeralda), Tonopah (Nye)
Major Fields of Work: civic affairs (Red Cross, public playground, charity relief for miners), business (turkey farmer, restaurant owner)
Other Role Indentities: Wife, Mother
Biography
Minnie Blair was born in Folsom, California, on September 9, 1886. She had a strong pioneer heritage. Her maternal grandparents came to California around Cape Horn, while her father's parents crossed the plains to settle in California. They thought the trip was too dangerous for their six-year-old son (Minnie's father), so they sent him on a ship with a baggage tag around his neck explaining he was to be sent via the Isthmus of Panama to California by Wells Fargo Express.
Minnie spent her childhood years in Folsom and Sacramento. After the death of her mother, she moved to Placerville to live with a married sister. It was there that she met and married Ernest Blair, an express messenger for Wells Fargo. Their wedding ceremony was held on December 26, 1908, at 5:30am so they could catch the train to Goldfield, Nevada. Minnie and Ernest lived in the boomtown of Goldfield from 1908 until 1918. Ernest became a teller with a bank and Minnie was a homemaker. She gave birth to her first child, a daughter, in 1910. Her son, Seward James, was born in 1912.
From 1918 until 1924, the Blairs lived in Tonopah. There she was a community leader who was responsible for getting community support to buy playground equipment for the Tonopah school. She also kept alive the only tree in Tonopah, a Russian Olive, with leftover dishwater. Her second son, Ernest Blair, Jr., was born in Tonopah in 1922. When the gold slump of the 1920s came, Minnie worked to provide relief through charities to old prospectors. She was one of the first to be on the Red Cross roll call.
In 1924, Ernest was transferred to Wingfield's Churchill County Bank in Fallon, and it was there that she would spend the rest of her life. She bought a ranch, sight unseen, on the outskirts of town because it had water rights and she knew she could have a garden. She remained busy with her family and community. She was known as a friend to the local Indians and helped to collect donations to buy a transformer for the Rattlesnake Hill Colony. One of her early projects–raising turkeys for Thanksgiving dinner–turned into a business when she started a poultry farm on her ranch. Eventually, she shipped her birds to thirty-eight states and to Canada and Mexico. At the same time, Minnie supervised a truck garden and eight hundred laying chickens. During this time, she provided jobs for local people, sustaining them through the Depression. With a dwindling market, she finally quit the turkey business in 1947.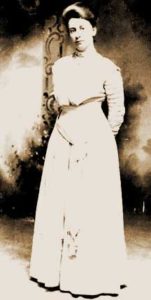 After tasting a spudnut (a doughnut) brought home from the grocery store one day, Minnie decided to open a restaurant. She was not able to purchase property downtown, so she decided to open the shop on the ranch. Despite speculation that she would not be successful, her Spudnut Shop was opened August 27, 1947. With her delicious pies and fresh coffee, the business flourished. Her daughter, Helen, took over management in 1953, the same year that Ernest died.
Mrs. Blair was a cooperative and enthusiastic memoirist for the Oral History Project of the Center for Western North American Studies. Her memoirs are in the special collections at the University of Nevada, Reno and contain her reminiscences about her early days in California; accounts of social, economic and political affairs of Goldfield and Tonopah; and descriptions of ranch work and other activities in Fallon.
Minnie Blair was known as a loyal friend and community leader who opened her heart and home to those who lived around her. In 1967, she was given the Distinguished Nevadan award by the University of Nevada. In 1977, the Minnie P. Blair Middle School was named for and dedicated to her. She lived her life with courage and inventiveness. She died on August 26, 1973. She is an example of women who lived their lives fully in support of themselves, their families and their communities.
Biographical sketch by Sally Wilkins from unpublished research by Katie Langley
Published Works:
Blair, Minnie. Days Remembered of Folsom & Placerville, California: Banking and Farming in Goldfield, Tonopah, and Fallon, Nevada. Oral History Project, University of Nevada, Reno, 1966-67.
Sources of Information:
Blair, Minnie P. Papers, 1914; 1947; 1961-70. Special Collections. University of Nevada, Reno.