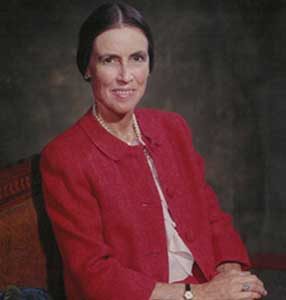 MOLLY FLAGG KNUDTSEN

The information below has been compiled from a variety of sources. If the reader has access to information that can be documented and that will correct or add to this woman's biographical information, please contact the Nevada Women's History Project.
At A Glance:
Born: September 15, 1915, New York City, NY
Died: July 24, 2001, Reno, Nevada
Maiden Name: Thyrza Benson Flagg
Race/Nationality/Ethnic Background: Caucasian
Married: Robert Gibb in 1937, Richard (Dick) Magee in 1942, William C. Knudtsen in 1969.
Children: William Flagg Magee
Primary City and County of Residence and Work:
Grass Valley, Lander County; Reno, Washoe County
Major Fields of Work: Cattle rancher, Author, Educator
Other Role Identities: Wife, Mother, Board of Regents member, Environmentalist, Historic Preservation Advocate
Biography
Thyrza Benson Flagg, "Molly," was born in New York City into a privileged life. The family's great wealth enabled her to travel in the highest social circles. She was privately schooled, took riding lessons in Central Park, and vacationed in Europe. Her formal debut in New York society was in the fall of 1933, and the following spring she was presented at the Court of St. James in London. She attended the University of London's King's College, intermittently touring the Continent.
Molly was married to Robert Gibb in 1937. Seriously injured in a horse-riding accident that same year, she spent nearly two years recovering at the home of friends in Cannes, France. Here, she often dined with the recently abdicated Duke of Windsor and his wife. In 1939 Molly returned to the U.S. and two years later, went to Reno, Nevada, to obtain a divorce from Gibb. Staying at an outlying dude ranch, she helped train racehorses, no problem for one who had earned a diploma from the prestigious Royal Institute of the Horse in London. At this dude ranch, she met handsome Richard (Dick) Magee, trainer of thoroughbred horses, owner of the huge Grass Valley Ranch, northeast of Austin, graduate of Princeton, and member of one of Nevada's founding families. Molly and Richard (Dick) married in 1942. Thus, she began her second life in one of the most remote valleys of the state.
In 1931, Dick had purchased a herd of registered purebred Hereford cattle developed by the University of Nevada's College of Agriculture. This herd became the cornerstone of success for his ranch in the years that followed. Molly learned how to register purebred Hereford cattle and about bovine psychology. She improved and preserved the lineage of the herd. Later this purebred Hereford line was brought back to the University. From her observations of cow behavior, Molly wrote Cow Sense, published in 1977. She published articles in Vogue, Family Circle, Austin's Reese River Reveille newspaper, and various archaeology magazines. In cooperation with Smithsonian Institution, the University of California, the Nevada State Museum, and the Desert Research Institute, Molly found archaeological sites as she rode about the ranch, collecting and documenting artifacts and mapping sites. These pursuits led her to become a trustee of the Nevada State Museum.
Her interest in Lander County's history resulted in a campaign to re-roof Austin's Episcopal Church and to preserve Stokes Castle. In 1971, businessmen thought of moving the mysterious Stokes Castle from Austin to the Las Vegas strip. This prompted Molly to buy the Roman watchtower-like building and its underlying gold mine so it would remain in Austin. Ironically, the "castle" had been built in 1897 by Molly's wealthy New York cousin, Anson Phelps Stokes, a nineteenth-century mining and railroad baron. He lived there during his early business stays in Austin.
In 1960, concern about limited educational opportunities in rural areas led Molly to seek a position on the Board of Regents at the University. Against advice from friends who said she could not win, rancher Molly Magee ran a ranch-to-ranch campaign in the cow counties. She won by a landslide. Facing the hostility of eight male regents, the hard-working and charming Molly was soon acknowledged as "one of the most articulate and best informed persons" to hold the regent position. She was instrumental in establishing the University of Nevada Press (1961), the Department of Anthropology, UNR, the community college system (1968), and an expansion of the College of Agriculture and thence the creation of the total University of Nevada system. Molly played a key role in the complex and difficult decisions facing the regents, using her wit, humor, and "cow sense." Continuing her many roles of public service, she wrote and spoke about archaeology, literature, poetry, historic preservation, agriculture, and ranch life. In 1973, Molly was awarded an honorary Doctorate of Science degree in archaeology-anthropology from the University.
After becoming more involved in horse racing in California, Dick Magee moved himself and his horses to a ranch in that state. Molly bought the Grass Valley Ranch from him; they were divorced in 1969. Molly increased the size of the ranch, as well as the size of its purebred and commercial herds. Her purebred bulls brought top prices at Western auctions. She worked with the cattle daily. In 1969, Molly married William C. Knudtsen, a California rancher and stockman.
Molly's life again took a big turn in 1987. While chasing a calf, her horse stepped into a badger hole, and she was thrown. The horse landed atop her, and she was badly injured. Her recovery was long and hard. After this accident, Molly remained in Reno, but with Bill's help continued to manage the ranch from a distance. In 1995, she sold the 9,000-acre Grass Valley Ranch and all the cattle, yet still continued her writing, research, and public service until her death in 2001. Excelling in all she did, former socialite Dr. Molly Kundtsen, rancher, environmentalist, educator, participated extensively in building the new Nevada.
Researched and written by Doris Drummond. Posted on Web site August 2010.
Sources of Information:
Clifton, Guy, "Sagebrush Almanac." Reno-Gazette Journal, July 29, 2001.
Davies, Richard O., Ed. The Maverick Spirit: Building the New Nevada. "Molly Flagg Knudtsen: Rancher, Environmentalist, Educator" by Don D. Fowler. Reno, Nevada: University of Nevada Press, 1999.
Hillinger, Charles. "Socialite-Turned-Cowboy Acts, Gold Mine Bought – To Save Nevada Castle." Los Angeles Times, April 21, 1971.
Tonopah Times Bonanza. May 25, 1973.