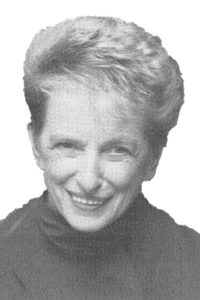 The information below has been compiled from a variety of sources. If the reader has access to information that can be documented and that will correct or add to this woman's biographical information, please contact the Nevada Women's History Project.
At A Glance:
Born:  July 25, 1924, Seattle, Washington
Died:  April 28, 2018, Reno, Nevada
Race/nationality/ethnic background: Caucasian
Primary city and county of residence and work: Reno, Washoe County, Nevada
Major fields of work: Home Economics Professor and Dean, University of Nevada; Washoe County Assemblywoman
Other role identities: University of Nevada Graduate Faculty Chair, Nevada Women's History Project's Sarah Winnemucca statue project, Sun Valley Elementary School volunteer.
Biography

Home economics pioneer championed disabled, women's rights

Pat Tripple, the first dean of the University of Nevada School of Home Economics, was born Patricia Ann Tripple, on July 25, 1924, in Seattle, Washington, to George and Bertha Vaas  Tripple, an insurance salesman and a nurse. In 1928, she contracted scarlet fever and was sent to the city "pest house" housing individuals with highly contagious diseases. Her younger brother, Lawrence, had glandular fever (today known as mononucleosis) and the family doctor advised that if Pat were to remain home, he could become infected with scarlet fever and die.

Tripple graduated from Broadway High School in June 1942, voted one of the three most inspirational seniors in her senior class. While in high school she decided to become a teacher of home economics, her major at the University of Washington in Seattle. As college graduation approached in 1946, her brother was diagnosed with infantile paralysis, commonly known as polio, a disease that "paralyzed hundreds of thousands of children each year."(1)  The fact that he was wheelchair-bound had a profound effect on Pat's awareness of barriers disabled people face daily and spurred her to successfully advocate for disabled accommodations at the University of Nevada.

Tripple began her teaching career in Olympia and Puyallup, Washington.  In 1950, she moved to New York City to attend Teachers College at Columbia University and obtain her M.Ed.  She related that the civil rights movement was rapidly gaining momentum and it was the first time she became aware of "equal but different." Two segregated sets of teachers were sent to New York University and Teachers College, Columbia University in summertime for classes, one set white and one set black.

After completion of her master's degree, Tripple returned to Washington where she worked as a home management specialist in a tuberculosis sanitarium. But the following spring she was back in New York City at Hunter College in a half-time position in charge of the home-management residence and taught one course while working on her Ed.D. at Teachers College.

In 1955 she completed her dissertation and wanted to return to the West. She applied to the University of Washington but no positions were available.  Although she had never visited Nevada, she learned of a position at the University of Nevada and secured an interview in New York with University of Nevada President Minard Stout, who gave her the job.

The Max C Fleishmann Foundation had recently given money for a College of Agriculture as well as a separate new building to be known as the Sarah Hamilton Fleischmann School of Home Economics where Tripple would work as an associate professor.  In August 1955 she arrived in Reno, Nevada: "I thought I had the world by the tail. I had an associate professorship, a twelve-month appointment at $6,500, I had a doctorate and I had a brand new car. I was thirty-one years of age, five foot five and weighed 105, so off I went". (2)

At the same time Tripple joined the faculty, another young woman, Marilyn Horn, had been recruited and they became best friends. There was a delay in the building of the new school building — the head of the school was having difficulty planning a building that looked to the future instead of status quo. Soon Horn was promoted to Associate Dean of the School of Home Economics.

The two friends provided ideas to the architect of the new building. "As you walked in the building, it was beautiful. In each stairwell there was glass, and that was in the days before they used glass for everything. You had a panoramic view of the exterior. We didn't need to put up pictures on the walls; there it was and ever changing with the seasons."(3)

In 1959 the two friends were tired of apartment living and decided to build a home.  The two college-educated, well employed women were told they would need to have one of their fathers sign for the house loan! Ultimately the architectural company, Ramsey Brothers Builders, signed for the loan.  

In 1963, Pat received a full professorship at the University of Nevada.  From 1964 to 1969 she was the Home Economics State Leader for the Cooperative Extension Service in addition to being the Home Economics Educator.  In 1969 she was one of 11 Home Economics administrators in the United States to receive a Carnegie Corporation Foundation grant to explore the problems of deprived urban families.

In August 1969 Marilyn Horn married Dale Bohmont, Dean of Agriculture.  Nepotism rules caused Horn to give up her position as Associate Dean of the Home Economics department although she remained employed by the university. Tripple was initially named acting Associate Dean but after a national search, she became permanent Associate Dean.  Except for the Dean of Nursing, all deans at the university (as well as other officials) were men.

She related, "At one of the deans' meeting, we were sitting around the table defining the characteristics desired in a new dean of the Graduate School. The conversations went something like this: "he this, he that, he this, he that" and finally I said, "You know it might be possible that we would find a woman with those characteristics." (4)  Although women were expected to wear dresses or skirts, she was the first woman faculty member to wear a pantsuit to campus, causing quite a stir.

In 1973 the School of Home Economics was pulled from the College of Agriculture to report directly to UNR President N. Edd Miller. The school had an enrollment of 205 majors, an undergraduate program, an associate-degree program and a graduate program. The students had a seat at the Associated Students organization and the faculty had a seat in the Faculty Senate. Tripple became a member of the Deans' Council, and in 1973 was named Dean of the School of Home Economics.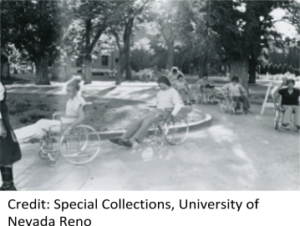 During her deanship, a major conference focused on a barrier-free environment in home and community was held with Nevada Governor Michael O'Callaghan, a Korean War amputee, as kick-off speaker.  The university, as were most businesses and stores, was not very accessible to the disabled community. Most buildings had stairs, there were no elevators and ramps were too narrow.

In January 1977, Tripple was notified by University President Max Milam that he "no longer wanted me to serve as Dean of Home Economics."  She was granted a one-year sabbatical leave. Her goals were to update her research skills and study the legislative process as it related to public policy and families and took an American Home Economics Association visiting-scholar position in Washington D.C.  She and Dr. Marjorie Keiser of Cooperative Research in the Department of Agriculture designed and implemented A Home Economics Research Project Inventory. She attended congressional hearings and government meetings and helped to write testimony for presentations to Congress.

Upon her return to the university, she developed a new course, "Families and Public Policy Decision Making' and taught upper-division and graduate-level classes. She served as vice president of the AHEA for professional development and served as chair of the University of Nevada Graduate Council.

However, the study of home economics, originally designed for homemakers and for "gracious home living" changed because of money, technology and women in the work-force. …The focus on the family was gone." (5)  Although the Home Economics Department was the recipient of national recognition during the years Tripple served as Associate Dean and as Dean, the Sarah Hamilton Fleischmann School of Home Economics was disbanded on July 1, 1989.

In 1994 Tripple decided to run for office.  She was familiar with how to develop policy, protocol, some legislators and the Legislative Building. Her issues were education, family, advocacy for the elderly and fiscal responsibility in government. She sent out leaflets and went door to door. She received minimal press, but incredibly she won a seat in the State Assembly!

Her next big decision to retire from the University." If I took a leave, I would always have to pull myself out of discussions identified with the university. I decided to retire because I wanted to be vocal on education issues." (6)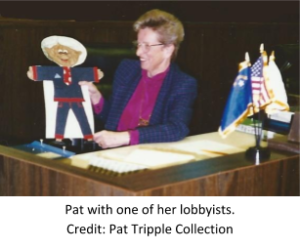 In the legislative session in which she served, bipartisan leadership was practiced. The House Speaker changed parties each week as did the committee chairs and vice chairs. Tripple was not a "party person." She was not beholden to party or lobbyists; her loyalties were to her constituents.  This caused friction within the Republican party; in the following election she lost her seat in the primary election.

It was time to move on.  After participating in a People to People International Program trip to China, she volunteered to assist with reading skills in a first-grade class at Sun Valley Elementary School. Since she had never taught in an elementary classroom, she concurrently went back to the university to take three semesters of reading education classes. She enrolled in an exercise class at Washoe County Senior Center – a class than she attended almost up to the time of her death.

In October 2004, Tripple received the Women in Leadership award at the annual Girl Scouts of Sierra Nevada dinner.  She had joined the Girl Scouts at age 12 and had supported Girl Scouts financially. In her oral history, Pat credited her self-confidence to her participation in scouting.  "It's there that you start to realize that you are a woman and that you can do most anything you set out to do." (7)

During her early years of retirement, at the behest of Jean Ford, former state assemblyperson, senator and UNR professor, Tripple became involved with the Nevada Women's History Project, dedicated to the collection and preservation of women's history in Nevada. She worked to ensure that the Sarah Winnemucca statue was funded and placed in National Statuary Hall in Washington D.C. (8)

In 1994 she was awarded a Distinguished Service Award from the American Home Economics Association Foundation and in 1995 she was inducted into the Broadway High School Alumni Association Hall of Fame. In 1995, she was awarded Professor of Home Economics Emerita by the University of Nevada, Board of Regents.



Researched and written by Marcia Cuccaro
Footnotes:
1.www.polioeradication.org/polio-today/history -of polio/POLIO TODAY.HISTORY OF POLIO. HISTORY OF POLIO "
2. Patricia A. Tripple, Patricia A. Tripple Educator and Legislator – A Retrospective. Reno, Nevada, Nevada Women Oral Histories Project, no. 1. 2012. P 13.
3. Tripple, Patricia A. Tripple, Educator and Legislator – A Retrospective, P 18.
4. Tripple, 25.
5. Tripple, 35.
6 Tripple, 43.
7. Tripple, 52.
8. Bernard, Patti, "Patricia A. Tripple, Ed.D., NWH News, December 2017, Vol 22, No. 4.1.
Sources of Information
Bernard, Patti, "Patricia A. Tripple, Ed.D." NWH News, December 2017, Vol 22, N. 4, p1.
Bernard, Patricia Ed. Patricia A. Tripple, Educator and Legislator – A Retrospective. Reno, Nevada. 2012
Nevada Women Oral Histories Project. No 1. 2012. P66.
U.S. Census: 1930 Census Place: Seattle, King, Washington, Page: 12A; Enumeration District: 0069 (Patricia A. Tripple) Ancestry.com 1940.