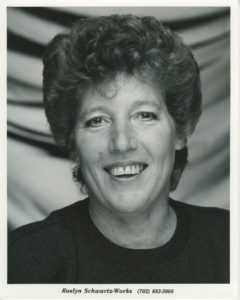 Roslyn Merle Schwartz Works
At a Glance:
Born: November 25, 1938, Chicago, Illinois
Died: June 8, 2006, Carson City, Nevada
Maiden Name: Roslyn Merle Schwartz
Race/Nationality/Ethnic Background: Caucasian
Married: Donald Swan Works in Silver City, Nevada, 1965
Children: Rose Maury Works, Mary Works Covington, Donald Swan Works, Jr.
Primary City and County of Residence and Work:
Silver City, Nev., Carson City, Nev.
Major Fields of Work: Mother, theater, education, mentor, women's history.
Biography:
Silver City community member, theater performer and director, student of women's history
Roslyn "Roz" Works moved to Silver City, Nevada in 1965 after meeting her husband Don.  He was a house painter from Marin County, California, and one of the founders of the Red Dog Saloon in Virginia City.  They were married for 40 years and raised three children.  
Works was born in Chicago to Morris and Bertha Sevelow Schwartz. She attended Sullivan High School and received an associate of arts degree from Wright Junior College in Chicago.
Works had many interests and was ahead of her time in many ways. As an advocate of natural childbirth, she had two of her children at home.  She was a firm believer in proper nutrition as foundational to development and practiced organic gardening in the 1960s and 1970s. 
In Silver City, Roz found a tribe of strong women who became life-long friends and family. Together they raised their children, supported each other and formed a team that worked to build a better community, fought to protect the environment, and advocated for change in the school districts.  
As an integral member of the Silver City community for 24 years, she worked hard in several arenas.  She managed the Nevada Craft Guild with her husband Don, showcasing the work of local artisans. Additionally she worked with Kay Winters and others to ensure that Lyon County invested in Silver City through the renovation of a community center and a much-needed town park enjoyed by the community to this day.   
In her efforts to advocate for children's education, Roslyn Works became deeply involved in the Dayton Elementary School as president of the PTA.   Roz was an advocate for a positive learning environment and a curriculum.  Initial proposals for a new elementary school did not fully support this perspective and she fought, together with other parents, to ensure the building designs supported this goal. 
Describing the community efforts for the passage of the school bond, Works said, "We had $1,000 put together.  The money came from the Christmas bazaar, where so many people donated their handmade things to be sold, and from the potluck dinner, and we've got all the kids out selling pencils right now.  We've spent about $500, but we're still going to buy radio spots and an ad in the paper." Works also wrote a letter to the editor of the Mason Valley News published on April 27, 1979, citing overcrowding and growth in Lyon County that had created the need for more schools.
These efforts saw the success of the May 1979 school bond that brought a new elementary school building to Dayton.
Prior to moving to Nevada, Works had an active career in theater in Chicago and New York, studying at the Herbert Bergdorf Studios. Her acting career spanned roles in Oklahoma, Guys and Dolls, Carousel, The Glass Menagerie, True West and The Robber Bridegroom, among many others.  She loved the theater and once her children were old enough, she became involved in productions at the Brewery Arts Center, in Comstock theater productions, and other local and regional theater as a producer, actor, and director. She utilized this extensive professional background to teach theater and coach children and adults in public speaking and performance both on the Comstock and in Carson City. Roz was well known for breaking into a Broadway show tune at the drop of a hat.
In 1990 Works moved to Carson City and spent 14 years at the Nevada State Museum as the Anthropology Publications Manager, handling production of the museum's anthropological papers and serving as the department's administrative support. During her tenure, she enjoyed travelling to different parts of the state to share information about the museum and its collections. She provided a great deal of support for and was proud of the museum's collaborative efforts with the Native American community to develop the Under One Sky exhibit, which honors Native American Nevada history. She retired on June 29, 2004.
Works met Jean Ford, state legislator and founder of the Nevada Women's History Project (NWHP), and became active early in the organization's formation, listed as an individual member by June 1995. 
By nature, Roz was a student of history, and women's history in particular. When the opportunity arose to participate in a theater education project regarding the women's right to vote in Nevada in 1996, she embraced the chance to portray suffragist Anne Henrietta Martin (1875-1951), in a tour of Nevada with Jean Ford. The group performed the November 3, 1914 signing of the bill that gave Nevada women the vote in front of the Nevada Legislature many times and appeared in the Nevada Day Parade. Works reprised her role as Anne Martin in "The Saga of Nevada Women's Suffrage 1869-1920" a second installment of Jean Ford's docudrama, presented in April 1996 at the Carson Valley Museum and Cultural Center. Works also performed the role in a living history program at the Nevada Historical Society on Nov. 20, 1996.
In developing her Chautauqua on Emma Goldman, an international anarchist activist and writer, Works did exhaustive research on the Emma Goldman (1869-1940) papers at UC Berkeley. She performed Emma Goldman in a one-woman show throughout northern Nevada, including during a month of celebration in March 1992 organized by UNR Women's Center, local colleges and Daring Explorations Theatre.  The performance was also staged at the Brewery Arts Center in Carson City on April 1992.
 Roz also portrayed Hannah Clapp (1824-1908), a prominent member of the early Carson City community.  Roz was always continuing her research on Emma Goldman and other powerful women in history. 
In her later years she enjoyed reconnecting with her Jewish heritage through fellowship and scholarship. Roz embraced life and was always eager to discover a new Nevada trail to hike, exchange a good laugh, play with her grandchildren, make a friend or pick up new books from the library. She loved the line of the mountains and the warm Nevada sun on her face.
Researched and written by Rose Works and Mary Works Covington
Sources of Information
DeCristoforo, Rose Anne.

Mason Valley News

(Yerington, Nevada), May 4, 1979, p1.

DeCristoforo, Rose Anne. "School bond issue aftermath."

Mason Valley News

(Yerington, Nevada), May 18, 1979, p1.

Earl, Phillip I.  "This Was Nevada: Living history program scheduled." Elko Daily Free Press (Elko, Nevada), Nov. 19, 1996, p2.

"Emma Goldman."

https://en.wikipedia.org/wiki/Emma_Goldman

Accessed Nov. 4, 2019.

Hattori, Eugene M. "In Memorium."

In-Situ

, Newsletter of the Nevada Archaeological Association, Vol. 10, No. 2, Summer 2006, p1.

Hoke, Janice. "Women heroes of history."

Reno Gazette-Journal

(Reno, Nevada), March 4, 1992, Neighbors, p4.

Hoke, Janice. "Suffrage saga takes center stage." Reno Gazette-Journal (Reno, Nevada), April 20, 1996, Neighbors, p4. 

"Urges school bond passage."

Mason Valley News

(Yerington, Nevada), Letters to the Editor, April 27, 1979, p2.

 "Long-time Employee Quits."

Nevada State Museum Newsletter

, 3, August 2004, p5.

McCormick, Sandy.  "Nevada Craft Guild Opens For Season."

Mason Valley News

(Yerington, Nevada), July 5, 1974, p4. 

"Nevada Historical Society presents history program."

Reno Gazette-Journal

(Reno, Nevada), Nov. 17, 1996, p2B:1.

 Membership list, Nevada Women's History Project membership list, June 23, 1995.

Roslyn Merle Schwartz Works,

Reno Gazette-Journal

(Reno, Nevada), Obituaries, July 25, 2006, p17C. 

Sion, Mike.  "Capturing the life and times of the Red Dog Saloon."

Reno Gazette-Journal

(Reno, Nevada), March 17, 1994, p3.

Tennant, Laura. "Roz Works was easy to love & Sheriff's race off to fervent start."

Mason Valley News

(Yerington, Nevada), June 23, 2006, 44.

"Women Heroes' play April 25."

Reno Gazette-Journal

(Reno, Nevada), April 18, 1992, Neighbors, p1.