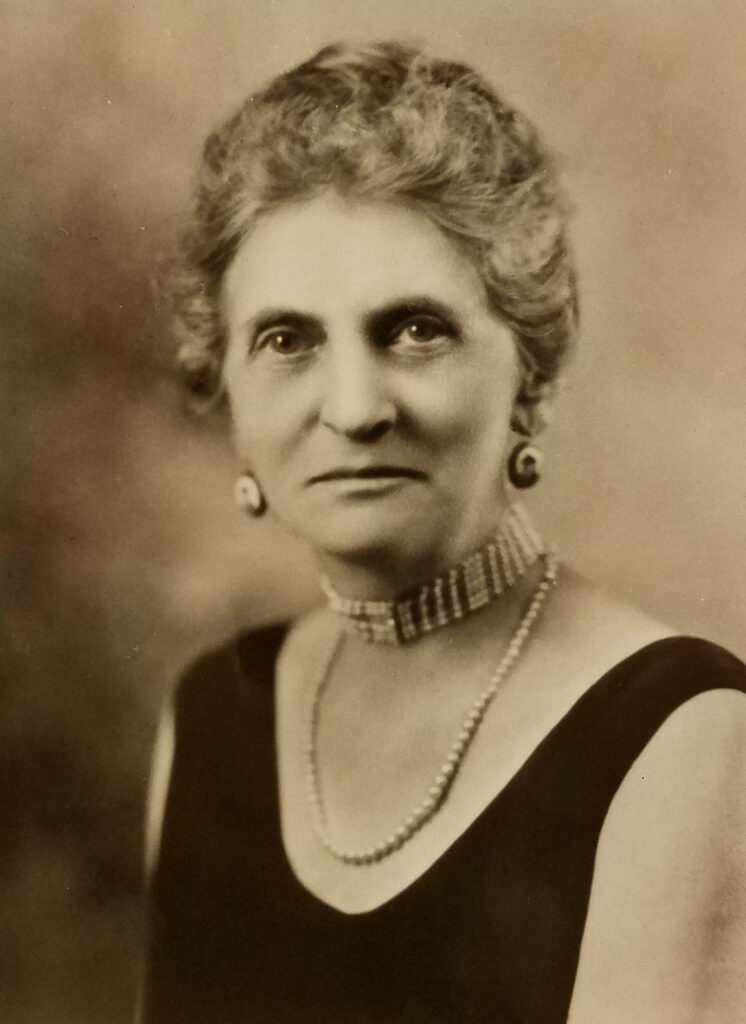 The information below has been compiled from a variety of sources. If the reader has access to information that can be documented and that will correct or add to this woman's biographical information, please contact the Nevada Women's History Project.
At a Glance:
Vital Statistics:
Born Oct. 20, 1866, Nelsonville, Ohio
Died Dec. 5, 1947, Reno, Nevada
Maiden Name: Anderson
Ethnicity: Caucasian
Married: Orel Henry Mack; July 2, 1885; Seneca, Kansas
Children: daughters F. L. Wood and Effie Mona Mack, son Leon Mack, 5 grandchildren, 3 great grandchildren
Primary City of Work: Reno, NV
Major Fields of Work: Club organization, women's suffrage leader
Work of long-time club organizer included issues of politics, suffrage, government
Sarah Emeline (Emma) Mack was a giant in the Nevada women's suffrage movement and local women's club work during the first half of the 20th century. She left her mark on countless organizations in her adopted hometown of Reno, Nev., and raised three children, including Effie Mona Mack, a well-known historian and educator whose name graces the Social Sciences building at the University of Nevada-Reno.
Born Sarah Emeline Anderson in 1866 in Ohio, she moved with her family to Seneca, Kansas, where she graduated with honors from Seneca High School and then received her teacher's certificate in 1882. In 1885, she married Orel Henry Mack, then in the furniture business. His brother, Judge C. E. Mack of Virginia City, Nev., had one of the best law libraries west of the Mississippi and convinced Orel and Sarah to come west. Orel worked in carpentry while he studied law and passed the Nevada bar in June of 1899.
While raising her three children, Emma became increasingly involved in women's clubs in Reno, starting with the St. Margaret Society of the Congregational Church in 1902 and expanding outward from there.
In 1903, she was voted Nevada's Deputy Supreme Oracle of the Woodmen of America, a fraternal organization originally formed to help provide for widows and later morphing into an insurance company, and its "female auxiliary," the Royal Neighbors of America.
By 1907, she'd become active in the Twentieth Century Club of Reno, acting as the group's secretary and encouraging it to join a newly formed State Federation of Women's Clubs. In 1910, she was the state group's first vice president. She moved up to president, and was on a legislative committee of the group which successfully lobbied for new probation and truancy laws, as well as one allowing women to become Notaries Public.
As discussion of women's suffrage became a hot topic in the state, Emma took a larger and larger role in bringing it about. In 1911, she was voted second vice president of the Nevada Equal Franchise Society, which lobbied the legislature on suffrage's behalf.
Other topics always competed for her attention. In 1915, she and several other women wrote to Reno mayoral candidate Clarence Pierson, strongly urging him to refute the liquor industry, saying he should seek the "dissolution of the partnership between the city government and the liquor interests." "We believe that Reno should fully control the liquor business instead of having the liquor business control Reno," the women wrote.
Emma was active in party politics as well, and in 1915 was voted secretary of the Republican Women's Committee of Washoe County. In 1920, she filed to be a delegate to the state Republican Convention. That same year, she was chosen to represent the National American Woman Suffrage Association in Nevada on the ratification committee.
Also in 1920, she was asked by the Leslie Woman Suffrage Commission to write a Nevada chapter for a book on the suffrage movement across the country. She was the only member of the original state woman suffrage committee of 1908 who still resided in Nevada.
After passage of the Nineteenth Amendment, Emma's work to improve life for all Nevadans continued. In 1922, she was voted president of the Reno League of Women Voters. In 1923, she assisted in writing a history of the Nevada Federation of Women's Clubs and was its president for two years. During that time, she lobbied legislators on behalf of women's issues, including those involving property law. She helped organize the Reno chapter of the Daughters of the American Revolution, and served as its regent in 1926 and 1927.
In November 1928, she was appointed an "Inspector of Election" for her precinct in Reno. Ten years later, she'd be appointed "Clerk of Election."
In April 1928, she lost her husband Orel after a short illness. A year later, she won the homesteading right on their Hill St. home and a $60/month allowance. A mere three days after Orel's death, she was nominated to be one of eight vice presidents of the national D.A.R.
In February of 1930, she hosted a D.A.R. meeting where former governor James Scrugham spoke on the history of forts and trails in Nevada. During his administration, the D.A.R. was made custodian of the historical site of Fort Churchill. At the meeting, he asked the group to work on the clear marking of that fort and other historical sites in the state.
Nevada was on the verge of becoming the only state in the union with legalized gambling in 1931. Emma Mack (usually identified as Mrs. O. H. Mack in newspaper articles of the day) and several other prominent women spoke out against the idea. At one committee meeting, they declared that Reno and Nevada should not "seek the riff-raff of the world," according to the Reno Evening Gazette. Proponents at the meeting said gambling could not be stopped and should be legalized and licensed, which it was later that year.
In 1938, she was the Nevada president of "Pro America," a Republican women's club and in 1943, she became chairman of the Reno Unit of the newly organized American Women's Voluntary Service, which did fund-raising activities to support things like furnishing a recreation room at the Reno Army Air Base.
On December 5, 1947, at the age of 81, Sarah Emeline Mack died in the hospital where she had been treated for five days. One of her surviving children, Effie Mona Mack had put together all of the documents her mother had written or collected through her amazing life. In August 1950, she presented them to the Nevada State Historical Society. It's called the Sarah Emeline Mack Collection, and is available for research into the history of women in Nevada in the first half of the 20th century.
Researched by Patti Bernard. Written by Kitty Falcone.