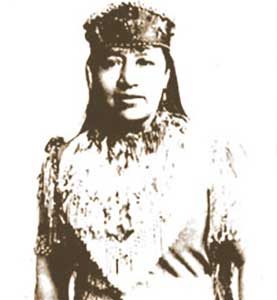 SARAH WINNEMUCCA

The information below has been compiled from a variety of sources. If the reader has access to information that can be documented and that will correct or add to this woman's biographical information, please contact the Nevada Women's History Project.
At A Glance:
Born: 1844
Died: October 17, 1891
Maiden Name: Winnemucca
Race/Nationality/Ethnic Background: Native American (Northern Paiute)
Married: Lt. L. H. Hopkins; Lt. E. C. Bartlett; Indian husband (name unknown)
Primary City and County of Residence and Work:
Pyramid Lake (Washoe County), McDermitt (Humboldt County), Lovelock (Pershing County)
Major Fields of Work: Politics (lecturer, activist), Education (school organizer), Literature (author)
Other Role Identities: Wife
Biography
Sarah Winnemucca's birth coincided with the beginning of an era of dramatic historical changes for her people, changes in which she would play an important and often thankless role. She worked throughout her life to communicate between her people and the white people, to defend Paiute rights, and to create understanding.
"I was born somewhere near 1844, but am not sure of the precise time. I was a very small child when the first white people came into our country. They came like a lion, yes, like a roaring lion, and have continued so ever since, and I have never forgotten their first coming. My people were scattered at that time over nearly all the territory now known as Nevada. My grandfather was chief of the entire Piute nation, and was camped near Humboldt Lake, with a small portion of his tribe, when a party travelling eastward from California was seen coming. When the news was brought to my grandfather, he asked what they looked like? When told that they had hair on their faces, and were white, he jumped up and clasped his hands together and cried aloud–"My white brothers–my long-looked for white brothers have come at last!" (Sarah Winnemucca, Life Among the Piutes).
Born into the Northern Paiute tribe in 1844, she was given the name Thocmetony, which means "shell flower":
"Many years ago, when my people were happier than they are now, they used to celebrate the Festival of Flowers in the spring . . . Oh, with what eagerness we girls used to watch every spring for the time when we could meet with our hearts' delight, the young men, whom in civilized life you call beaux. We would all go in company to see if the flowers we were named for were yet in bloom, for almost all the girls were named for flowers … All the girls who have flower-names dance along together, and those who have not go together also.

"I will repeat what we say of ourselves. 'I, Sarah Winnemucca, am a shell-flower, such as I wear on my dress. My name is Thocmetony. I am so beautiful! Who will come and dance with me while I am so beautiful? Oh, come and be happy with me! I shall be beautiful while the earth lasts. Somebody will always admire me; and who will come and be happy with me in the Spirit-land? I shall be beautiful forever there. Yes, I shall be more beautiful than my shell-flower, my Thocmetony! Then, come, oh come, and dance and be happy with me!' The young men sing with us as they dance beside us" (Life Among the Piutes).
At the time of her birth, Northern Paiutes and Washos were the sole inhabitants of the land that is now western Nevada. Her grandfather, Chief Truckee, welcomed the arrival of his "white brothers" and helped General John C. Fremont in the Bear War against Mexican control of California. However, her father, Chief Winnemucca, did not trust the white people and cautioned his own people to keep their distance. Perhaps hearing these opposite viewpoints became a portent of her life, which was spent attempting to interpret the two cultures to each other.
Sarah was first introduced to white people at age six when her grandfather insisted she go with him to California. She was initially frightened, but did like such luxuries as beds, chairs, brightly colored dishes and the food she was served. When she was thirteen, her grandfather had arranged for Sarah and her sister to become members of Major Ormsby's household at Mormon Station, now Genoa, Nevada. By the time she was fourteen, she had acquired five languages, three Indian dialects, English and Spanish. Both times that she left her tribe, Sarah returned following an incident of white people treating her tribe poorly.
Sarah's final visit in the white culture at age sixteen fulfilled her grandfather's deathbed request that she and her sister Elma be educated in a convent school at San Jose, California. The two girls were never officially admitted to the school, but during their few weeks there, she continued to acquire more knowledge and experience in the new culture.
As Sarah reached maturity, the white emigration west continued to encroach on Paiute territory, and eventually, whites insisted on moving all Indians onto reservations, first the Pyramid Lake Reservation in Nevada, then the Malheur Indian Reservation in Oregon, and finally to Yakima, Washington. The days of hunting and gathering freely had ended for her tribe. In 1871, at the age of twenty-seven, Sarah began working as an interpreter for the Bureau of Indian Affairs at Fort McDermitt on the Oregon border. During this time, she married Lt. E. C. Bartlett but left him within a year because of his intemperance. She later married an Indian husband, but left him for his gross abuse of her.
In 1872, Sarah was with her people on the Malheur Reservation in Oregon where Indian Agent Samuel Parrish was treating everyone fairly. However, he was replaced with a less reliable agent, and as problems mounted on the reservations, Sarah prepared to travel to Washington, D.C. to speak out on behalf of her people, a trip that was interrupted while she aided U.S. troops in the Bannock war of 1878. Sarah offered her services to the Army as an interpreter and scout. She saved her father, whose lodge had been surrounded by hostile Indians, by traveling without sleep over 200 miles in 48 hours over treacherous Idaho terrain.
In January, 1880, she pleaded the Indian's cause in Washington, D.C. before Secretary of the Interior Carl Schurz and President Rutherford B. Hayes. Eventually, Sarah did receive promises of improvements for her people, which were later broken by the government. Despite her advocacy for her people, the broken promises caused them to distrust her. Still, she dedicated the remainder of her life to her work, giving more than 400 speeches to gain support for the Paiutes. Many of her speeches were given on the East Coast through the support of Elizabeth Peabody and Mary Peabody Mann.
She also was dedicated to teaching school to Paiute children and opened a school for Indian children called "Peabody's Institute" near Lovelock, Nevada. When her husband, at that time Lt. L. H. Hopkins, died of tuberculosis and the school was closed, Sarah moved to Montana to spend her last days with her sister Elma.
Sarah died on October 17, 1891.
"Sarah Winnemucca will always be remembered as a dedicated Native American woman who belonged to two cultures. With one foot in the Indian Nation and the other in the white man's world, she sped across the plains like a blazing arrow only to fall short of her target. Although the Princess was recognized throughout the land as the passionate voice of the Paiute Indians, she was treated with indifference by the United States Government. Disillusioned and betrayed, Sarah died before she completed her, mission, believing herself to be a failure (Seagraves, High Spirited Women of the West)."
Life Among the Piutes is Sarah Winnemucca's powerful legacy to both cultures, the Native Americans and the whites. It appeared in 1883, the first book ever published that was written by a Native American woman. Following the oral tradition of her people, she reaches out to readers with a deeply personal appeal for understanding, recording a portion of the history of the far west from the Native American perspective. The book was a monumental achievement, recording the Native American viewpoint of whites settling the west, told in a language that was not her own and written and published by a woman during the time when even white women were not allowed to vote, second only to the work she performed every day to promote understanding across cultures. Posthumously, she was awarded the Nevada Writers Hall of Fame Award for her book from the Friends of the Library, University of Nevada, Reno. In 1994 an elementary school in Washoe County School District was named in her honor, Sarah Winnemucca Elementary.
Biographical sketch by Victoria Ford.
Published Works:
Hopkins, Sarah Winnemucca. Life Among the Piutes: Their Wrongs and Claims, New York: G. P. Putnam's Sons, 1883.
Sources of Information:
Hopkins, Sarah Winnemucca. Life Among the Piutes: Their Wrongs and Claims, Reno: University of Nevada Press, (reprint), 1994.
James, Ed T. Notable American Women of 1607-1950, Howard University Press, 1971.
Luchetti & Olwell. Women of the West, Berkeley, California: Antelope Island Press, 1982.
Moynihan, Ruth B., Susan Armitage and Christiane Fischer Dichamp, editors. So Much to Be Done: Women on the Mining and Ranching Frontier, Lincoln, University of Nebraska Press, 1982.
Seagraves, Anne. High Spirited Women of the West, Lakeport, California, Wesanne Publications, 1992.
Stewart, Patricia. "Sarah Winnemucca," Nevada Historical Society Quarterly XIV, 4, Winter Edition, 1971.
Zanjani, Sally. Sarah Winnemucca, University of Nebraska Press: Lincoln and London, 2001.