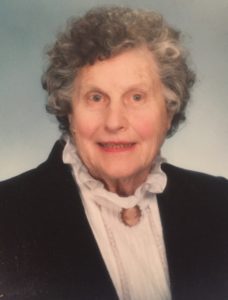 SONIA CECILIA BARNDT COCHRAN DeHART

The information below has been compiled from a variety of sources. If the reader has access to information that can be documented and that will correct or add to this woman's biographical information, please contact the Nevada Women's History Project.
At A Glance:
Born: September 28, 1906, Tonopah, Nevada
Died: July 18, 2003, Genoa, Nevada
Maiden Name: Sonia Cecilia Barndt
Race/Nationality/Ethnic Background: Caucasian
Marrried:
Leo Francis Cochran, September 29, 1928
Howard DeHart, November 19, 1960
Theodore L. Gonzales, October 30, 1980
Children: David Cochran, Rosemary Cochran Girolamo Pope, Alice Cochran Cleary, Robert Cochran, Roberta Cochran Pope and Gilbert Cochran
Primary City and County of Residence and Work:
Carson City and Genoa, Douglas County, Nevada
Major Fields of Work: Theodore Kosloff Russian Ballet performer, dance instructor, antique store owner, community activist, Episcopal Church thrift store manager, League of Women Voters, National Cattlemen's Association, Women's Press Club, Associate Director at the Nevada state park in Genoa
Other Role Identities: Wife, mother, grandmother, world traveler, volunteer, business owner, gardener, Nevada State Museum docent, Sierra Nevada chapter of the Philharmonic League
Biography
Genoa community activist, business owner led a wide-ranging life of international ballet and travel
Sonia, also known as Sophie Cecilia Barndt, was born in Tonopah, Nevada, on September 28, 1906. Her parents were Victor and Elizabeth Barndt. In Sonia's early childhood, the family resided on the Hot Creek Ranch in Nye County, Nevada. Sonia's maternal grandparents were pioneer Nevadans, and both her grandparents were active in Nevada politics. Her grandfather, Joseph Williams, served in the Nevada State Senate, and her grandmother, Sofie Ernst Williams, was a member of the University of Nevada Board of Regents in 1923. Sonia's childhood was filled with school, cattle drives and riding horseback throughout the Nevada desert. Sonia's daughter, Alice Cochran Cleary, said, that while living at the ranch, "Mother and her sisters learned to ride, rope and shoot, and they accompanied their mother on cattle drives 90 miles to the railway in Ely. Mother brags that she could shoot a rattler from her horse!"(1) Sonia received most of her education in Hot Creek Valley, Nevada, and Berkeley, California, where her father, Victor, pursued mining interests that carried him from Nevada to California to Washington D.C. where he was employed as a mining lobbyist.
At an early age Sonia showed an aptitude for dance and as a teenager, she was sent to Hollywood, California, to study with the famed Theodore Kosovo. After graduation from Berkeley High School, Sonia pursued dance in earnest, joining the Theodore Kosloff Russian Ballet Company. Alice Cochran Cleary wrote that her mother subsequently danced "in many ballets, operas, and silent films. She was a soloist when the San Francisco Opera Company opened."
In 1925 at age 19, she moved to New York City to continue her dance career. Free-lance reporter Nancy Miluck reported Sonia had traveled to Europe and later to South America with the Theodore Kosloff Russian Ballet and the San Carlo Opera Company. Daughter Alice Cleary related that while Sonia was in South America her parents became worried when they didn't hear from her in some time, so they contacted their friend, Nevada's U.S. Senator Key Pittman, and asked that he have someone check with the American Embassy in Argentina to see if Sonia was all right . The Embassy sent young vice-counsel Leo Francis Cochran to ascertain Sonia's well-being. As things happen, a romance ensued and at age 22, she married the young American vice counsel. (2) Alice also told me her mother and father, Leo, had the opportunity to fly over the Andes Mountains with aviator Jimmy Doolittle while living in South America.
On June 10, 1929, the Cochrans sailed to New York on the ship American Merchant. (3) In September of 1929 the Great Depression began with a major fall in stock prices. According to the 1930 U.S. Federal Census, the newlyweds were then living in Berkshire, Massachusetts. They had a newborn son, David, born in 1929, and Leo was working as a bonds salesman. A daughter, Rosemary, was subsequently born in 1931. As the depression in the United States was deepening, the Cochrans moved back west, first to Los Angeles where Alice was born, and then back to the ranch at Hot Creek. Twins, Robert and Roberta, were born in the Tonopah hospital.
Throughout all this time, Sonia taught dance lessons wherever they were living. A 1997 Nevada State Museum newsletter shows a picture of Sonia and daughter "Romie" (Rosemary) performing a dance in 1936 at the Leisure Hour Club in Carson City, Nev. Leo had obtained employment with the Nevada State Highway Department, and the 1940 U.S. Federal Census has the family living in Carson City where Sonia was still teaching dance. According to Alice Cochran Cleary, the family moved to Genoa in 1941 when an opportunity arose to purchase some land there. Sonia and Leo "purchased a World War II barracks building from the Tonopah Army Airfield, had it moved to Genoa and converted it into the home" (4) where Sonia would live for the remainder of her life. In 1943, Sonia's sixth child, Gilbert, was born there.
At the time of Gilbert's birth, Sonia was 37 years old. She had already accomplished a lifetime of travel in a time when women usually didn't travel far from home. She had danced throughout the United States, Europe, South America and Canada. In Genoa, she became a force in the community. For the next 10 years, Sonia was busy with raising children and operating an antique shop with her sister, Libby. In 1998, Nancy Miluck, a free-lance writer in Genoa, wrote that "Sonia and her late sister, Libby borrowed $2,000 from Raymond 'Pappy' Smith of Harold's Club in Reno and purchased the old saloon, which they operated as an antique shop in the 1940s and 1950s, opening the bar annually at Candy Dance time." However daughter Alice corrected this information in our interview. She stated the antique store/bar was purchased by her parents, Leo and Sonia Cochran, and her aunt and uncle, Ralph and Libby Crouse. Though Sonia and Libby worked in the antique shop on a daily basis, the bar-saloon was open only during the annual Candy Dance and other special Genoa events.
Sonia and Leo were divorced after more than 25 years of marriage, and in 1953, she married Howard DeHart, a retired rancher and automobile engineer. Sonia and Howard remained in Genoa where she continued her involvement in the many activities which she loved. Her daughter Alice Cleary related that her mom "ran the Episcopal thrift shop for many years and helped them pay off the mortgage on the church." During her marriage to Howard, they traveled to Alaska, Australia, Cuba, Israel and Rome. Howard died in 1975 and except for a brief marriage in 1980 to Theodore Gonzales, Sonia reclaimed the name DeHart and persevered for the next 28 years alone, busy as ever.
In July of 1992, the Douglas County Record-Courier reported Sonia was a "life-long student" of Nevada history, having served as a docent with the Nevada State Museum and as a member of the board of directors of the Stewart Indian Museum as well as a member of the Nevada Historic Preservation Society and organizer of the Reno Audubon Society and Nevada Outdoor Recreation Society. At that time she was honored by the Capital Women's Political Caucus as a "Woman of Distinction" in the category of pioneer women.
Sonia's many activities continued and reporter Nancy Miluck wrote Sonia had taken a flight over the Grand Canyon on her 90th birthday. Nancy also wrote Sonia had "camped out with the Dan Sisters in eastern Nevada during their fight against the federal government over Shoshone grazing rights and that Sonia had 'howled' with the wolves in Minnesota when she participated in an Elderhostel educational program for senior citizens." The July 12, 1992, issue of the Gardnerville Record Courier printed an article that honored Douglas County women, noting that Sonia "has been a long-time supporter of women's rights and six weeks ago camped wit other members of Citizens Alert in northern Nevada in support of the Dan sisters, Native American ranchers defying a Bureau of Land Management directive to remove cattle from disputed grazing land."
In 1997, Noreen Humpreys wrote a column for the Nevada State Museum newsletter in which she noted Sonia was an honorary member and mentioned Sonia had attended the International Wolf Center program in Minnesota. On a trip to Alaska to visit her son in 1987, she had brought home a half-wolf pup, Sasha, which became her constant companion for the last 10 years. Humphreys wrote that Sonia was a gracious hostess and that she "invites cooks and serves to anyone who needs to be entertained whether it be the governor, a grand-daughter or the preacher."
On September 28, 2017, this author visited Alice Cochran Cleary at her home in Genoa. Alice graciously provided me with two biographies of her mother which she thought I could use in writing this biography: one written by her sister-in-law, Swainia Cochran, and one by Alice. I asked her what she remembered most about her mother and she replied, "She was quick. When she walked us to school we had to run to keep up with her. She was a real force. And she loved to garden, she loved her friends…she loved her family. And she loved flowers! Sally Ruperti Springmeyer was Sonia's close friend and lived on a ranch in Carson Valley. She often stopped by to visit Sonia and pick up flowers to deliver to the Douglas County Senior Center. Sonia passed out flowers from her garden to just about everyone. "
Sonia Barndt Cochran DeHart passed away on July 18, 2003, at the age of 96. She is buried in the Genoa Cemetery in Genoa, Nevada.
Researched and written by Marcia Bernard Cuccaro
1. Biography by Alice Cochran Cleary
2. U.S. Consular Reports of Marriages, 1910-1949; ancestry.com
3. New York Passenger Lists, 1820-1957 ancestry.com
4. Swainia Cochran's biography of her mother-in-law
Sources of Information:
"Native Nevadan and longtime Genoan, Sonia DeHart, dies at age 96." Nevada Appeal, July 19, 2003, pA5:1.
Humphreys, Noreen. "With Our Honorary Docents, Meet Adventurer Sonja DeHart.", 1997, Sonia Barndt DeHart File, NWHP Collection, Nevada Historical Society, Reno, Nevada.
"Longtime Genoa resident deserves a special tribute.", newspapers.com, https://www.newspapers.com/image/15457450/?terms=dehart (accessed 11-11-2017)
Doty, Linda, Capital Women's Political Caucus, to Sonia DeHart, 1992.Sonia Barndt File, NWHP Collection, Nevada Historical Society, Reno, Nevada.
"Dinner set next week, Douglas women honored." The Record Courier (Gardnerville, Nevada), July 12, 1992, p10A.
List, Robert, Governor of the State of Nevada to Mrs. Sonja Gonzales, August 31, 1981.Sonia Barndt DeHart File, NWHP Collection, Nevada Historical Society, Reno, Nevada.
"Nevada Looks Ahead." Reno Evening Gazette, February 21-22, 1970, p. 6-7.
Hiller, Linda. "Sonia DeHart: Howling with wolves deep in the woods". Sonia Barndt DeHart File, NWHP Collection, Nevada Historical Society, Reno, Nevada.
DeHart, Sonia. Photograph, c2000, Sonja Barndt DeHart File, NWHP Collection, Nevada Historical Society, Reno, Nevada.
Unidentified. Photograph, Sonja Barndt DeHart File, NWHP Collection, Nevada Historical Society, Reno, Nevada.
Year: 1910; Census Place: Hot Creek, Nye, Nevada; Roll: T624_859; Page: 18A; Enumeration District: 0052; Image: 201; (Sophie Barndt).
Year: 1920; Census Place: Berkeley, Alameda, California; Roll: T625_92; Page: 7A; Enumeration District: 163 (Sophie C. Barnett).
Year: 1930; Census Place: Pittsfield, Berkshire, Massachusetts; Roll: 885; Page: 7B; Enumeration District: 0063 (Sophie C. Cochran).
Year: 1940; Census Place: Carson, Ormsby, Nevada; Roll: T627_2280; Page: 9B; Enumeration District: 13-1. (Sophie Cochran).
U.S., Consular Reports of Marriages, 1910-1949.search.ancestry.com/cgi-bin/sse.dll?db=consularreportsofmarriages19101949&h=27922&ti=0&indiv=try&gss=pt (Sophie Cecilia Barndt marries Leo Francis Cochran 28 Sept. 1928).
https://www.ancestry.com/familytree/person/tree/25474766/person/12773782510/facts?_phsrc=jjm1931&_phstart=successsource (1980.Minden,Douglas, Nevada, united States (Sophie Cecilia Sonia Barndt Cochran marries Howard DeHart)
Ancestry.com. Nevada, Marriage Index, 1956-2005 [database on-line]. Provo, UT, USA: Ancestry.com Operations, Inc., 2007. (Sonia Cecilia DeHart marries Theodore L. Gonzales)
Ancestry.com. Nevada, Divorce Records, 1968-2015 [database on-line]. Provo, UT, USA: Ancestry.com Operations, Inc., 2007. (Sonia divorces Theodore Gonzales)
Cleary, Alice Cochran, interviewed by Marcia Cuccaro. Personal, Genoa, Nevada, September 28, 2017.